Kristy Titus Renews Partnership with Cabela's

Kristy Titus Renews Partnership with Cabela's
Bend, Oregon (January 7, 2016) – Kristy Titus, NRA certified instructor and featured member of RMEF's Team Elk TV show is honored to continue her partnership with Cabela's as an into 2016 and 2017. In addition to offering her Montana Silversmiths line of jewelry exclusively at Cabela's – the Kristy Titus Collection – Titus also represents the Cabela's OutfitHER™ line of women's hunting apparel. As a Cabela's Ambassador, Titus travels across the U.S. to attend Cabela's grand openings and special events to promote conservation, hunting, outdoor and shooting sports traditions.
"Cabela's is known as The World's Foremost Outfitter, a place where you go to find everything you need for your next adventure and great help to get you started. My continued partnership with Cabela's allows me the opportunity to encourage and inspire more participation in the outdoors – especially from women and kids," said Titus. "Meeting women and kids across the nation at Cabela's special events, having the opportunity to spend some time together is something that I am extremely grateful for."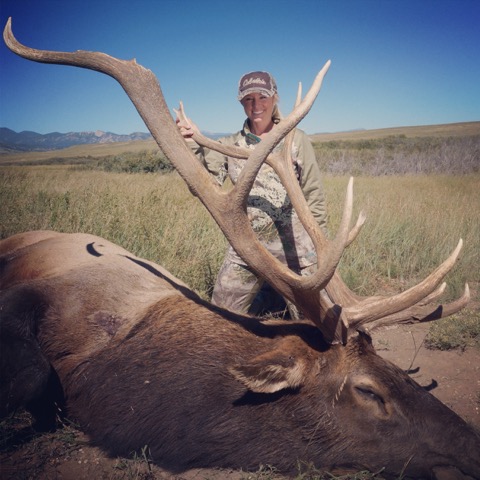 Growing up hunting in the rugged western mountains as her backyard, Titus developed an appreciation and respect for nature she continues to practice today. Titus' experience helps educate others about the outdoors and the importance of staying healthy for hunting, all while being an advocate for wildlife and habitat conservation. She works extensively with Rocky Mountain Elk Foundation, and other non-profits, as a volunteer where she places an emphasis on ensuring hunting remains a tradition that will be available for future generations.
"Kristy has been a great partner for Cabela's. Her experience and knowledge in the outdoors provide remarkable content for our customers and tremendous insight for Cabela's," said Christine Wamsley, Cabela's Director of Communications and Partnerships. "We are thrilled to continue our relationship with Kristy into the future."
About Cabela's
Cabela's Incorporated, headquartered in Sidney, Nebraska, is the world's largest direct marketer, and a leading specialty retailer, of hunting, fishing, camping and related outdoor merchandise. Since the Company's founding in 1961, Cabela's® has grown to become one of the most well-known outdoor recreation brands in the world, and has long been recognized as the World's Foremost Outfitter®. Through Cabela's well-established direct business and its growing number of destination retail stores, it offers a wide and distinctive selection of high-quality outdoor products at competitive prices while providing superior customer service. Cabela's also issues the Cabela's Club® VISA credit card, which serves as its primary customer-loyalty rewards program.
About Kristy Titus: With a shared passion and love of the outdoors, Titus is honored to serve as an ambassador for Cabela's, The Rocky Mountain Elk Foundation, RMEF's Team Elk television Show, Host of NRA I Am Forever, Swarovski Optik, Buck Knives, Montana Silversmiths, and Wilderness Athlete. Titus was raised leading a pack string of mules into the backcountry of Oregon, experiencing the thrill of public land, do-it-yourself hunting. Titus is an NRA Basic Pistol and Refuse To Be A Victim Certified Instructor. She shares her passion for fitness and nutrition as editor for Western Hunter and Elk Hunter magazines. Learn more at http://kristytitus.com, https://www.facebook.com/KristyTitus and https://instagram.com/kristytitus/
MEDIA CONTACTS:
For Kristy Titus: Michelle Scheuermann, BulletProof Communications LLC, 651.964.0264; michelle@bulletproofcomm.com
For Cabela's: Nathan Borowski, Communications Specialist, Cabela's Incorporated, 308.255.2861;Nathan.Borowski@cabelas.com
About The WON

The Women's Outdoor News, aka The WON, features news, reviews and stories about women who are shooting, hunting, fishing and actively engaging in outdoor adventure. This publication is for women, by women. View all posts by The WON →