Beat Winter Doldrums with Family Time, Conservation and Predator Quest
Friends have been screaming about the wintertime doldrums and cheering for springtime's debut. We eagerly await the blooms, blossoms and gobbles of the coming season, but why not embrace the here and now?
After big-game season is over, some of us forget all about another season: coyote season, when we take on some of the country's most prolific predators. Many states offer year-round or open season on coyotes. Local ranchers often invite hunters to manage these wild animals.
Helping others is a great way to combat the winter doldrums. And with the cooler temperatures, coyote pelts are fluffy and beautiful. Any fleas are gone, and so are the masses of people in the outdoors. Now is an ideal season to mentor youth hunters and take them on the hunt.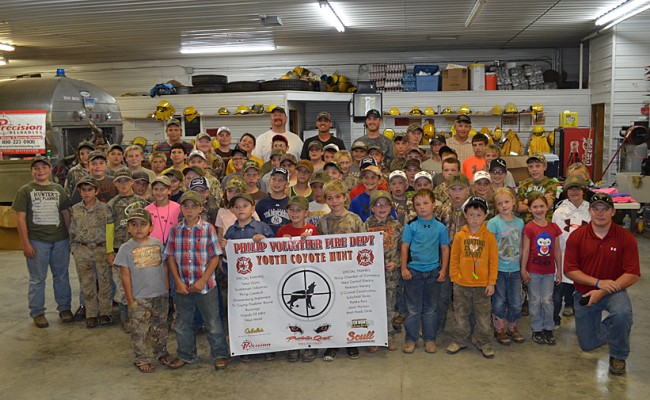 LG and I caught up our favorite coyote hunter, Les Johnson, host of Predator Quest on the Sportsman Channel. We asked him about getting youth involved in the hunt. He shared an event he had the opportunity to support: a youth coyote hunt organized by Zach Thomsen, a game warden for the state of South Dakota. The event was free to those 16 years and younger thanks to the help of sponsors and volunteers like Les.
Les gave a demonstration and handed each youngster (there were 75 in all) a coyote call. He taught the kids how to use them. Can you imagine the noise coming from that room? At the end of the presentation, one lucky child's name was drawn from a hat to be selected to win an autographed shotgun and the opportunity to hunt with Les the following morning.
There is an indescribable joy that comes from mentoring the next generation. It was no surprise when Les excitedly told us about the young girl whose name was drawn. She was a quiet 12-year-old. Her father brought her and her brother to the event.
The following morning, Les howled up some coyotes up before daylight. As they waited, the young lady appeared excited. When he called one in, her eyes lit up, and she ended up putting it down at 60 yards. Her brother took a coyote too. As a matter of fact, youth hunters took 11 coyotes that morning.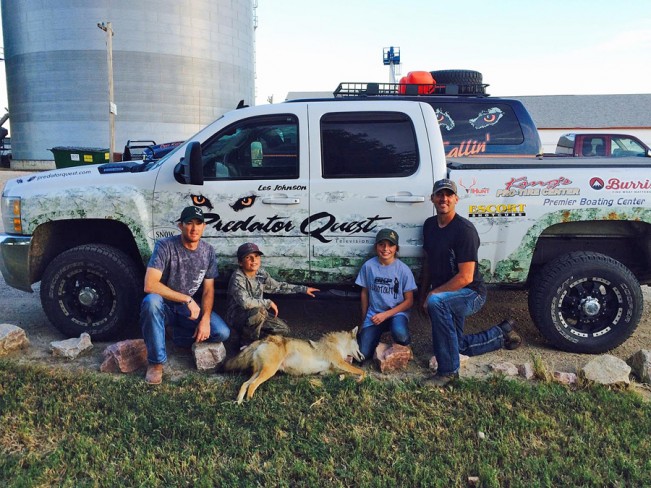 "It's all about the memories," Les attested. "The thank-yous I received were the best." He wants to instill a passion for hunting in the children's hearts, to keep them from being lost to cell phones and video games.
LG and I asked him to help us by sharing a few more tips.
Coyote Hunting Tips
• Hunter Education and Safety: It's important to attend a certified hunter education course before partaking in any type of hunting. Remember: Safety first.
• Be patient: Les says, "I try to tell people to think outside of the box when it comes to coyote calling. Everyone thinks you sit down and blow on a coyote call, and here they come. It's because of my patience and because of my style of hunting that I am successful."
• Start with the basics: There are hand calls, mouth calls, electronic calls and more. As we sat and chatted with Les, he made simple calls with his mouth and hands alone. We asked him the top mistake he thinks new hunters make. "Perhaps not wanting to start with a basic hand call," says Les.
• Know that it isn't easy: Learning to hunt coyotes takes time. "Sometimes if I have a good vibe, I'll sit there for an hour," says Les. "I'll sit there and call. I sit there and watch. I may think, 'There's nothing here, but I've got to give it one more series.' So I call again, and sit there, and boom, there's a coyote. My mind is telling me to get up and leave, but my intuition tells me to stay a little longer." We need to put in the work and trust our intuitions.
Sitting and having patience may not be a youngster's forte, but it's worth a try. Start out with a goal of sitting for an hour. Who knows? You might end up heading in early, but it's a start. By spending the time, you'll increase their hunting ability. More importantly, you'll enjoy quality time together…and that is what it's all about.
Interested in coyote hunting? Read more at, "Tips for Coyote Hunting," in, "She Shoots."
About The WON

The Women's Outdoor News, aka The WON, features news, reviews and stories about women who are shooting, hunting, fishing and actively engaging in outdoor adventure. This publication is for women, by women. View all posts by The WON →