Julie McQueen Tops Eva Shockey at Total Archery Challenge
NASHVILLE, Tenn. (February 16, 2016) – Julie McQueen of Backstage & Backroads Productions wins a friendly 3D bow competition against huntress, Eva Shockey, at the Prime Total Archery Challenge sponsored by Mtn Ops during the Western Hunting & Conservation Expo held last week in Salt Lake City, Utah. McQueen hosts "Brotherhood Outdoors" on Sportsman Channel as well as an upcoming project to be released in July of 2016 titled, Till Death Do Us Part, airing on Carbon TV.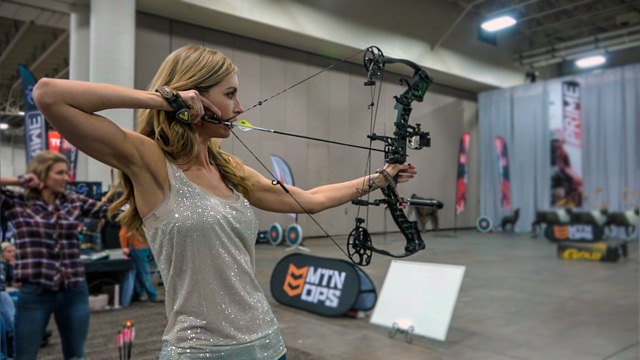 Both ladies were neck-and-neck as they drew back on Total Archery's 3D pop-ups that kept them guessing. In the end, McQueen was faster on the draw and deadly accurate against Shockey. "We had such an amazing time guessing what was going to pop-up next," said Julie McQueen. "Special thanks to Mtn Ops, Total Archery Challenge and Mule Deer Foundation for setting up this fun event. We all can't wait to do it next year!"
Backstage & Backroads Productions was created by Daniel Lee Martin in 2010 and currently produces a number of outdoor TV webisodes, shows, commercials and more, including "Brotherhood Outdoors," currently airing on Sportsman Channel.
Julie and Daniel Lee are America's outdoor couple as they hit the road filming amazing adventures with their production studio, Backstage & Backroads Productions. Julie found her way into the hunting industry as a pro-staffer back before any other girl had even tried. She also made a name for herself in the fashion industry by working in Los Angeles, New York, and all over Europe. She just might be the only girl to fly from a photo shoot in France, land in the U.S., and climb directly into a tree stand.
Daniel Lee was a professional golfer and advertising executive, but left it all behind in 1997 to pursue his dream of becoming a country recording artist. He's toured with Willie Nelson, Charlie Daniels, Clint Black and Vince Gill, to name a few, plus annual performances at Fan Fair in Nashville. In November of 2002, Martin became the first artist signed to ChinMusic Records. His two critically acclaimed albums led to him being one of the most widely recognized independent country music artists in Nashville.
Learn more about Julie and Daniel Lee at, "Backstage & Backroads," and more on their newest project, "Till Death Do Us Part."
About The WON

The Women's Outdoor News, aka The WON, features news, reviews and stories about women who are shooting, hunting, fishing and actively engaging in outdoor adventure. This publication is for women, by women. View all posts by The WON →