Mia Anstine Shares Hunting Experiences on 'Whitetail Rendezvous' Podcast
Pagosa Springs, CO – February 8, 2016 –MAC Outdoors is pleased to announce that owner, Mia Anstine, is on Whitetail Rendezvous podcast today, talking hunting with host Bruce Hutcheon.
In this episode, #128 Click HERE to listen, Mia discusses hunters supporting hunters, how to mentor new hunters into the sport and gives tips on how to get started. She also shares the stories of her follies in whitetail pursuits.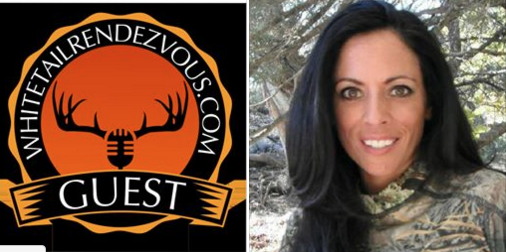 Anstine is a hunting guide at Wolf Creek Outfitters, Inc., where she guides hunters in their elk, mule deer, black bear or Merriam's turkey hunts. She spends many days per year in the field, hunting, fishing and shooting. She also is a certified archery and firearms instructor and sits on the board of her local Safari Club International chapter, as well as on the Colorado Sportsman's Round-Table committee.
Anstine's bylines, which have appeared in numerous publications, are written to encourage others into the outdoors, hunting and shooting sports. You can find her tips, stories, reviews and more at Women's Outdoor News, Western Whitetail Magazine, Beretta USA, and other publications.
Listen to episode #128 of Whitetail Rendezvous: http://bit.ly/1SywlHD.
About Whitetail Rendezvous:
Whitetail Rendezvous educates, collaborates and communicates to a Community of passionate whitetail hunters. Whitetail Rendezvous hope is that if even one episode sparks a thought, fills in a blank or creates a new opportunity on the pursuit of Whitetails than it has all been worthwhile. Whitetail Rendezvous community gets ready to journey with thousands of listeners who are passionate about Whitetails.
About MAC Outdoors:
MAC Outdoors encompasses the majority of Mia Anstine's work. It is a media management company, including articles, blog posts, video blogs, education seminars, hands-on training courses and social media outlets. MAC offers certified firearms and archery classes, hunting tips and includes education geared toward a lifelong commitment to the U.S. Constitution, wildlife conservation, hunting ethics, habitat management and tradition preservation. Articles and presentations include product reviews, tips, recipes and education related to hunting, fishing, shooting and other outdoor activities.
About The WON

The Women's Outdoor News, aka The WON, features news, reviews and stories about women who are shooting, hunting, fishing and actively engaging in outdoor adventure. This publication is for women, by women. View all posts by The WON →