Get Youth Involved in Archery in 7 Different Ways
Let's get our youth off the couch!
If you're looking for a way to get your little guy or gal away from the television, youth archery is the way to go. It's an activity than can be enjoyed outside or at an indoor shooting range. According to the National Archery in the Schools Program, (NASP), archery is one of the safest sports around. The organization says, "Archery maintains a consistently high safety record despite the fact that participants range from grade-school children to senior citizens, many of whom have never before picked up a bow and arrow."
That being said, archery target shooting offers a unique opportunity for children of all ages. Child archers learn muscle strength, body parts, safety, focus and discipline. Shooting at a bull's-eye is not only fun, but it's a passion that can lead into other avenues, such as competitive shooting or hunting.
The NASP is one avenue through which you can get your child started with a bow and arrow. If your child's school doesn't offer an archery program, however, there are other avenues to explore.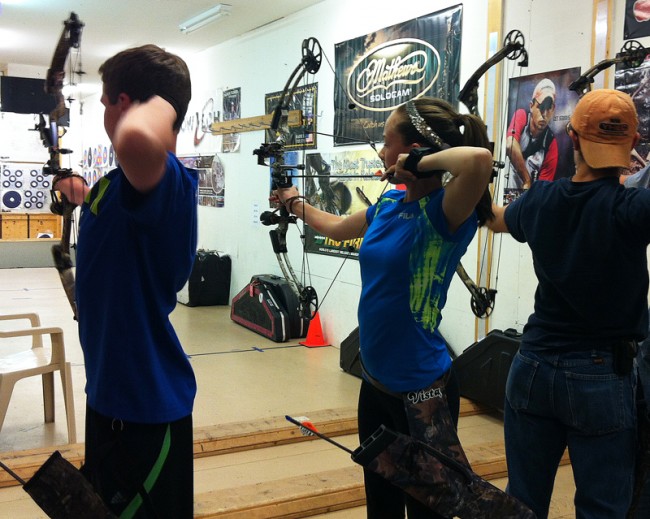 Seven ways youth can participate in archery
Local archery shop: Ask someone at your local archery shop for help in choosing a bow for your child. Then ask the salesperson to share his or her knowledge about local clubs and groups that offer the sport to young shooters. Many archery shops offer instruction or reserve their shooting lanes for instructors.
National Field Archery Association: Via NFAA's joint Certified Instructor Program, shooting and equipment clinics and shooter's schools are accessible in all 50 states. Additionally, NFAA members may compete at USA Archery (USAA) national and regional events. (Likewise, USAA members may compete at NFAA national and sectional events.) Many archery shops host these tournaments. Contact them for information on NFAA programs in your area.
USA Archery: USAA offers Junior Olympic Archery Development (JOAD), a nationwide youth archery program found in more than 500 clubs across the country. Young archers (up through age 20) can enroll in a class near them, learn the basics of archery, earn achievement awards and learn to compete, if they so choose. JOAD is structured to help archers achieve their archery goals, whether it's to enjoy the sport recreationally or to realize an Olympic or Paralympic dream. Visit their website for information on clubs near you.
Archery Shooters Association: A strong supporter of youth archery, ASA has worked closely with the development and promotion of National Archery in the Schools Program (NASP), but more recently has been active in the development of the Scholastic 3-D Archery (S3DA) program, which is specifically geared to after-school archery. In addition, the S3DA and ASA programs work in conjunction with United States Collegiate Archery (USCA), which sanctions collegiate archery programs and includes scholarship opportunities in archery. Visit ASA's website for information on programs in your area.
Bowhunter's associations: Do some research to see if your state has a bowhunting organization of some sort.. In Colorado, for example, we have the Colorado Bow Hunter's Association. It's a great resource for finding out about archery shoots and events in the state. Plus, it offers the Ted Nugent Camp for Kids each summer, a wonderful place for your child to become involved in archery and other outdoor activities.
Raised at Full Draw: Speaking of camps, I met with David and Karin Holder, hosts of Outdoor Channel's Raised Hunting. I was excited to learn that they offer a youth camp, Raised at Full Draw. ("It's our way of reaching youth," says Karin.) The camp accepts boys and girls ages 12–18. Participants learn about fitness and exercise, and what it means to become a good person, in conjunction with becoming an archer and hunter.
Youth Hunter Education Challenge: The YHEC is a program run by the National Rifle Association that offers instruction in archery, as well as long guns, muzzleloaders, shotguns, wildlife identification, hunter's safety, orienteering and more. Many clubs have equipment for children to use, so parents don't have to commit to purchasing gear until they are certain their child is interested.
About The WON

The Women's Outdoor News, aka The WON, features news, reviews and stories about women who are shooting, hunting, fishing and actively engaging in outdoor adventure. This publication is for women, by women. View all posts by The WON →