Eva Shockey Stays in Hunting Shape with MTN OPS
Eva Shockey Partners with Mtn Ops to Help Shape the Industry.
UTAH (March 21, 2016) – MTN OPS™, an outdoor energy and nutrition company, is proud to announce well-known huntress Eva Shockey has joined the fast-growing firm to help shape the outdoor industry in a positive and healthy way.ç
This mutual agreement came with a desire for Shockey to maintain a healthy-active lifestyle while helping to inspire and motivate others to do the same. "I've been using MTN OPS for over a year now and have seen my body completely transform," said Eva Shockey. "I have always been active but since adding MTN OPS to my lifestyle, I have more energy, I don't feel hungry, my fitness has improved and I feel better prepared for conquering hunting season and my hectic lifestyle."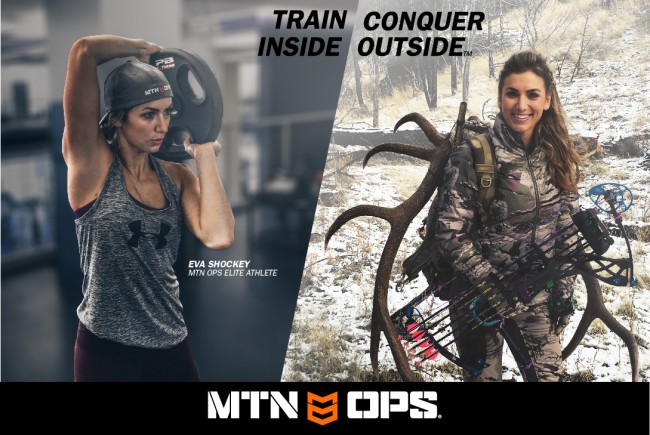 Eva is such a positive influence in our industry. She's passionate about protecting our outdoor community, but she's also passionate about maintaining a healthy-active lifestyle," said Jordan Harbertson, co-founder & vp of marketing for MTN OPS. "We are proud to have her join the family, as she's able to reach a whole new segment of outdoorsmen and women who want to be healthy for their passions.
Shockey said she enjoys incorporating MTN OPS products into her daily life. "I use Magnum to make post-workout shakes, smoothies, muffins, protein pancakes and anything else I can possibly add it to. I take Blaze and Phenix everyday pre/post workout and when I'm on the mountain hunting, I rely on Enduro to increase my performance levels for a prolonged period of time both in the gym and in the outdoors," concluded Shockey.
Learn more about MTN OPS at http://getmtnops.com, on Facebook at http://facebook.com/getmtnops and Instagram http://instagram.com/mtnops
About MTN OPS:
MTN OPS™ is an American made, family operated, performance-lifestyle company that develops, manufactures, markets and distributes outdoor energy and nutritional products. Every product is formulated under the guidance of certified chemists, nutritionists and researchers. MTN OPS takes pride in a rigorous approach to ensure quality by constantly researching and developing new formulas with the highest quality of ingredients. MTN OPS creates products that will improve your performance to help you train inside and conquer outside. MTN OPS is the leader in outdoor performance nutrition. For more information, visit Getmtnops.com
About The WON

The Women's Outdoor News, aka The WON, features news, reviews and stories about women who are shooting, hunting, fishing and actively engaging in outdoor adventure. This publication is for women, by women. View all posts by The WON →