NWTF Show – The Big Fix for Turkey Addicts
While browsing the aisles of my first NWTF Show in 2007, I met Ed Johnson at the Commando Hunting Products booth. He showed me how to talk turkey using a friction call, and within minutes I felt like a pro. Sensing my excitement, Ed offered to take me on my first turkey hunt in his home state of Missouri. That spring my husband and I traveled to meet Ed in Moon Valley, in the beautiful foothills of the Ozarks. With the patience of Job, and after 4 days of hard hunting, I slammed a jake at the last hour. I've been hooked on chasing thunder chickens ever since!
The annual National Wild Turkey Federation Show held at the Opryland Hotel in Nashville, Tennessee, is the big fix for turkey hunting addicts across the nation. The exhibit halls are always packed with traditional, proven products and fabulous new ones. This year, in celebration of its 40th anniversary, the NWTF pulled out all the stops. It was like a winter wonderland, with sights to behold at every turn. I ran full speed ahead for 3 days, like a turkey with its head cut off, and I still couldn't do and see everything. But I found some new products that are sure to help us tackle the turkeys this spring!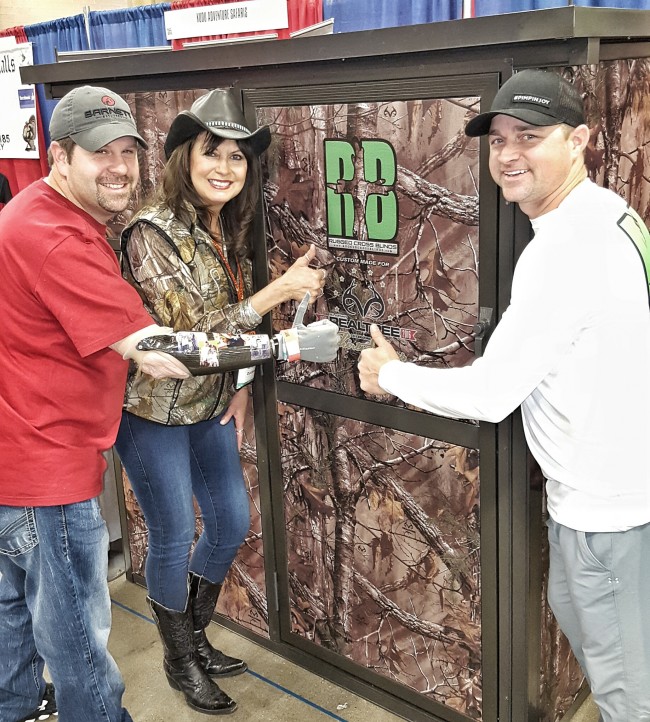 Rugged Cross Blinds – This blind is going to be game-changer for me. Weighing only 90–100 pounds and offering a full 360-degree view of the outside, the Rugged Cross Blind is my product pick of the 2016 NWTF Show. When turkeys pull the old switcheroo in their roosting patterns, I can relocate this blind by myself; its 4 panels and insulated roof quickly unbolt. Innovative screen printing allows full view through all four sides. Check out the video as I discover this treasure on the show floor.
MSRP: $2100.00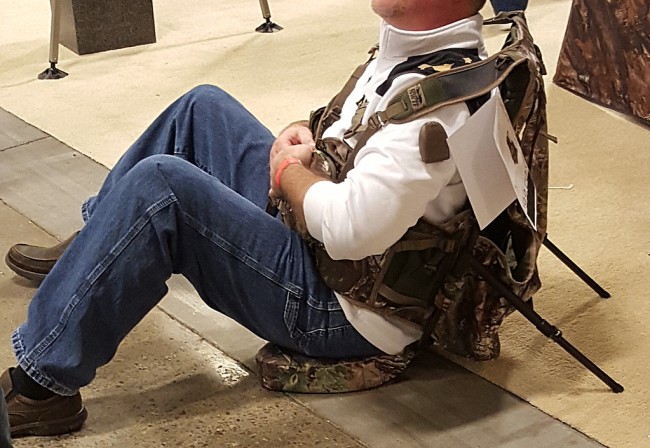 Alps Outdoorz NWTF Grand Slam Turkey Vest: You can basically sit anywhere with this handy frame, and the thick, padded foldaway seat lets you do it comfortably. I really like the smart-phone sleeve that allows you to use your phone while it's still in the pack—that will be a selling point for most any turkey hunter. It also has a removable diaphragm call pocket, H2O compatibility, two water bottle pockets, detachable shoulder straps and a protective and silent box call pocket. And if there's nothing to lean on in that perfect bush, you can just flip out the sticks and lean back in comfort.
MSRP: $179.99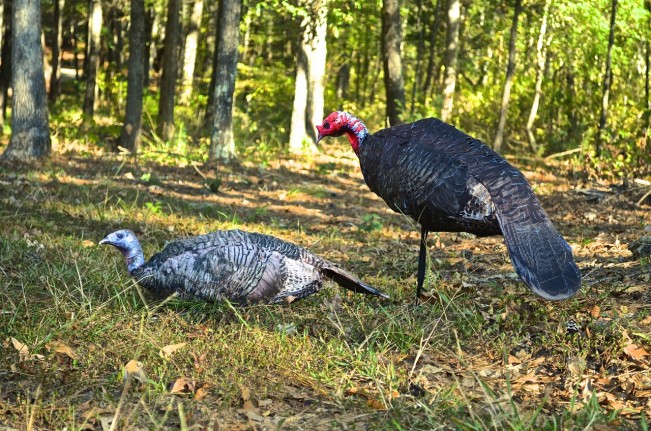 Montana Decoy Jake Purr-Fect – Packing decoys is normally a cumbersome necessity. It's been hard to find a decoy that would fold flat and pack easily, and then only after fumbling with it in the hope that it would look realistic. Montana Decoy came out with the Miss Purr-fect hen last year, which folds small and flat in a snap; this year the company has introduced the Jake Purr-fect. An adjustable head and neck lets you pose these decoys perfectly for any circumstance. The lifelike feathers on the body create a natural-looking decoy with the slightest breeze. These decoys pop into shape with little effort, and are going to make my life so much easier. See this video of just how perfect these decoys are.
MSRP: $59.99
My favorite tip for using the decoy is that I leave the leg pole in the body and attached. Then if I strike a bird close I can set it up so much faster. I'll let the leg pole stick out of my vest pouch so it is easy to grab. They fold down so small and flat that you can literally carry a flock with you. And the more the feather cuts get worn the more lifelike they look. – C.J. Davis, President, Montana Decoy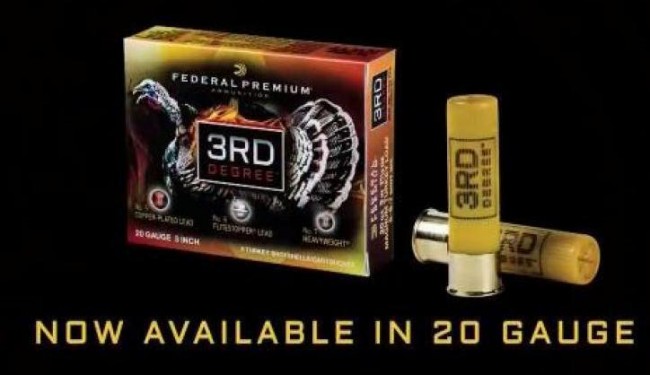 Federal Premium 3rd Degree shotgun shells now pack a bigger punch for a 20-gauge shotgun. Federal introduced this innovative design in 2015 as a 12-gauge load, and proved it could take turkey down more effectively and at further distances. Now Federal has expanded this lethal load for use in 20-gauge shotguns. You no longer need to feel you are sacrificing power or punch with that 20-gauge; this shell will even the odds. And best of all, Federal is donating a portion of the proceeds to the NWTF. After seeing this video I can see why it will be much more efficient. Below are the specs:
• A three-stage payload creates optimal patterns for the entire range spectrum
•20 percent No. 6 Flitestopper pellets for forgiving close-range patterns
•40 percent copper-plated No. 5 lead for lethal performance at mid-range
•40 percent Heavyweight for dense, high-energy patterns at 40-plus yards
•Flitecontrol wad maximizes the flight characteristics of all three shot types
MSRP: $21.95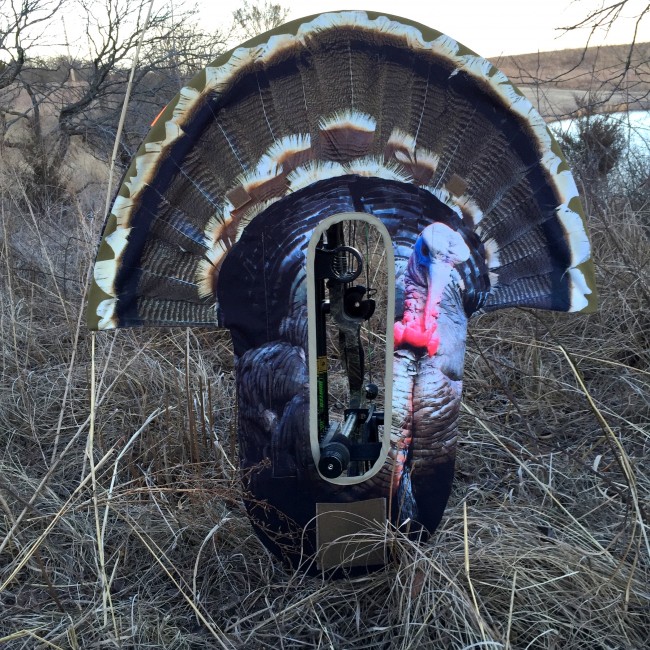 Ultimate Predator Gear Turkey decoy – The newest in the patented line of stalker decoys for the archer. This masterpiece attaches to your bow and lets you look like a gobbler in strut. It folds up into a small, flat, easy-to-pack circle. Made from lightweight fabric, it weighs less than 10 ounces and attaches in seconds. And while we're normally worried about movement when animals are around, slight movement will only enhance the reality of this old tom. It definitely gives hunters an edge for the hunt.
Note: Please be aware that you must know if this is a safe item for where you're hunting, and whether you are taking the risk of being identified as a turkey. We know people who fan gobblers, while crawling toward them, shotguns along … just be careful and be aware.
MSRP: $79.95
There are a few products introduced last year that deserve a mention. They've changed my turkey hunting tactics for life.
Turkey Fan. Having only used it one season with much success, I already have several stories of how these fans can help bring in the gobblers, or at least help you to blend into a more natural-looking scenery.
Camo Form Wrap is absolutely a must-have for my hunting pack. You can wrap any item with various patterns. This miracle wrap is washable, self-clinging, and reusable, with no sticky adhesive.
Ground Auger Hunting Solutions has many products to make turkey hunting easier, including turkey decoy stakes that fit most decoys, tent stakes to anchor your blind or temporary cover, and an auger bow holder that quickly screws into the ground.
About Becky Lou Lacock

Becky Lou Lacock spent most of her life as an entrepreneur owning several retail businesses. Her shooting and hunting adventures began later in life, and her excitement and enthusiasm just seems to spill out onto everyone around her. She tells tales of her adventures here at The WON, in her column titled "Becky Lou Outdoors." With a firm belief of "Let No Woman Be Left Behind," Becky Lou also participates, promotes and organizes female group activities and hunts across the country. She works diligently to provide women of all levels of physical and financial capabilities with perfect outdoor opportunities. As a professional freelance writer, she has been published by media outlets in print and online: InterMedia Outdoors' Game & Fish Magazine / Sportsman Magazine and OutdoorHub.com View all posts by Becky Lou Lacock →