Team Smith & Wesson's Miculeks Take Top Spots At Missouri 3-Gun
SPRINGFIELD, Mass. (March 28, 2016) — Team Smith & Wesson's Jerry and Kay Miculek scored wins at the Missouri 3-Gun Championship in Versailles, Missouri last weekend. Jerry Miculek won High Senior in the Open Division with a score of 92.47 percent, finishing second overall. Kay Miculek won High Lady in the Open Division with a score of 59.50 percent. Jerry and Kay both shot the Smith & Wesson® Performance Center® M&P®9 Pro Series® C.O.R.E.™ (Competition Optics Ready Equipment) pistol and the M&P®15 rifle during the competition.
Missouri 3-Gun Championship
The Missouri 3-Gun Championship featured a field of 210 shooters from around the world who participated in the 10-stage, two-day event. The match consisted of shooting on the move, challenging positions, walls, ports, roof top, vehicles, barricades and rifle out to 600 yards.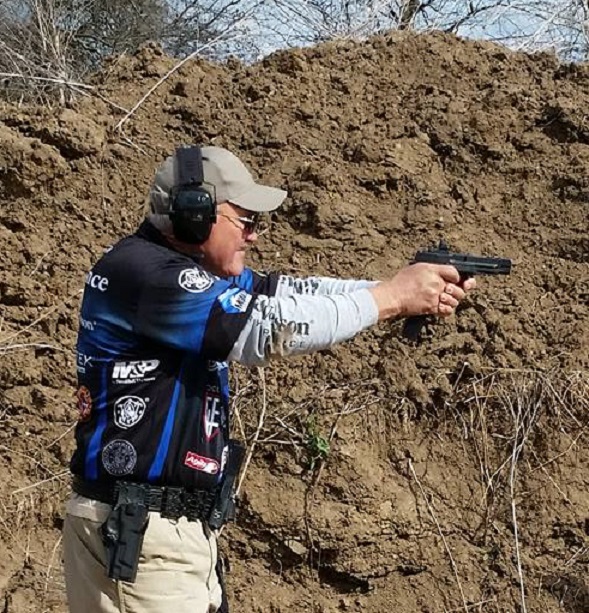 The weather made it a real test of endurance," said Jerry Miculek. "It was cold, overcast and windy and we were in the field from 7 am – 6 pm. It took a lot of discipline and perseverance to stay focused on the match, but we managed to do just that and our Smith & Wesson firearms performed flawlessly, as usual.
The Smith & Wesson Performance Center M&P9 Pro Series C.O.R.E. (Competition Optics Ready Equipment) pistol model used by Jerry and Kay Miculek comes equipped with an adjustable trigger stop to reduce over travel, as well as a Performance Center sear for a more positive trigger reset and lighter trigger pull. The M&P15 rifle comes standard with a forged upper and lower receiver constructed of 7075 T6 aluminum, forged integral trigger guard, chromed firing pin for extended life, M4 feed ramp for reliable feeding, and an Armonite® barrel finish for corrosion resistant durability.
Team Smith & Wesson members next compete the weekend of April 8-10 at the Texas 3-Gun Championship in Marble Falls, Texas and the Iron Outlaw Steel Match in Fredericksburg, Virginia.
About Smith & Wesson
Smith & Wesson Holding Corporation (NASDAQ Global Select: SWHC) is a U.S.-based leader in firearm manufacturing and design, delivering a broad portfolio of quality firearms, related products, and training to the global military, law enforcement, and consumer markets. The company's firearm division brands include Smith & Wesson®, M&P®, and Thompson/Center Arms™. As an industry-leading provider of shooting, reloading, gunsmithing and gun cleaning supplies, the company's accessories division produces innovative, top quality products under Battenfeld Technologies, Inc., including Caldwell® Shooting Supplies, Wheeler® Engineering, Tipton® Gun Cleaning Supplies, Frankford Arsenal® Reloading Tools, Lockdown® Vault Accessories, and Hooyman® Premium Tree Saws. Smith & Wesson facilities are located in Massachusetts, Maine, Connecticut, and Missouri. For more information on Smith & Wesson, call (800) 331-0852 or log on to www.smith-wesson.com. Pro Series® is used under license.
About The WON

The Women's Outdoor News, aka The WON, features news, reviews and stories about women who are shooting, hunting, fishing and actively engaging in outdoor adventure. This publication is for women, by women. View all posts by The WON →