The Syren Waterfowler is Put to the Test on an Alaska Coastal Sea Duck Hunt
We headed out of the Homer small boat harbor in a custom-built aluminum skiff toward a secluded cove across the bay. We hoped to shoot a few sea ducks before the afternoon winds came up and made crossing back difficult, if not impossible. It was my first time carrying an autoloader on a duck hunt, and I regarded it with some skepticism. My usual shotgun choice in the field is a classic over/under with blued steel barrels and a nicely figured wood stock. I was about to find out why the Syren XLR5 Waterfowler would soon earn a place of honor alongside the over/unders already in my gun safe.
Syren, a division of Caesar Guerini and Fabarm, produced the first line of field and target shotguns designed exclusively for women. I fell in love with the 20-gauge Syren Elos Venti at first sight. It was my kind of gun—built with a shorter length of pull, slimmer pistol grip, and a shorter distance between the center of the trigger to the leading edge of the pistol grip. The grain of the walnut and pair of roses carved into the top portion of the grip seemed to sum up the beauty of a double gun. Off the peg, it was as close to a tailored gun as I had ever held or fired. Although over/unders are my first love and within my comfort zone, the company's design philosophy focuses on a product shaped by and for women, and the Waterfowler shared the female-fitting design qualities of the Elos Venti. I was excited to put us both to the test.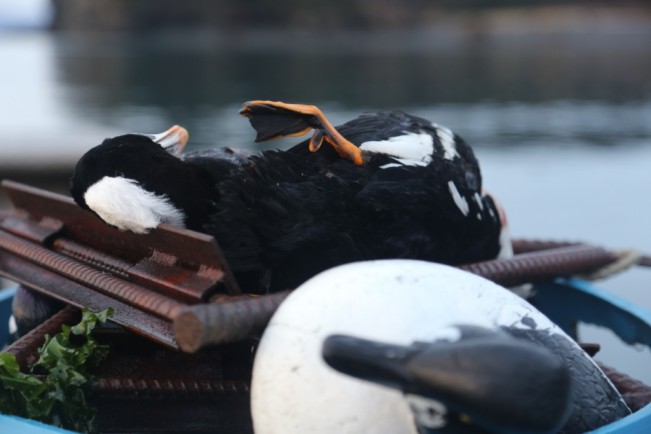 The cold, saltwater waterfowl hunting environment is perhaps the toughest duty one can ask of a firearm, particularly an autoloading shotgun resplendent with nooks and crannies that shamelessly hide gun-stopping corrosion and rust. Never mind the caking Cook Inlet tidal mud and salmon carcass–strewn river deltas that compose our waterfowling environment. Every outing is an adventure that runs the gamut of sub-zero temperatures, freezing rain, snow and coastal wind that even on good days lifts salt-laden sand up and into any available crevice. Seeing the failings of semi-auto shotguns in this environment is just a matter of being there to witness them. With each new version of the gender, promises of unfailing reliability get washed away in outgoing tides.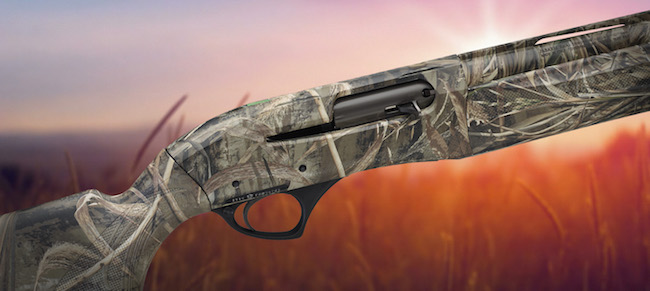 The Syren Waterfowler in 12 gauge weighs about 7½ pounds and has a 28-inch barrel. The day it arrived, I took it to the range to shoot a variety of different loads. It didn't seem to matter whether I was shooting 1⅛-ounce trap loads or the heavier duck loads, including 3-inch, 1¼-ounce Black Cloud or 1⅜-ounce Blind Side. It was the best day of shooting I'd had on the range in months. I was familiar with gas-action shotguns, but the XLR5 stood out as having a recoil-reducing system that made shooting the heavier loads lighter than expected. It's easy to love a gun that is a pleasure to shoot, and I was curious to find out how it would perform on a sea duck hunt.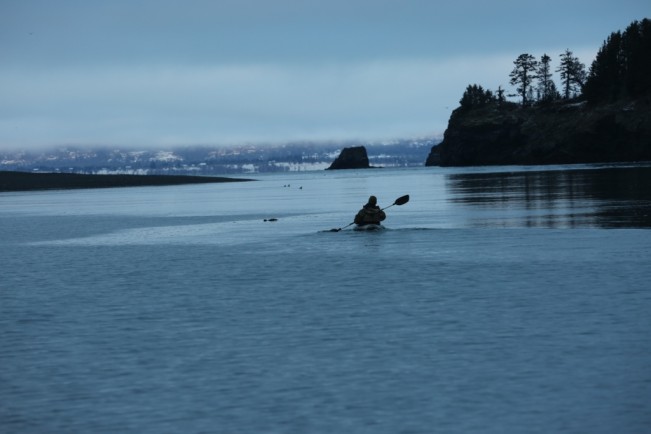 To waterfowl hunters, sea ducks present an unsurpassed challenge in wingshooting. Their fast and on-the-deck strafing of the decoys often leave a splatter of shot six feet behind where the bird used to be as you desperately try to get enough lead and press the trigger before they're out of range. Not to mention the drakes aren't identifiable until the last moment. They are not the sort of quarry where one wants the split-second thought process from identification to shot to be clouded by gun issues. My past sea duck hunting has made my good shooting at the range seem like luck to those in the boat, who end up believing I can't hit the side of a barn.
Feeding areas for many of the sea duck species exist in sheltered bays and coves along ocean coasts. The saltwater estuaries provide protein in the way of mussels, clams, small crustaceans and fish. A variety of sea ducks congregate during feeding times, which seemed always to depend on tidal flows. We threw out a line of scoter decoys and set up on the beach with a kayak nearby, since we would be the ones to retrieve any downed ducks. The first incoming ducks were Barrow's goldeneyes and surf scoters. We waited through a few more small flocks that were all hens. I finally got the chance to shoot; my duck stopped in the air before cartwheeling into the water at high speed. It was, by sea duck standards, a great shot, and garnered approval from my hunting partners.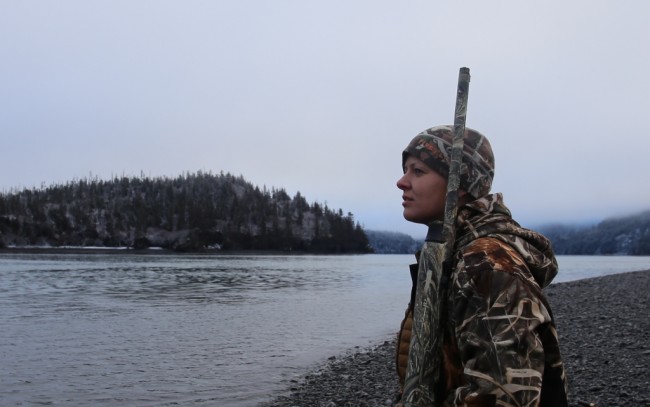 Of course, one shot proves nothing. The proof lay ahead, with salt spray pounding our faces and shotguns. We shot and hit some, missed some, froze our fingers and faces, and physically malfunctioned in all the ways humans can. My gun, the girl gun, had no such issues. Shot after shot it just kept running, like a well-oiled machine, a delight to anyone who appreciates elegance in function.
Information on the Syren XLR5 Waterfowler, including specifications, MSRP, and stock dimensions, can be found at Syren USA's website.
About Christine Cunningham

Christine Cunningham is a lifelong Alaskan, author and outdoor columnist known for her contributions to outdoor magazines and her commitment to creating opportunities for women to connect and share their stories. Her first book, "Women Hunting Alaska," profiles some of Alaska's most outstanding female hunters. View all posts by Christine Cunningham →