What Does 50 Years of Boating Look Like?
ALEXANDRIA, Va., March 25, 2016 — If you wanted to look back at the last 50 years of boating, what would it look like? Turn to the just released April/May 2016 issue of BoatUS Magazine and you'll find the answer. To celebrate the national boating advocacy, services and safety organization's 50th Anniversary, the special issue includes a trip down memory lane with a look at the innovations, the people, and the big news of the last 50 years.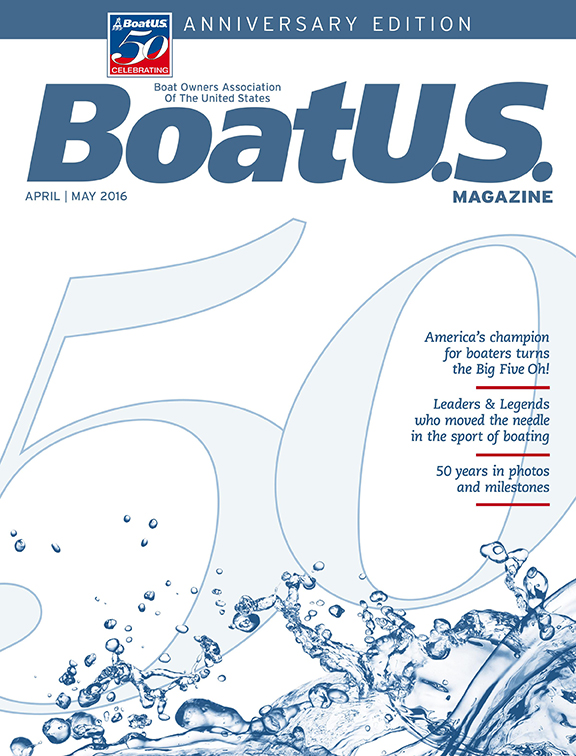 Two features that share the history of recreational boating:
"Timeline 1966-2016" shares 50 years of boating innovation, records and top news across the world of boating and fishing. Through it all, BoatUS has been fighting the good fight, with policy, safety and clean water victories. Click here to view.
"Leaders and Legends": The world of boating has attracted impressive individuals who've helped to make this the lifestyle we enjoy today. BoatUS selects 50 of the boating world's most provocative innovators and newsmakers, and presents 27 behind-the-scenes profiles to entertain and inspire. Additional profiles will follow in upcoming issues. Click here to view.
BoatUS Magazine is the nation's largest-circulation boating magazine with more than a half million readers, and is an exclusive member benefit.
About Boat Owners Association of The United States (BoatUS):
Celebrating 50 years in 2016, BoatUS is the nation's largest organization of recreational boaters with over a half million members. We are the boat owners' voice on Capitol Hill and fight for their rights. We help ensure a roadside breakdown doesn't end a boating or fishing trip before it begins, and on the water, we bring boaters safely back to the launch ramp or dock when their boat won't, day or night. The BoatUS Insurance Program gives boat owners the specialized coverage and superior service they need, and we help keep boaters safe and our waters clean with assistance from the non-profit BoatUS Foundation for Boating Safety and Clean Water. Visit BoatUS.com.
About The WON

The Women's Outdoor News, aka The WON, features news, reviews and stories about women who are shooting, hunting, fishing and actively engaging in outdoor adventure. This publication is for women, by women. View all posts by The WON →