Archery Equipment for Youth, How to Choose a Bow for Your Child
Recently we hosted a 3-D archery shoot for our friends and family. It included all ages and the biggest group was youth! It was so cool to see how excited they were to shoot and all the bows that came along with them. The kids didn't care if their arrows stuck in the targets; they were just happy to shoot at fun targets, such as a dragon or a dinosaur.
When considering whether to purchase a bow for your child, you may think it sounds simple. Looking a little deeper, there is more to it than just buying something from the toy store. You have to decide carefully on archery equipment for youth.
Archery Equipment for Youth
Bows
There are 3 types of bows.
Long Bow: Long bows are the most simple of the 3 types of bows. They have a very light draw weight and are a great bow to start a youngster on. They are very affordable and easy for children to use. The only disadvantage to these bows, is sometimes children can't pull enough weight to stick arrows into targets. A great long bow is 1st Shot Bow Set or the Titan from Bear Archery.
Recurve: A recurve bow is the next step up from a long bow. This type can pull a little more and will stick into the target when a child shoots it. These are a tad more technical than a long bow. (They also are a tad more costly than a long bow.) They are just as easy to shoot as a long bow; they are just a different style. A suggested bow like this would be the Bullseye X Recurve from Bear Archery. The only down side to these is that they only come in right-handed models. You can find left-handed recurve bows, though, such as the Fred Bear Kodiak Cub Youth Recurve Bow.
Compound: A compound bow is the elite of the 3 types of bows. These are the most costly. These bows come with more technology. These would be a good investment if your child would like to compete in archery competitions and get further involved in the sport. These bows pull more poundage and have more accuracy as well. The only disadvantage is the cost. Some great compound bows can be found at Genesis Archery. They offer 4 four bows that are excellent for beginner shooters. Bear archery also offers 2 great compound bows.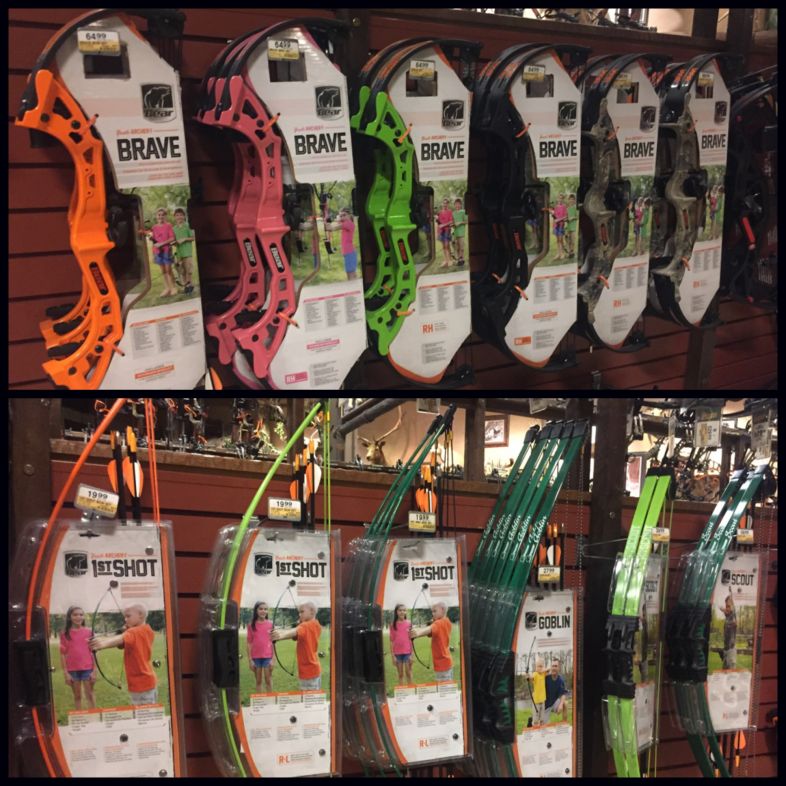 Equipment
For all these bows, it would be nice to have finger tabs. These will help protect little fingers and help not get blisters so your child can have a great experience shooting. When your child gets more comfortable and into shooting more, loops can be added, and also, a release.
Arrows are an obvious necessity to shooting. Wooden ones work well with long bows. Aluminum and carbon fiber also work well with recurve and compound bows. Don't forget to use field tips.
Quivers also are a necessity to shooting. This holder will help not only protect the arrows, but also it will protect the shooter.
For a beginner shooter, it might be nice to have an armguard to prevent string slap.
Of course, you must not forget a target. There are simple block targets and paper targets. To throw a twist in there, there are other targets such as 3-D ones (mentioned earlier) that are in a shape of any animal. There are also fun little ball targets that will do flips and turns when you shoot them. These targets are all in a reasonable price range and are great fun.
Safety first and always first
Also, I recommend that you supervise your children at all times when they are shooting bows, and that you observe the same types of safety rules about downrange, loading and unloading, as if it were a firearm.
No matter what equipment you get or what bow you get for your child, the most important thing is to have fun with them and teach them safety rules and that shooting is a fun sport.
To learn how to care for your archery equipment, read Lea's previous column here.