Female bowhunters are the fastest-growing segment in archery. Unfortunately, many of those ladies are using gear passed down from their male companions. BloodSport engineers know how important it is for ladies to shoot arrows made just for their lower-poundage bows, so they created the ATHENA, a serious hunting arrow that offers optimal impact and supreme flight accuracy to smash through big game.

Bloodsport Arrows – Serious Shafts for Serious Shooters
The ATHENA features all the best aspects of the BloodSport™ family. This includes a 100% carbon arrow with the tightest specs in the industry. And to make sure the guys don't steal these killer shafts, BloodSport added a sweet touch of pink to show a little feminine pride.
At a light 6.5 grains per inch, ATHENA arrows shoot flatter from bows typically used by female hunters, extending their range and increasing success. Finally, a hunting arrow has been designed just for female hunters. You go, girls!
Young archers often get caught in an awkward stage where their kid arrows aren't suitable for serious hunting and dad's are too heavy and stiff. BloodSport believes early teens have enough worries about feeling awkward that those issues shouldn't carry over into their archery gear. That's why APOCALYPSE arrows are specifically designed for bows up to 55 pounds, making them the perfect choice for youth bows and lighter-poundage hunters.
At an incredibly light 6.5 grains per inch and utilizing BloodSport's special carbon wrapping process, the APOCALYPSE is the perfect arrow for young archers. They come with professional grade, aircraft aluminum inserts and target tips. Just pull them out of the box and shoot.
Nothing about the APOCALYPSE proclaims "kid" or "youth," but young shooters will appreciate the extra accuracy and flatter trajectory they'll experience when using arrows designed from the ground up for their lower-poundage bows.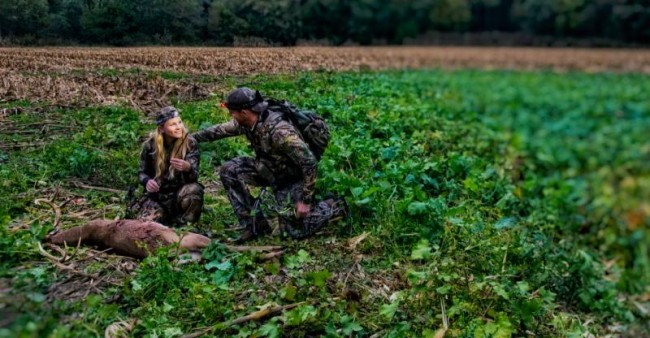 One of the most important aspects of getting kids into archery and keeping them interested is giving them equipment that fits and performs well. BloodSport's KICKING BEAR arrows aren't chopped down adult shafts, nor are they low-quality products that break easily and cause frustration.
Specifically designed for bows up to 55 pounds, KICKING BEAR arrows are built with the same Rugged Wrap construction as BloodSport's adult arrows. That quality construction means they can take the pounding common with the missed shots and oddly placed arrows from young archers.
At an incredibly light 6.5 grains per inch, KICKING BEAR arrows speed up even the lowest-poundage bows, making young shooters more successful and increasing the enjoyment of their archery experience. In addition, a portion of all sales goes directly to the Kicking Bear Organization, a faith-based group dedicated to getting kids into archery. Check out their website at
www.kickingbear.org
.