Julie McQueen & Daniel Lee Martin Partner with Wilderness Athlete
Julie McQueen and Daniel Lee Martin of "Till Death Do Us Part" Partner with Wilderness Athlete
Nashville, Tenn. (April 28, 2016) – Julie McQueen and Daniel Lee Martin are proud to partner with Wilderness Athlete, The Authority on Outdoor Performance Nutrition®. McQueen and Martin hunt and fish more than 200 days a year, plus handle the production for multiple shows and commercials through their production company, Backstage & Backroads Productions. They are familiar with utilizing supplements to keep them healthy for their grueling schedule.
Wilderness Athlete excels at formulating unique, scientifically validated, and field tested products designed to help outdoor athletes maximize performance before, during and after any outdoor experience," said Julie McQueen. "That's why Daniel Lee and I use their products. When we are filming all day in the backcountry and then we stay up to edit video and run our company at night – we need to stay healthy and keep our energy levels up. Its really a matter of peak performance and nutrition for our quality of life.
Wilderness Athlete is committed to delivering the highest quality products – with more than 100 years of combined experience in nutrition, manufacturing, and product formulations, along with knowledge of the great outdoors.
All Wilderness Athlete Performance Products adhere to stringent quality guidelines and GMPs, and are 100 percent satisfaction guaranteed," commented Daniel Lee Martin. "Julie and I are focused on nutrition and long-term health goals. We've been using the Wilderness Athlete product line for quite a while, and we have never felt better.
Backstage & Backroads Productions was created by Daniel Lee Martin in 2010 and currently produces a number of outdoor TV webisodes, shows, commercials and more, including "Brotherhood Outdoors," currently airing on Sportsman Channel.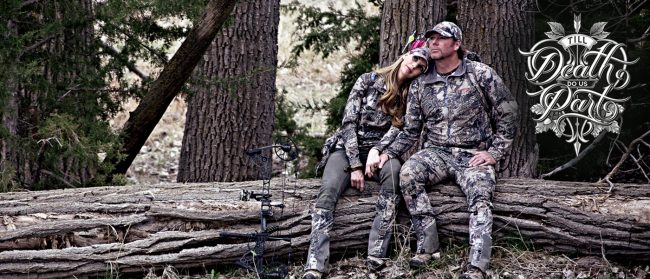 Julie and Daniel Lee are America's outdoor couple as they hit the road filming amazing adventures with their production studio, Backstage & Backroads Productions. Julie found her way into the hunting industry as a pro-staffer back before any other girl had even tried. She also made a name for herself in the fashion industry by working in Los Angeles, New York, and all over Europe. She just might be the only girl to fly from a photo shoot in France, land in the U.S., and climb directly into a tree stand. Daniel Lee was a professional golfer and advertising executive, but left it all behind in 1997 to pursue his dream of becoming a country recording artist. He's toured with Willie Nelson, Charlie Daniels, Clint Black and Vince Gill, to name a few, plus annual performances at Fan Fair in Nashville. In November of 2002, Martin became the first artist signed to ChinMusic Records. His two critically acclaimed albums led to him being one of the most widely recognized independent country music artists in Nashville.
Wilderness Athlete is The Authority on Outdoor Performance Nutrition® specializing in unique, scientifically validated product formulations addressing the need for quality health and physical conditioning for the outdoor athlete before, during and after outdoor activity so every second spent outdoors is experienced to the fullest. Learn more at http://wildernessathlete.com
Learn more about Julie and Daniel Lee at http://backstageandbackroads.com and more on their newest project, Till Death Do Us Part, at http://tilldeathdouspart.tv
About The WON

The Women's Outdoor News, aka The WON, features news, reviews and stories about women who are shooting, hunting, fishing and actively engaging in outdoor adventure. This publication is for women, by women. View all posts by The WON →