"Till Death Do Us Part" : New TV Series Begins on Carbon TV
"Till Death Do Us Part"
NASHVILLE, Tenn. (April 21, 2016) – It's a fact: some TV couples just don't last. Julie McQueen and Daniel Lee Martin of Backstage & Backroads Productions are staking a claim that this TV couple isn't going anywhere with their new series debut "Till Death Do Us Part" on CarbonTV. Learn more at http://www.carbontv.com/shows/till-death-do-us-part/
Our lives encompass more than just going out hunting and fishing and we wanted to create a show around that – to push beyond the typical outline for an outdoor TV show. We pitched it to CarbonTV and they embraced the idea," said Julie McQueen. "The show title describes both our connection as husband and wife, and also our commitment to follow through in all things in life, whether it's in the field, in our marriage, or running our company together.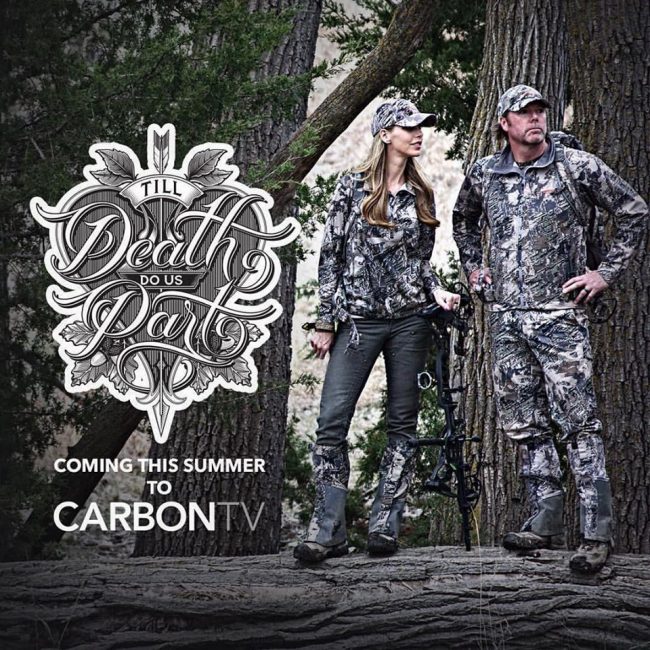 "Till Death Do Us Part" will feature Daniel Lee and Julie's adventures around the world and even into their own backyard in Nashville, Tenn. The show encompasses the entire lifestyle of what they do as a couple, as hunters/anglers and business partners. With cinematography that rivals anything else in the industry, and personalities that are credible and interesting, Daniel Lee and Julie will take their fans behind the scenes of every adventure they encounter.
How people consume media is changing and we want to continue leading the industry in change instead of holding onto old ways of doing things. That's why Carbon TV is such a great fit for us," said Daniel Lee Martin. "In our show, you won't see us arguing over who harvested the bigger animal or who is a better shot. We lift each other up and work together for a common goal. It truly is a look inside of what our lives are like day in and day out.
Backstage & Backroads Productions was created by Daniel Lee Martin in 2010 and currently produces a number of outdoor TV webisodes, shows, commercials and more, including "Brotherhood Outdoors," currently airing on Sportsman Channel.
Julie and Daniel Lee are America's outdoor couple as they hit the road filming amazing adventures with their production studio, Backstage & Backroads Productions. Julie found her way into the hunting industry back before very many girls had even tried. She also made a name for herself in the fashion industry by working in Los Angeles, New York, and all over Europe. Many times she would fly home from a photo shoot just to climb into a treestand and pursue her passion for hunting. She earned her pilot license when she was only 24, and has had some compelling careers along the way since then, including playing poker professionally. She also holds two college degrees in the Arts and Sciences of Psychology.
Daniel Lee was a professional golfer and advertising executive, but left it all behind in 1997 to pursue his dream of becoming a country recording artist. He's toured with Willie Nelson, Charlie Daniels, Clint Black and Vince Gill, to name a few, plus annual performances at Fan Fair in Nashville for 11 years. In November of 2002, Martin became the first artist signed to ChinMusic Records. His two critically acclaimed albums led to him being one of the most widely recognized independent country music artists in Nashville.
Learn more about Julie and Daniel Lee at http://backstageandbackroads.com
About The WON

The Women's Outdoor News, aka The WON, features news, reviews and stories about women who are shooting, hunting, fishing and actively engaging in outdoor adventure. This publication is for women, by women. View all posts by The WON →