Scholarships Available for the 2016 Wyoming Women's Antelope Hunt
LARAMIE, WY – Through the support of sponsors, the Wyoming Women's Foundation is offering scholarships to pay participation expenses for women interested in joining the 2016 Wyoming Women's Antelope Hunt.
The hunt, held Oct. 6-9, 2016, will bring together 40 female hunters from across the nation at the Ranch at Ucross in northeast Wyoming for a weekend of hunting, mentorship and camaraderie, as well as raising funds and awareness for the Wyoming Women's Foundation.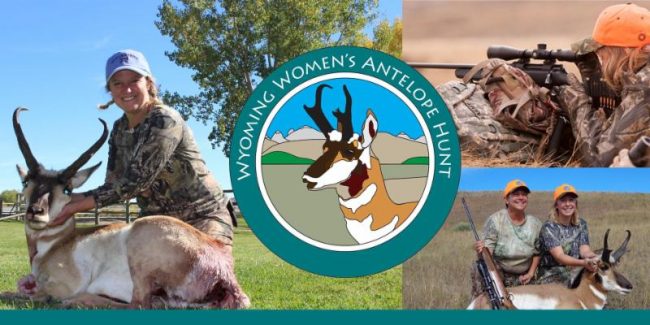 Scholarships include all license, hunting and guide fees, as well as lodging, meals and post-hunt activities for four days and three nights at the scenic guest ranch. Hunters of all skill levels, including first-time hunters, are welcome to apply. Each pair of hunters is assigned to one licensed guide and is provided access to private and public lands surrounding Ucross. Applicants will be considered from anywhere in the country, but selected applicants must provide their own transportation to the ranch. Visit www.wyomingwomensantelopehunt.org for more information and to apply.
To apply, submit an application through the web site by May 31, which includes a 300 word essay on why you would like to participate and what sets you apart from other applicants. Selections will include both seasoned hunters and aspiring hunters who will hunt as mentors and mentees in pairs with other women participants. Up to 11 of the 40 hunting spots will be awarded to scholarship applicants. Applicants will be notified if they are selected starting July 1, 2016. Event sponsors and hunt alumnae make the scholarship program possible.
The Wyoming Women's Foundation created the event – the first of its kind in the nation – in 2013. So far the annual event has raised more than $200,000 for grants and special projects to help women and girls across Wyoming. Special guest hunters have included retired Wyoming Supreme Court Justice Marilyn Kite, Wyoming State Superintendent Jillian Balow, Jana Waller from "Skull Bound TV" on the Sportsman Channel, Women's Outdoor News (WON) Editor Barbara Baird, 2013 Ms. Wheelchair USA Ashlee Lundvall, and Julie Golob, captain of Smith & Wesson's highly successful shooting team. Of the 40 total hunters in 2015, 36 harvested antelope, 11 for the first time.
About the Wyoming Women's Foundation
The Wyoming Women's Foundation is a priority fund of the Wyoming Community Foundation, which granted out over $6.1 million to nonprofits across the state in 2015. The Women's Foundation builds on a permanent endowment that will ensure funding to enhance the lives of women and girls in Wyoming for generations to come. It makes grants to organizations that help Wyoming women and girls attain economic self-sufficiency, creates statewide awareness of the barriers to economic self-sufficiency, and supports systems change to eliminate those barriers. Since its inception in 1999, the foundation has invested $775,000 into almost 100 organizations. Learn more at www.wywf.org
About The WON

The Women's Outdoor News, aka The WON, features news, reviews and stories about women who are shooting, hunting, fishing and actively engaging in outdoor adventure. This publication is for women, by women. View all posts by The WON →