Ginny Thrasher: Rifle Mastery In Process
This week's WONderful Olympic Woman is Ginny Thrasher.
There is a running bet among the West Virginia University (WVU) Rifle Team on how many times their dynamic teammate uses the word 'process' during interviews.
If we are counting, 11 times in 25 minutes to be exact. It's a simple word to describe the endlessly complicated techniques used in trying to perfect a sport in which overcoming self is the biggest obstacle.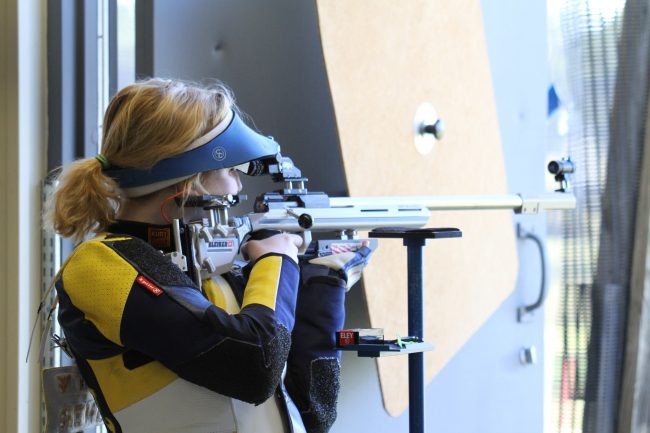 Motivational speaker Dr. Eric Thomas says, "fall in love with the process, and the results will come." We think he'd like to meet 2016 Olympian Ginny Thrasher.
I've absolutely fallen in love with process," she said. "When you are emotionally attached to the outcome, that's not something that's within your control. You're a roller coaster of a person, so when you're emotionally attached to the process, which you can control and can work on every day, you're much more consistent in shooting and life.
Through process, Ginny Thrasher has reached unprecedented success.
She jump-started her WVU freshman campaign by earning five medals (two open/three junior) at the 2015 USA Shooting National Championships. That performance helped propel her through her first collegiate season in leading all rifle competitors with the top air rifle score of 599/600 that she shot on two separate occasions. That all lead to a crowning moment during the NCAA Rifle Championships where she became the first freshman rifle shooter ever to win both individual titles in air and smallbore while leading WVU to their fourth-straight, and 18th overall, NCAA team title.
Success didn't end there for the 19-year-old, however. She went to Olympic Team Trials three weeks later and pulled out a decisive victory in the Three-Position event over a seasoned and talented field. She earned a nine-point win having never competed in the event internationally. From NCAA Champion to Olympian, it's been quite a couple of months.
It's such a cool feeling and it really hasn't sunken in yet," she said. "When you hear the word Olympian, two things come to mind and the first is you have an opportunity to positively represent your country and that's something I'm really proud of and something I'm excited to do. The next thing is that you get to compete in your sport at the highest level of competition in the world. That's something that most people don't get to do and I'm very thankful for that opportunity.
A product of West Springfield High School in Virginia, Thrasher shot for her high school rifle team, but her love of shooting first came after hunting with her grandfather. She is the youngest of three children with two older brothers.
Shooting is a family thing for us," she said in a previous interview. "My grandpa has taken me hunting several times. My dad was in the Air Force and likes to go shooting. Both of my brothers are very good shots. All of my family is very supportive of my shooting career and they've had a great influence on me.
As a result of her dad's military career, she moved nine times before the ninth grade having been born in Rome, New York.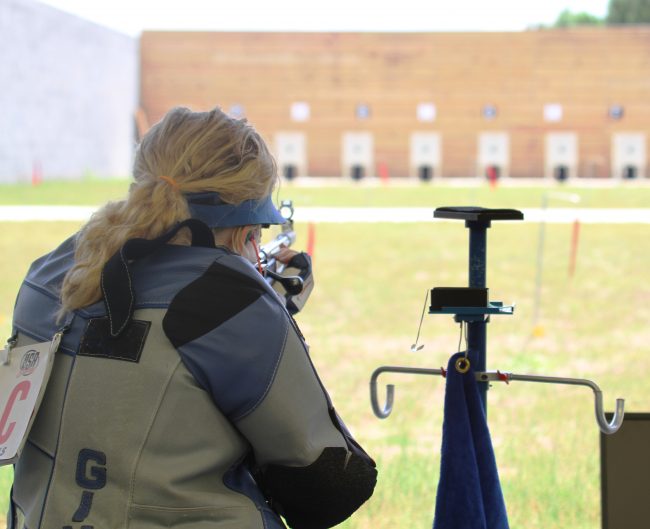 Asked about what's been the biggest key to her success and both student and coach state unequivocally that Thrasher's mental approach has been the biggest difference. Her work with WVU sports psychologist Raymond Prior has led her to the process-minded approach that she recounts frequently in spite of jokes she might face from teammates.
Changing my mindset from someone that was focused on outcome, which creates a very inconsistent performer, to someone that's now focused on process, has made me more consistent, better and happier as a shooter. When you're shooting and all you can think about is the five more 10s for a personal best or to win the match, you're never going to be able to shoot the best that you can. It's a very limiting way of shooting. Learning to have a mindset that's focused on my personal growth has really freed me of the limits. A year ago, I wouldn't have thought this year was possible. But now, I realize I don't have limits in my shooting career because of my mindset.

She has worked extremely hard this year to improve her shooting ability," says WVU head coach Jon Hammond. "This doesn't just mean training in the range, but working on her mental skills and committing to thinking differently when she trains and competes. I think her change in mindset of how she approaches the sport and how she thinks has had the greatest impact on her improvement.
Despite the success, Thrasher thinks she's just getting started. Again, she's not interested in final uncontrollable outcomes, but the end goal is no doubt mastery.
I've always been a competitive person and I love winning. I shoot for mastery. I really like the fact that somewhere out there is the perfect shot. And because of that, I feel like every day that I'm learning and improving, I want to keep shooting. You can have the perfect technique, the perfect hold, shoot the perfect shot and I just try every day to get closer to being able to do that. That's what really drives and motivates me.
After all, perfection is a process.
If you missed any of our WOW Wednesday's you can catch them right here.
About The WON

The Women's Outdoor News, aka The WON, features news, reviews and stories about women who are shooting, hunting, fishing and actively engaging in outdoor adventure. This publication is for women, by women. View all posts by The WON →