Meet Kristy Titus This Weekend at NRA Annual Meetings
Bend, Oregon (May 18, 2016) – Kristy Titus, NRA Certified Instructor, Host of NRA I Am Forever, Cabela's Ambassador and Rocky Mountain Elk Foundation, Team Elk featured member is offering meet & greets with key partners during the NRA Annual Meetings May 19-21 at the Kentucky Expo Center in Louisville, Ky.
The NRA Annual Meetings are a great opportunity to unite women of influence, to defend second amendment freedoms and help to encourage and inspire more women to participate in shooting sports," said Titus. "It is because of the NRA, through philanthropic leadership, that the participation of women in shooting sports is on the rise. Together we are educating women on firearms familiarization, and safe responsible gun ownership. The natural progression for many is hunting- and there is no better place to spend time with friends and family than afield creating memories that last a lifetime.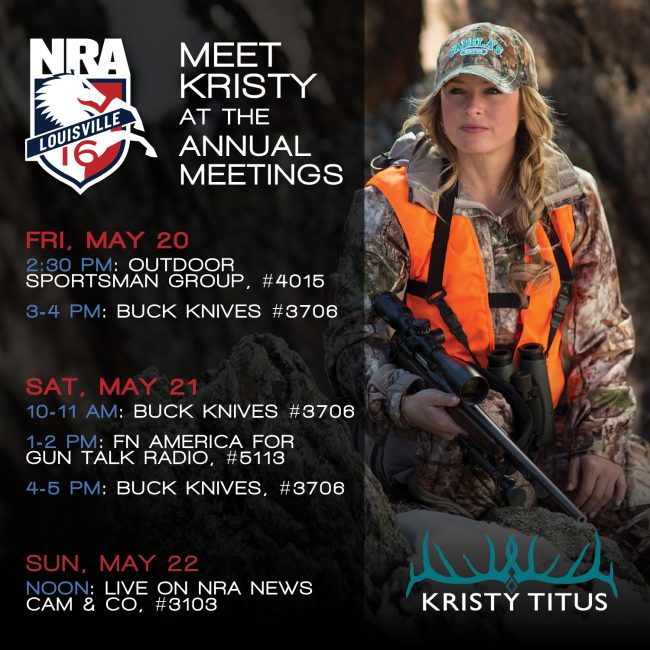 Meet Titus at the following times:
Friday, May 20
2:30 p.m. – Outdoor Sportsman Group, #4015
3 – 4 p.m. – Buck Knives, #3706
Saturday, May 21
10 – 11 a.m. – Buck Knives, #3706
1 – 2 p.m. – FN America for Gun Talk Radio, #5113
4 -5 p.m. – Buck Knives, #3706
Sunday, May 22
Noon – Live on NRA News Cam & Co, #3103
Learn more about NRA Annual Meetings at http://nraam.org
About Kristy Titus: With a shared passion and love of the outdoors, Titus is honored to serve as an ambassador for Cabela's, The Rocky Mountain Elk Foundation, RMEF's Team Elk television Show, Host of NRA I Am Forever, Swarovski Optik, Buck Knives, Montana Silversmiths, and Wilderness Athlete. Titus was raised leading a pack string of mules into the backcountry of Oregon, experiencing the thrill of public land, do-it-yourself hunting. Titus is an NRA Basic Pistol and Refuse To Be A Victim Certified Instructor. She shares her passion for fitness and nutrition as editor for Western Hunter and Elk Hunter magazines. Learn more at http://kristytitus.com, https://www.facebook.com/KristyTitus and https://instagram.com/kristytitus/
MEDIA CONTACTS:
Michelle Scheuermann, BulletProof Communications LLC, 651.964.0264; michelle@bulletproofcomm.com
About The WON

The Women's Outdoor News, aka The WON, features news, reviews and stories about women who are shooting, hunting, fishing and actively engaging in outdoor adventure. This publication is for women, by women. View all posts by The WON →