Smith & Wesson M&P 15-22 SPORT Rifle Now Available in MOE SL
NEW Smith & Wesson® M&P® 15-22 SPORT Rifle Now Available in Magpul® Original Equipment MOE SL® Models
SPRINGFIELD, Mass. (May XX, 2016) – Smith & Wesson today introduced the M&P 15-22 Sport™ MOE SL model (Magpul Original Equipment Slim Line). Now available with American-made Magpul accessories as standard equipment, the dedicated .22 LR M&P rifle retains the look and operating features of the company's popular M&P rifle line, with the enhanced ergonomics of Magpul accessories.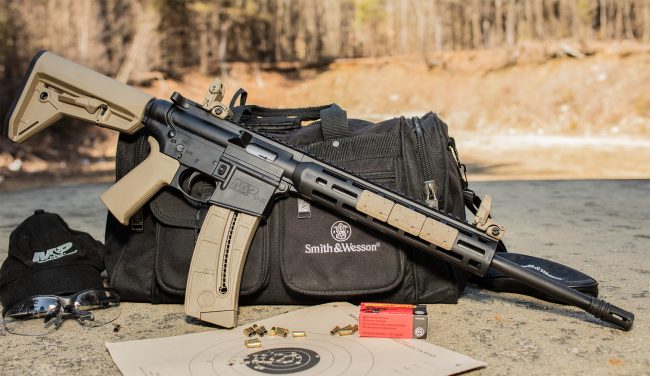 Smith & Wesson M&P 15-22 SPORT Rifle
"As we continue to offer shooters enhanced features and control on a factory built platform, we are especially excited about this newaddition to our extremely popular family of M&P15-22 Sport rifles," said Jan Mladek, General Manager of Smith & Wesson's M&P Brand. "We continue to look for new and innovative ways to evolve the M&P rifle series and offer consumers enhanced features. Outfitting the M&P15-22 Sport MOE SL with Magpul original equipment is just another step in creating the ultimate shooting experience.
Engineered on a high strength polymer upper and lower receiver, the M&P15-22 Sport MOE SL delivers reduced weight and serves as an ideal training firearm for law enforcement, as well as a popular choice with consumers for recreational shooting purposes. In addition to the standard features of the M&P15-22 SPORT rifle, which include front and rear MBUS® folding sights and the M&P Slim M-LOK® handguard, the new M&P15-22 SPORT MOE SL models are equipped with a Magpul MOE SL mil-spec carbine stock, SL Grip, and Magpul Type2 M-LOK rail covers. The M&P15-22 SPORT MOE SL is available in black or flat dark earth finishes and comes complete with a 25 round .22LR magazine.
Magpul MOE SL Carbine Stock (Mil-spec) features:
Improved cheek weld with sloped comb profile.
Shielded ambidextrous release lever prevents snagging and accidental adjustment.
Angled rubber butt pad offers an anti-slip surface and increases impact protection.
Push button QD socket and sling loops for additional mounting options.
Magpul MOE SL Grip features:
Greater vertical grip angle that bring the primary hand in closer to the shooter's body.
Beavertail backstrap for enhanced ergonomics.
Slimmer width for a slightly smaller feel.
Aggressive TSP texture (Trapezoidal Surface Projections) for positive control in all environments.
Magpul M-LOK Type 2 Rail Covers features:
Heavily textured contact surface for positive control in all environments
The M&P15-22 SPORT MOE SL model has an MSRP of $499 and is sold with a limited warranty and a lifetime service policy. For more information on the M&P15-22 SPORT rifle models please visit www.smith-wesson.com. For more information on Magpul accessories, please visit www.magpul.com.
About Smith & Wesson
Smith & Wesson Holding Corporation (NASDAQ Global Select: SWHC) is a leading provider of quality products for the shooting and outdoor enthusiast, delivering a broad portfolio of quality firearms and hunting and shooting accessories, to the global consumer and professional markets. The company's firearms division brands include Smith & Wesson®, M&P®, and Thompson/Center Arms™. As a leading provider of shooting, reloading, gunsmithing, and gun cleaning supplies, the company's accessories division produces innovative, high-quality products under several brands, including Caldwell® Shooting Supplies, Wheeler® Engineering, Tipton® Gun Cleaning Supplies, Frankford Arsenal® Reloading Tools, Lockdown® Vault Accessories, and Hooyman® Premium Tree Saws. The company's manufacturing services division provides forging, machining, and precision plastic service for outside businesses. Smith & Wesson facilities are located in Massachusetts, Maine, Connecticut, and Missouri. For more information on Smith & Wesson, call (800) 331-0852 or log on to www.smith-wesson.com.
About The WON

The Women's Outdoor News, aka The WON, features news, reviews and stories about women who are shooting, hunting, fishing and actively engaging in outdoor adventure. This publication is for women, by women. View all posts by The WON →