Team Smith & Wesson Brings Home Wins at Major Competitions
SPRINGFIELD, Mass. (May 9, 2016) — Tony Miele, General Manager of the Smith & Wesson® Performance Center®, today highlighted multiple Team Smith & Wesson wins, saying,
At Smith & Wesson, we have a long history of supporting the shooting sports and we are proud to partner with our exceptional professional shooters to help promote interest in recreational and competitive shooting. With a total of 14 First Place, three Second Place, and three Third Place finishes so early in the season, Team Smith & Wesson looks very promising as they continue to promote the shooting sports, demonstrate the accuracy and reliability of our firearms, and secure victory in their competitions.

Members of Team Smith & Wesson
Jerry Miculek
At the USPSA Multi Gun Nationals at the Desert Sportsman's Rifle and Pistol Club in Las Vegas, NV, Jerry Miculek competed with a field of over 300 shooters, maintaining strict focus as he fought his way to the number one spot in the Open Division with a score of 100.0%, finishing second overall, and securing High Senior. Jerry's firearms included the Smith & Wesson Performance Center M&P®9 Pro Series® C.O.R.E. ™ (Competition Optics Ready Equipment) pistol and the M&P15 rifle. Miculek said, "Consistent performance during harsh conditions proved to be the key ingredient for another USPSA National title. Winds of up to 40 mph turned the range into a dust bowl, so the dependability of equipment and the will power of every competitor were tested to the max. My M&P9 C.O.R.E pistol and M&P15 PC rifle turned in flawless performances, allowing me to capture four stage wins and 8 top three finishes."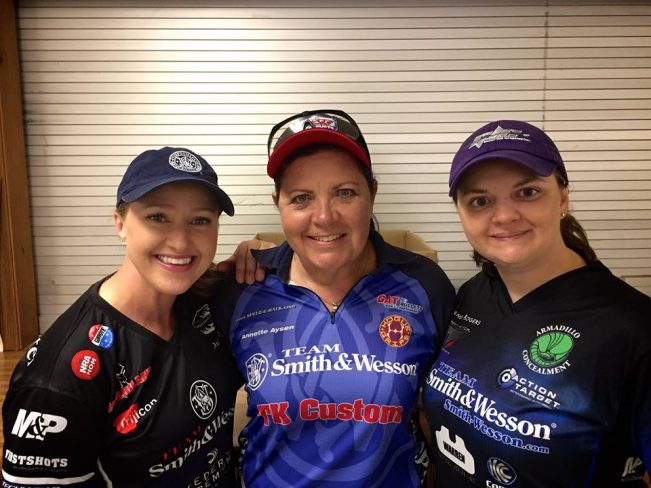 Randi Rogers & Julie Golob
Competing in the USPSA Area 6 Championship at South River Gun Club in Covington, GA, Randi Rogers won High Lady with a score of 76.20% in the Production Division shooting her Smith & Wesson Performance Center M&P Pro Series® 9mm pistol with 5-inch barrel. Team Captain, Julie Golob finished 3rd High Lady in the Single Stack Division shooting her Smith & Wesson Performance Center 9mm 1911 pistol. Rogers said, "Area 6 was my first USPSA match of 2016 and the largest USPSA match I have ever been a part of with over 500 shooters in attendance. I shot the whole match in 1 day: 12 stages and 350 rounds. It was a very technical match with many shots at distances of 20-30 yards and many targets with no-shoots nearby or partially covering them. There were also steel targets and a few movers for good measure. Production is my favorite USPSA category. I enjoy the challenge of having only 10 rounds in the magazine of my M&P Performance Center Pro Series pistol and figuring out the best places in the stage to reload."
Josh Lentz
Competing in the PSA Shootout at Palmyra, PA, Josh Lentz took top spots finishing 1st Stock Revolver scoring 100% with his Smith & Wesson model 25 revolver and 1st Open Revolver with his Performance Center model 929 revolver. Lentz said, "This is one of my favorite matches of the season. The weather was beautiful all weekend for the match, and my Smith & Wesson model 25 and Performance Center model 929 revolvers functioned flawless throughout, giving me the edge needed to take two top place finishes."
About Smith & Wesson
Smith & Wesson Holding Corporation (NASDAQ Global Select: SWHC) is a leading provider of quality products for the shooting and outdoor enthusiast, delivering a broad portfolio of quality firearms and hunting and shooting accessories, to the global consumer and professional markets. The company's firearms division brands include Smith & Wesson®, M&P®, and Thompson/Center Arms™. As a leading provider of shooting, reloading, gunsmithing, and gun cleaning supplies, the company's accessories division produces innovative, high-quality products under several brands, including Caldwell® Shooting Supplies, Wheeler® Engineering, Tipton® Gun Cleaning Supplies, Frankford Arsenal® Reloading Tools, Lockdown® Vault Accessories, and Hooyman® Premium Tree Saws. The company's manufacturing services division provides forging, machining, and precision plastic service for outside businesses. Smith & Wesson facilities are located in Massachusetts, Maine, Connecticut, and Missouri. For more information on Smith & Wesson, call (800) 331-0852 or log on to www.smith-wesson.com. Pro Series® is used under license.
About The WON

The Women's Outdoor News, aka The WON, features news, reviews and stories about women who are shooting, hunting, fishing and actively engaging in outdoor adventure. This publication is for women, by women. View all posts by The WON →