Retro WON: 9 Safety Tips You Must Know if You Kayak
I read tons of books about having a survival mindset. An unexpected storm turned a recent family kayaking trip off the coast of Virginia into a life-or-death situation, emphasizing the importance of a survival state of mind. Without the proper safety equipment, planning and mindset, this crisis might not have had a happy ending. Here are some steps to take to avoid disaster in a kayak.
All photos by Michelle Cerino.
1. Know what you're getting into. Read guide books, research tips online, watch videos, check with outfitters and talk to others that have experience on the water. Learn how to re-enter your boat and how to assist others back into theirs before you head out. Luckily for me, my husband, Chris, and boys had experience canoeing and whitewater rafting through Boy Scouts.
2. Have a float plan. Let someone who'll be remaining on shore know the route you'll be taking. Even though we had a float plan, our guide checked in with the people on shore periodically. They knew our last stopping point, and where we were heading next.
3. Wear your life jacket. If you're purchasing one, buy the personal floatation device (PFD) specifically designed for the paddling sports. Regardless of how shallow or calm the water is, put it on! Our trip started out in marshes only 2 feet deep. A storm took us out to 60-foot-deep water with rain, 45-mph winds and 4- to 5- foot waves.
4. Carry a whistle or another sound signal device. Have a way to let other paddlers know when you are in distress. I suggest attaching it to your PFD for easy access. Although my husband had a whistle on his life vest, I happened to turn around to see him and my son in the water with an overturned kayak. When I capsized, I would not have been able to get to a whistle if it hadn't been attached to my PDF. Struggling to hang on to the kayak is about all that can be done.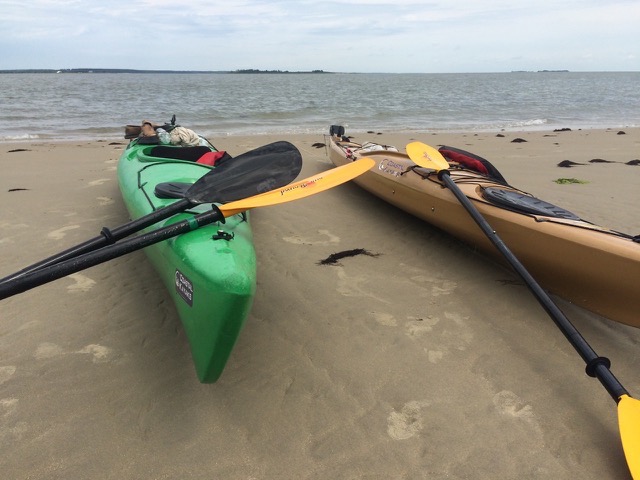 5. Bring a tow rope. Thankfully our guide had one in her kayak. Chris tied two of the kayaks together so we wouldn't get separated. It also made it easier to hold onto that rope while swimming, rather than the side of the kayak.
6. Buy a Lifeproof case for your phone. My phone was tucked inside the top strap of my bathing suit to take photos of the trip. After trying to swim to shore for more than 1.5 hours in the storm and saltwater waves, I wasn't sure the phone still worked. Since our guide had already called 911 from her phone that was in a dry box, I used mine to call my mom and dad. I know, it sounds crazy, but that was the first thing I did. And I'm happy to say, the phone suffered no water damage.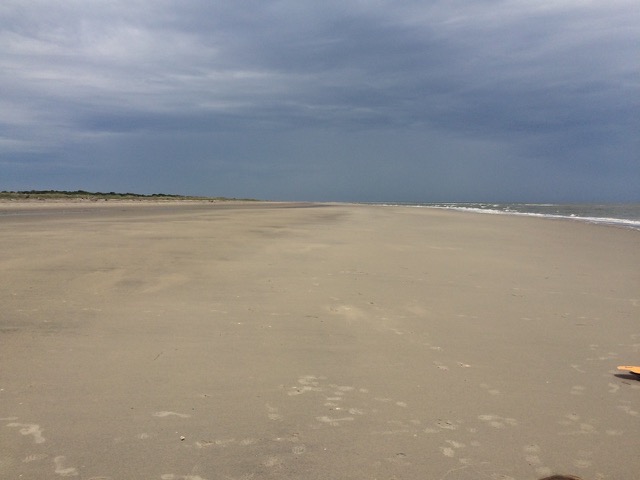 7. Watch for weather and water changes. Keep an eye on the sky. If a storm seems to be approaching, seek shelter. DO NOT try to beat a storm—they always seem to win. Also, know which way the tide is going. High winds and waves can make this very deceiving. Although waves were crashing toward shore, the tide was actually pulling us the opposite way, out to the Atlantic.
8. Wear bright clothing—preferably white, bright orange or yellow. It was extremely hard to see everyone in the waves. Bright colors would have helped a spotter if we'd needed a water rescue.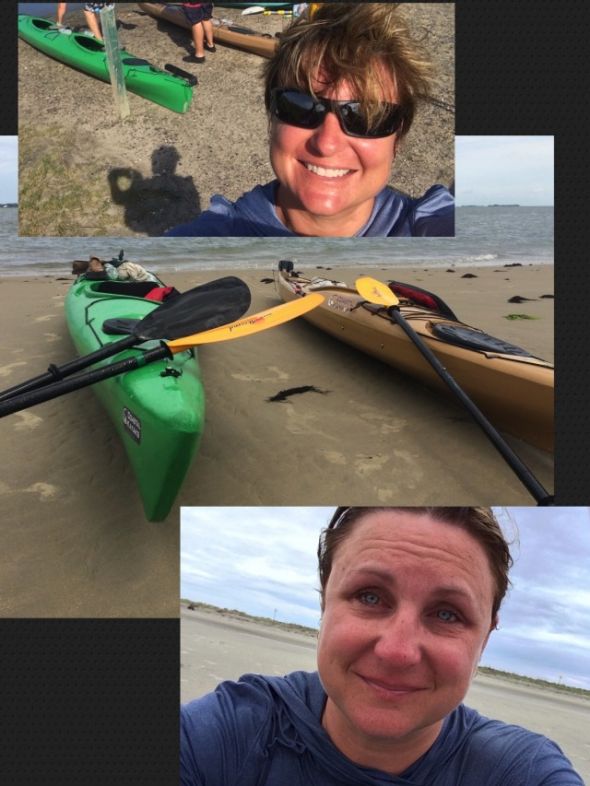 9. The body won't go where the mind's never been. Anticipate how you will react in a disastrous situation. Play it through in your mind before you head out into the water. Know how to perform combat breathing. And most of all, don't give up!
Happily, we all made it to an island. We were exhausted and thirsty after swallowing so much salt water. We had some water bottles and food in a dry bag so we relaxed and waited. After the storm passed, we were rescued by a police boat.
Will I go kayaking again? Sure. I'll just make sure that I always bring along my two Eagle Scout sons, and their leader.
Do you have any kayak safety tips to add?
This Retro WON first appeared August 6, 2015.
About Michelle Cerino

Michelle Cerino, aka Princess Gunslinger, entered the firearms industry in 2011 when Cerino Training Group was established. She immediately began competing in both 3-Gun and NRA Action Pistol, becoming a sponsored shooter. Michelle is currently a columnist and Managing Editor of Women's Outdoor News, as well as owner of Pervenio LLC. She also manages social media for Vera Koo and GTM Original. Michelle encourages others to step out of the comforts of home and explore. View all posts by Michelle Cerino →