Cogdell-Unrein Shows Grit in Earning World Cup Silver
Just nine days after completing an exhausting process of making a third-straight Olympic Team, Corey Cogdell-Unrein found her way onto the podium at the International Shooting Sport Federation (ISSF) World Cup in San Marino Friday.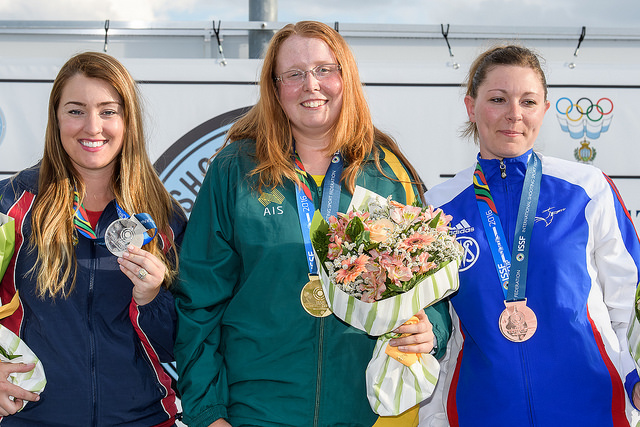 She finished second to Australia's Emma Cox in Women's Trap competition to kick-off the shotgun only World Cup in which all seven U.S. Olympic Team members are participating.
Admittedly exhausted and mentally spent from a come-from-behind four-day match to win Olympic Trials, Cogdell-Unrein displayed true grit in earning her seventh career World Cup medal.
The 29-year-old Cogdell-Unrein, who earned an Olympic bronze medal during her first Olympic Games in 2008, netted a ticket to the gold-medal match after weathering two separate shoot-offs. After posting a qualifying score of 70/75, she'd have to shoot-off against Italy's Silvana Stanco to advance among the top-six competitors to the match Finals. She'd win that shoot-off 3-2. A score of 12/15 in the semifinals would force her into a three-way shoot-off to determine what medal match she would participate in. A miss on the first target by China's Jingyu Zhu set up the pairing with Cox in the gold-medal match.
Dueling for gold, Cox, who did not qualify for the Rio Olympic Games for Australia, shot 13 targets out of 15, leaving Cogdell-Unrein in second place two clays behind her, with 11 hits.
The medal comes at the perfect time given it is the final international tune-up before Rio for Cogdell-Unrein. She finished eighth in Nicosia, Cyprus, to start the year and 12th during the Olympic test event World Cup in Rio.
Today's bronze went to France's Carole Comelier, another first-time world cup medalist. She beat the 2014 World Cup Beijing silver medalist Zhu in the bronze-medal match.
Next up for the U.S. squad will be the Double Trap combo of Glenn Eller (U.S. Army Marksmanship Unit/Houston, Texas) and Josh Richmond (U.S. Army Marksmanship Unit/Hillsgrove, Pennsylvania) with competition set for Monday.
Way to go Corey Cogdell-Unrein!
Results, news and updates are available on the ISSF official website and through USA Shooting's social media channels. All the finals will be streamed live on the ISSF website and on its official Livestream channel.
About The WON

The Women's Outdoor News, aka The WON, features news, reviews and stories about women who are shooting, hunting, fishing and actively engaging in outdoor adventure. This publication is for women, by women. View all posts by The WON →