Kristy Crabtree: 'Nevada Foodies' Elk and Grilled Romaine Salad
As the weather gets warmer I'm always looking for a new salad recipe. It looks like "Nevada Foodie" Kristy Crabtree has a winner! ~MC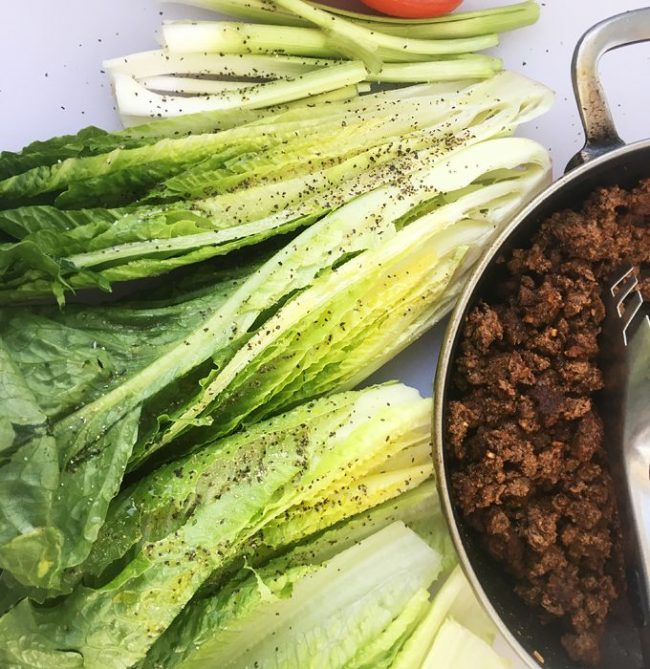 Have you ever grilled your lettuce? I have to say it adds a totally different dimension when making a salad. Romaine lettuce is the best to use. You simply slice it in half, drizzle it with a bit of olive oil and season with salt and pepper. Then throw it on the grill for a minute being sure to turn and grill on the other side. Remove and your done.
Not every recipe I post makes for the best photos, but some of these recipes I want to share since they are quick and still allow you to really enjoy using up your wildgame. Along with grilling the lettuce, I grilled some spring onions and a few Roma tomatoes to add to the salad.
I should have called this a 'Mexican Taco Salad' since I used similar spices to my ground elk that I use in all my taco meat.
When you're ready, plate your grilled romaine lettuce, add some onions and tomatoes and your ground elk. Cut everything up, top with a little shredded cheese, maybe a few black olives and some salsa…. or in my case, I drizzled a little thick balsamic vinegar… Dinner is served.
Elk and Grilled Romaine Salad
Ingredients
1lb ground elk
3 romaine lettuce heads, cut in half
6 spring onions
2 Roma tomatoes, cut in half
1 teaspoon chili powder
1 teaspoon garlic powder
1/2 teaspoon mexican oregano
1/2 teaspoon cumin
1/2 teaspoon kosher salt
olive oil
Directions
Slice romaine lettuce and tomatoes in half. Drizzle a little olive oil over lettuce, tomatoes, spring onions and season with a pinch of kosher salt and black pepper.
Continue with the directs for Kristy Crabtree's Elk and Grilled Romaine Salad recipe and visit her blog, "Nevada Foodie."
About The WON

The Women's Outdoor News, aka The WON, features news, reviews and stories about women who are shooting, hunting, fishing and actively engaging in outdoor adventure. This publication is for women, by women. View all posts by The WON →