Ohio Radio Host to Speak at Capital Rally July 8th
WAYLAND OHIO – The group REALIZE Firearms Awareness Coalition is pleased to announce that their Director, Amanda Suffecool has been selected as one of the speakers at the DC Project Rally on July 8th that is to take place on the Capital front lawn. Suffecool, Director of the not-for-profit group REALIZE firearms awareness coalition also hosts two local firearms education shows on KRMA (KRMARadio.com) and WNIR (100.1fm) radio stations Sunday and Monday evenings – Eye on the Target Radio (EyeontheTargetRadio.com ).

On July 7th, women from each state will meet in the capital city of DC to network and to communicate with their federal representatives . For several days, the women will work together as teams to communicate their concerns and offer their unique point of view to our Congressmen and Senators. The trip culminates with the Rally, and a spectacular lineup of women in the firearms world. They are shooters, speakers, advocates and moms who all donate their time to promote and support the second amendment to the constition.
Radio Host Amanda Suffecool
Amanda Suffecool – Director of the not for profit group REALIZE firearms awareness coalition stated "This project is intended to communicate with our federal leadership that the second amendment is not a partisan issue, it is not a male vs female issue, it is an American Citizen issue. Women are speaking up and stepping up."
Suffecool goes on to say " I am thrilled to be included in the lineup with this group of gals. To be standing on the stage at the Capital, for a cause that I believe whole heartedly, with this caliber of women; Extraordinary. Gabby Franco – Olympic Shooter, Gayle Trotter – author and 2nd amendment Attorney, Dianna Muller & Becky Yackley – Professional Shooters and TV personalities. Individually and together they are the face of the second amendment and I am proud to stand among them.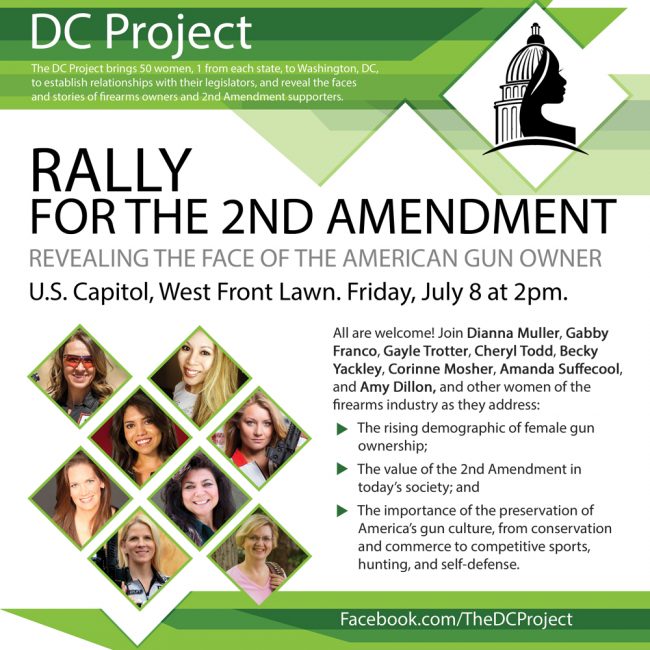 REALIZE firearms awareness coalition offers a series of public education seminars throughout the year (on website REALIZEfac.com) in addition to the Eye On the Target Radio show (website EyeOnTheTargetRadio.com) which is a weekly show offered on two local stations KRMARadio.com and WNIR.com 100.1 fm. Amanda and her brother Rob Campbell have been hosting pro-gun shows on since 2010. The weekly radio offerings are part of the educational segment of REALIZE firearms awareness coalition that works out of Summit and Portage Counties in Ohio.
About The WON

The Women's Outdoor News, aka The WON, features news, reviews and stories about women who are shooting, hunting, fishing and actively engaging in outdoor adventure. This publication is for women, by women. View all posts by The WON →