Laser Review: The Spartan Laser by LaserMax
I'll admit I was ecstatic when I was asked to review the new Spartan Laser, recently released by LaserMax. Other than one time using a laser sight last year at SHOT Show's Media Day at the Range, I'd never used one. While I was envious of friends who had lasers on their pistols, to me, lasers ranked in the "probably nice to have, but I don't really need one" category. My lack of enthusiasm changed as I I started researching the benefits of shooting with a laser in order to write this review.
Before we get to my review, here are some of the benefits:.
Once properly sighted in, a laser sight tells you exactly where your shot will go.
Just putting a red or green dot on a bad guy may be deterrent enough, without having to pull the trigger.
Lasers give you a quicker sight picture.
Lasers provide absolute feedback during dry-fire practice, making you a better shot when practiced with consistently.
In a lower-light scenario, you'll have a better idea of your sight picture because of the illumination of the laser itself.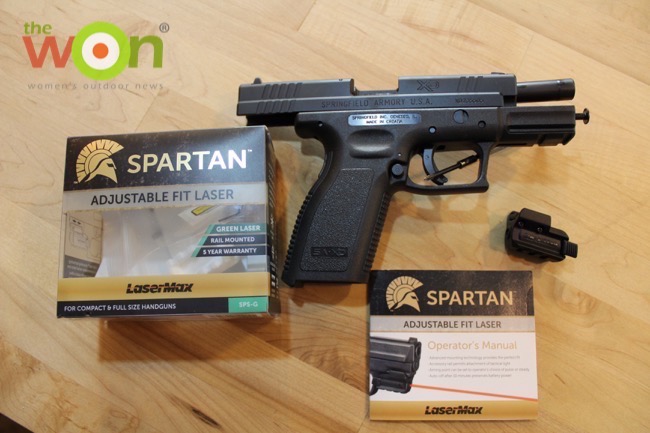 There are a multitude of other benefits, but remember, your laser is only as good as its battery. Always know how much charge your laser has left and make sure you have fresh batteries on hand . You never want to be in a situation where you need to rely on a laser with a dead battery.
Now, on to the good stuff. Available in both red and green, the Spartan is an adjustable-fit laser. It wasn't developed for one particular pistol. It can be installed universally, which for me translates to, "I can use it on all of my pistols."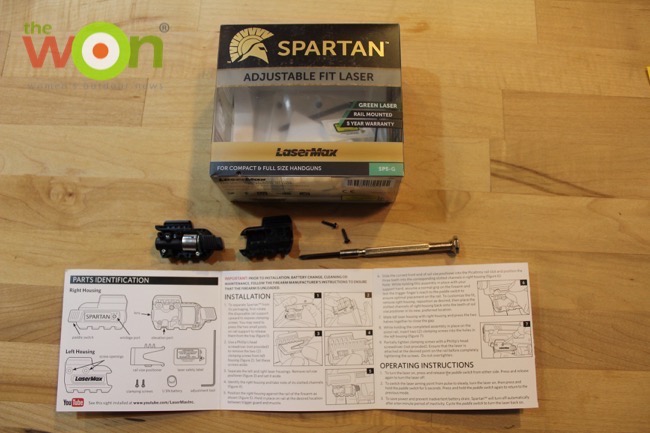 Excited to get started on the installation, I eagerly set up my table with my pistol and a few tools. The packaging caught my eye – attractive, semi-clear and easily identifiable as a laser accessory.
The Spartan boasts unique features, setting it apart from its competitors:
Unique mounting technology allows the laser to be used on most pistols
Can operate for more than 5 hours of continuous use with a single battery
Automatic timer deactivates the laser after 10 minutes of inactivity to ensure a long battery life
Ambidextrous large electronic touch pads are easily accessed to turn the laser on and off with a single touch of the finger
Programmable for either a steady stream, or a high-visibility pulsed beam
Easily adjustable for windage and elevation
Integrated patented accessory rail allows the user to attach a tactical light to the bottom of the laser
I installed the Spartan onto my Springfield XD 9mm; after all, it's my go-to home defense pistol. Using the instruction manual and a small screwdriver (not included), It too me no time at all to install. The laser fit my pistol as if it were made for it. I like the fact that the bottom of the laser housing has a patented accessory rail for a tactical light, should you choose to add one.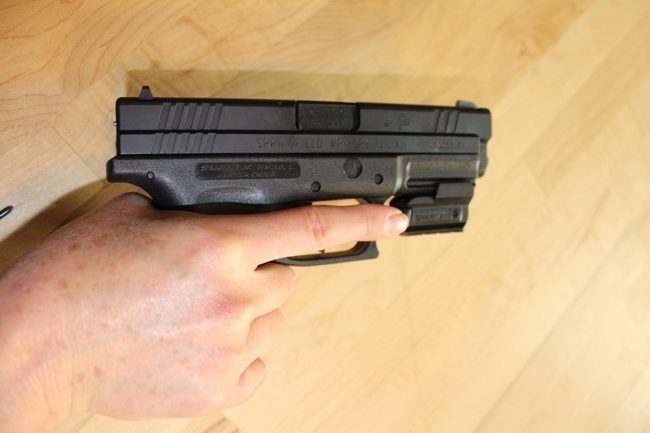 The brightness of the green laser surprised me. I could easily get the laser on target quickly and accurately in a variety of light conditions, and especially in total darkness. Dry firing in the dark proved to be very helpful for a home-invasion situation drill.
I installed the laser several days before I went to the range. I used my downtime to dry fire and get used to how it worked. My finger easily reached the oversized, electronic touchpad that turns the laser on and off. (Obviously I had not yet sighted in the laser, but I did the dry firing with the assumption that it was sighted in accurately.) The laser itself has 2 settings – a straight-stream laser as well as a pulse-laser setting. Either setting is super easy to switch back and forth, depending on your needs at any given time. I set mine to default to the straight stream.
A few days later, I braved the 95-degree heat and humidity, and ventured to the range to finally shoot with the Spartan. Now, I needed to sight in the pistol with the laser. The directions in the manual made sighting in simple: A few twists of my screwdriver and I was all set to go. I started about 7 yards from my target, and easily made tight groups using the Spartan. It was neat to be able to see ahead of time where my shot should be going. Knowing where my aim point was and analyzing my shot placement, I corrected my very noticeable trigger slap. As my range time progressed, I moved my targets farther and farther away. The reach on the laser was excellent. At the 50-foot line, the Spartan still lit my target.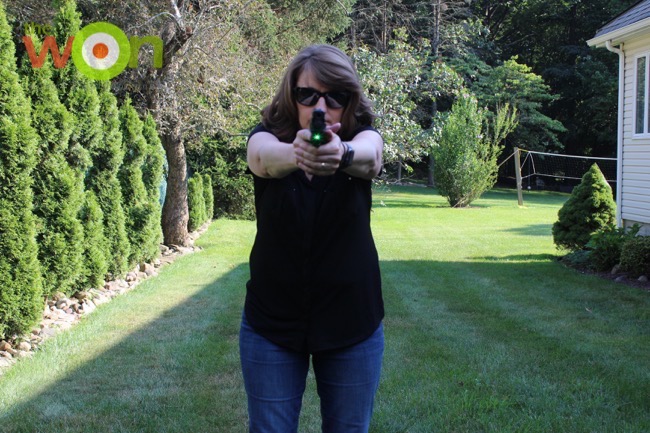 With a few hundred rounds downrange, the Spartan kept my hits dead-on. It hadn't moved during shoot and move drills, even with my fumbling reloads (Hey, that's why we practice them, right?).
Overall, I liked shooting with the Spartan laser a lot more than I ever thought I would. As I learned, there are many benefits to using lasers, and I really like the idea that the Spartan is a universal fit, allowing it to be installed on most pistols on the market. I'll be installing the Spartan onto my Smith and Wesson M&P Shield next, as it's my carry gun. I'm very interested in being able to analyze my target and learn what I'm doing incorrectly.
I'll hand it to LaserMax – with the advent of the Spartan, they've converted me from someone who never thought she'd like shooting with a laser to a huge fan.
Side note … my cat also is a fan. I got in some good dry fire practice, and he got in some calisthenics while attempting to catch the laser on my wall and floor.
LaserMax's motto is "better shooting starts here." After spending some trigger-time using the new Spartan laser, I know that every time I'm hitting my targets using the laser, my shooting is getting better and better.
Well done, LaserMax.
MSRP: $135
About Annette Doerr

Annette Doerr is a freelance outdoor writer and business services consultant living in suburban New York. This married mother of two is an NRA Certified Pistol Instructor and Range Safety Officer. Annette is not only passionate about the sport of shooting, she also loves helping new shooters get involved, especially women and teens. An active equestrian, she enjoys riding her American Quarter horse, Cody. She volunteers in greyhound rescue and adoption, and shares her home with Casper, a rescued racing greyhound, along with her her cat, Tony, and her husband, Bob. Visit Annette at WeShoot2.com, her personal blog. View all posts by Annette Doerr →