Mt. Hood Meadows: Scenic Chairlift and Events Schedule Extended
MT. HOOD, OR (Immediate Release) – Mt. Hood Meadows comes alive on weekends this summer, offering spectacular scenic chairlift rides on the south side of magnificent Mt. Hood. Meadows is appropriately named for the lush wetlands and fields of wildflowers that bloom under the summer sun. The scenic chair is scheduled eight weekends plus Labor Day beginning July 16.

The Stadium chair treats passengers to stunning views of the Mt. Hood National Forest. Meadows C.O.O. Jake Bolland says the summer experience provides a unique perspective and access to the some of the most enchanting locations on Mt. Hood. "Mt. Hood has so much to offer, and Meadows has set out to provide an escape to the outdoors on our special part of this mountain. A scenic chair ride from the Stadium lift presents majestic views, an array of wild flowers, native plants and hiking that appeal to families and all who are seeking the Mt. Hood experience this summer."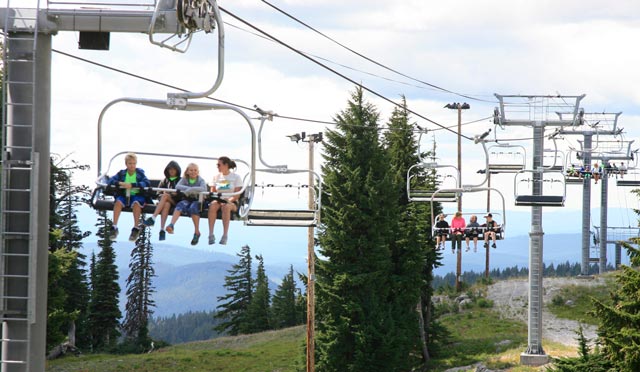 From the vantage of the scenic chair passengers observe the forest and wetland ecosystem fed by magnificent Mt. Hood. There are panoramic views of Mt. Jefferson and the Sisters on the horizon. They unload beneath a Cascade canopy of pines and connect with nature. Bolland continues, "People come from all over the world to see Mt. Hood up close and the south side of the Mountain, particularly Meadows permit area, provides a slower pace and less congested retreat to serenity. We believe this experience inspires introspection and arouses the senses to better understand where one fits in with nature. And after the exploring you can take advantage of the tasty BBQ, social vibe and deck entertainment to complete your trip to Mt. Hood."

This natural setting is enhanced with intimate and soulful acoustic performances by talented musicians on the Sun deck, where Meadows serves up a delicious barbecue and cold refreshments. The setting is ideal for relaxing and reflecting on the beauty of the mountain.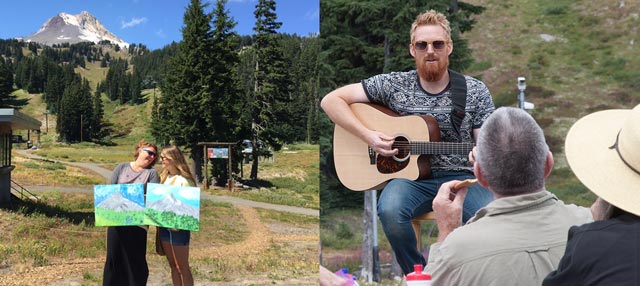 A series of special events ranging from mountain runs to water color workshops are presented throughout the summer. A summer acoustic series is presented every weekend on the Sun deck.

Meadows' summer scenic chairlift operates from 11 am to 3 pm every Saturday and Sunday plus Labor Day from July 16 through Labor Day, 2016. Weather can affect operations, visit www.skihood.com for conditions, events schedule and updates.
Summer Event Schedule (more information at www.MtHoodMeadows.com/Summer)
July 16 – Wine Festival Explore your favorite Hood River Valley wines!
July 23 – The Green Meadows Scene Enjoy a day developed around our passion for sustainability.
July 30 – Hiking Photography Workshop Grab your cameras and hiking boots!
August 6 – Mind Over Mountain An adventure race on Mt. Hood.
August 13 – Geocache Dash A family friendly navigation race!
August 20 – Uphill Challenge 1.2 miles with 621 feet of elevation gain.
August 27 – Paint the Mountain in the Nude An afternoon of wine and canvas painting.
September 4 – Oktoberfest Beers, brats and music!
Mt. Hood Meadows offers scenic chairlift, hiking, BBQ, events and entertainment weekends from July 16 through Labor Day.
About The WON

The Women's Outdoor News, aka The WON, features news, reviews and stories about women who are shooting, hunting, fishing and actively engaging in outdoor adventure. This publication is for women, by women. View all posts by The WON →