Olympians Prove Ready for Rio with National Titles/Medals
Olympians competing at the USA Shooting National Championships for Rifle/Pistol got a chance to prove their Olympic readiness the past seven days at the U.S. Army Marksmanship Unit (USAMU) in Fort Benning, Georgia. Test passed with 14 medals earned by seven USA Shooting representatives destined for Rio.
Events ended Wednesday afternoon with national champions crowned in Women's Sport and Men's Free Pistol. Olympians Sandra Uptagrafft (Phenix City, Alabama) and Jason Turner (Rochester, New York) took the top podium positions.
Michael McPhail, Emil Milev, Virginia Thrasher, Sarah Scherer and Lucas Kozeniesky all earned National Titles while Daniel Lowe earned silver and bronze medals and Enkelejda Shehaj earned a silver medal too. McPhail (USAMU/Darlington, Wisconsin) earned a win in his specialty, Prone Rifle. Milev (Temple Terrace, Florida) was dominant in Rapid Fire Pistol. Thrasher (Springfield, Virginia) continued a shot of excellence that really started at the 2015 Nationals when she earned five medals. This year, she earned an overall win in Air Rifle followed by a silver in Three-Position. She also was the top junior in both those events. With a retirement eminent following competition in Rio, Scherer (Woburn, Massachusetts) will walk away from the sport having earned the 2016 national title in Three-Position Rifle as well as earning bronze in Air. Kozeniesky (Fairfax, Virginia) battled Lowe (Olympia, Washington) in Men's Air Rifle, eventually besting his Olympic teammate by one point. Lowe was the bronze medalist in Three-Position while Kozeniesky finished as high collegiate. Shehaj (Naples, Florida) grabbed a silver medal in the Women's Sport Pistol event while finishing seventh in Air Pistol.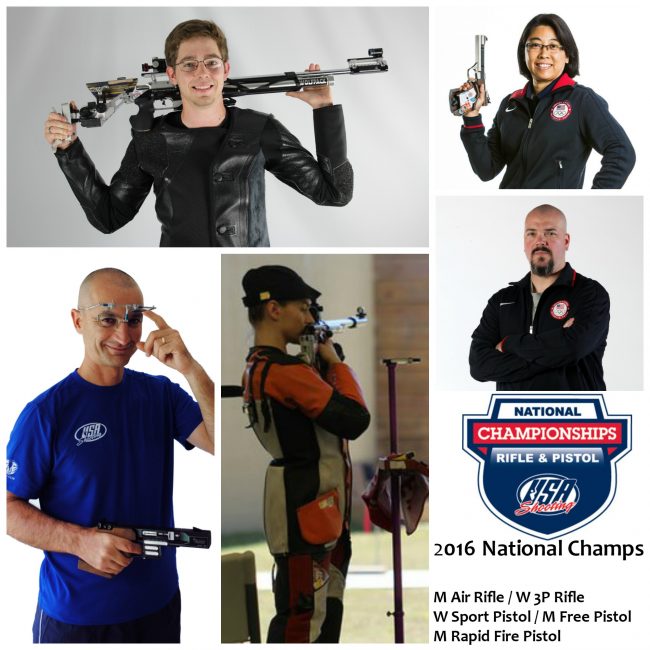 Top-three finishers at Nationals earn invites to USA Shooting's National Team. The following athletes earned National Team status in 2016: Mindy Miles (rifle/Weatherford, Texas), Ryan Jacobs (rifle/Gresham, Oregon), Greg Markowski (pistol/USAMU/Columbus, Georgia), James Hall (pistol/Spartanburg, South Carolina), Alexis Lagan (pistol/Las Vegas, Nevada), Jason Dardas (rifle/USAMU/Fort Benning, Georgia), Anatoly Pikman (pistol/Short Hills, New Jersey), Glenn Zimmerman (pistol/Waterville, Ohio), Bryant Wallizer (rifle/Little Orleans, Maryland) and Jason Turner (pistol/Rochester, New York).
Top-two Junior finishers earn selection to the National Junior Team. Those that earned their team jacket this week include rifle shooters Billy Azzinaro (East Rutherford, New Jersey) and Matthew Liao (Yorba Linda, California) with Sarah Choe (Los Angeles, California) accepting a spot in pistol.
Miles, who gets set for a junior season at Texas Christian University, earned four medals with silver overall in Air Rifle as well as in the junior classification along with bronze overall in Three-Position Rifle and silver in the junior class. Markowski earned four medals including gold in both Standard and Center Fire Pistol events with a silver in both Air and Free Pistol as well. Choe was excellent in the women's pistol events, finishing as the Junior National Champion in both Sport and Air.
National Junior Team pistol shooter Jack Leverett (Bainbridge, Georgia) also had a notable Nationals after being crowned Junior National Champion in Standard, Sport and Air Pistol and winning is age-bracket (J2 – 15-17 years old) and finishing fourth among all juniors in Free Pistol.
USA Shooting's exclusive .22 caliber ammunition provider ELEY handed out USA High School (HS) All-American honors Tuesday. Athletes maintaining a 3.0 GPA and that earned top-10 averages in either Smallbore and Air Rifle were recognized based on scores from certain USA Shooting sanctioned matches and some CMP sanctioned air rifle matches. Each HS All-American received a number coin and certificate of achievement. Will Shaner (Colorado Springs, Colorado) and Jacob Buchanan (Spring, Texas) earned highest marks with high overall average in each event and earned an ELEY Tenex test at the Winters, Texas test facility along with 2500 rounds of selected Tenex.
ELEY HS All-American Smallbore:
Jacob Buchanan (Spring, Texas)
William Shaner (Colorado Springs, Colorado)
Ariel Hall (North Richland Hills, Texas)
Zachary Schmidt (Sudlersville, Maryland)
Catherine Miller (Lakeland, Tennessee)
Elizabeth Dutton (Derry, New Hampshire)
Angeline Henry (Fort Worth, Texas)
Jarrett Lash (Gainesville, Virginia)
ELEY HS All-American Air Rifle:
William Shaner (Colorado Springs, Colorado)
Ian Foos (Bellevue, Ohio)
Emily Cock (Silverton, Oregon)
Daniel Enger (Walla Walla, Washington)
Angeline Henry (Fort Worth, Texas)
Jacob Buchanan (Spring, Texas)
Sarah Hickey (Silver Spring, Maryland)
Catherine Miller (Lakeland, Tennessee)
Hailee Sigmon (Kiowa, Colorado)
Ariel Hall (North Richland Hills, Texas)
Names in Italic represent current National Junior Team Members.
An International Paralympic Committee (IPC) Grand Prix event also took place during Nationals featuring six countries as the USA's five Paralympic representatives in shooting also prep for Rio. Laying down the most impressive result was McKenna Dahl (Arlington, Washington) who shot personal and match-best scores during both Qualification matches in R5 Prone Air Rifle. She'd end up with silver overall after falling to Ukraine's Vasyl Kovaluchuk in the Final. Jazmine Almlie-Ryan (Houston, Texas) won the R4 Standing Air Rifle event with Dahl fourth. John Joss (USAMU/Corsicana, Texas) earned top honors in R6 50m Prone Rifle. Michael Tagliapietra (Fond du lac, Wisconsin) was third in his specialty event P3 Sport Pistol.
2016 USA Shooting National Championship Results
2016 USA Shooting National Championship Photos: Day 2 | Day 3 | Day 4 | Day 5 | Day 6
The Road to Rio looks great for our future olympians.
About The WON

The Women's Outdoor News, aka The WON, features news, reviews and stories about women who are shooting, hunting, fishing and actively engaging in outdoor adventure. This publication is for women, by women. View all posts by The WON →