Paddle Board Fishing: How to Reach that Honey-Hole
Have you ever wanted to get to that promising, honey-hole fishing spot, but need a boat to get there (and you don't actually own one)? Or, you do own a boat, but that honey-hole requires some shallow-water maneuvering that your vessel just can't handle? Ah, yes, the dilemmas of fishing can be great. Maybe a boat isn't part of your dilemma at all. Perhaps you're faced with the choice between getting some much-needed exercise and getting on the water to wet a line. Well, my friends, I have the perfect solution to all of the above: paddle board fishing. Trust me, it's a game-changer.
Embarking on your first paddle board fishing adventure only requires a few key items, and you can easily build your tackle kit from there. First up: a paddle board, of course. I have a Jimmy Styks board, specifically the Women's Apex Performer 10 (MSRP: $899). Jimmy Styks makes more than a few different boards that are excellent for fishing, but I ultimately chose this one because it's so lightweight. At only 26 pounds, I can get it onto and off of my SUP easily, and it doesn't wear me out just to carry it to the water. Don't forget the paddle.
With your board taken care of, it's time to move on to the tackle and fishing gear. Once you get the basics, you can easily tailor this to suit any environment you're in, and whatever fish you're targeting. I'm typically in saltwater creeks after red fish or flounder, and frequently find myself with a blue crab, stingray or other somewhat menacing creature on the end of my line (hence the gloves and fish grips—more on that soon). Whether you're in the marsh like I am or headed out to calmer waters, this will at least get you started.
The base of your tackle kit is super-simple—just a plastic milk crate. I already had a few from… well, honestly I'm not sure where mine came from, but these can be found anywhere from Walmart to Lowe's to the side of the road. It's the perfect lightweight and drainable solution to storing ample amounts of gear and tackle, and you won't spend more than a few dollars on it. All you need to secure the crate to your board are some handy suction cup tie-downs (MSRP: $12.99). Using a few zip ties, a 3-tube rod holder (MSRP: $20) is secured to the side, and your rod, net and (in my case) camera stick have a nice sturdy home. Full disclosure, though: The more I use my tackle kit on the board, the more I want to move the rod holder to the outside of the crate. Tangles occur with relative frequency as my anchor line gets wrapped around it or the strap of my hat gets caught and I end up having to take everything out to fix it. (It occurs to me, though, that I might just be clumsy and you'd have no trouble with such a simple task. Hmm…)
But I digress. Speaking of an anchor line, a small, 1.5 lb. anchor (MSRP: $8.99) can do wonders for keeping you from floating away. Fighting the tide or wind can be a real pain (and the main reason I got an anchor), but I've also had a heavy fish try to drag me across a creek after I hooked him; I definitely would have crashed into a nearby dock had my anchor not kept me in place.
Now, let's get into the tackle. Obviously, your fishing rod is first on the list—that's a given. Since space is somewhat limited, I don't recommend bringing your entire tackle box on every outing. Personally, I could top the max weight of my board with gear before I even climb on it myself, and that's not a great place to start. Instead, I use a small container that has just enough room for a few spare jig heads, line cutters, small weights, a handful of artificial lures and a bobber. You never know when you'll need to switch up your rig (or replace one that got tangled on a submerged log—we've all been there). I typically use either live bait (mud minnows, kept in a bait bucket) or cut mullet, particularly when I'm after the elusive spot tail, so that's where the knife and cutting board come in handy. I beg you—don't try to saw through a mullet balancing directly on your paddle board.
You learn pretty quickly that a net is key when you miss landing more than one nice fish because you couldn't reach it in time (without toppling off of your board). You also learn pretty quickly that some fish have (much) sharper teeth than others, and it always seems to be the sharp-toothed devils that swallow the hook. Remember the fish grips (MSRP: $6.99) and gloves (MSRP: $3.99) I mentioned? Exactly. The hook remover (MSRP: $5.99) just makes, well, the hook-removing job that much easier (naturally). Another small, drainable container zip-tied inside the crate is perfect to corral these items, or secure them with a spare bungee cord.
Like I mentioned, my kit is almost entirely based on saltwater creek fishing. If you're at all familiar with that environment, you'll know that the unfortunate run-in with an oyster bed is nearly inevitable. I always bring a pair of shoes (old sneakers are perfect) just in case I need to hop off my board—I'd like to avoid those sharp, salty, mud-filled cuts you can get just from looking at an oyster. Summer here in South Carolina is hot and humid on an epic scale, so I always have a hat, a long-sleeved shirt and extra water. I've been stuck in a creek at low tide on a 100-degree, 100 percent–humidity afternoon and been oh-so-thankful for those items. Sunscreen and bug spray weren't bad to have, either.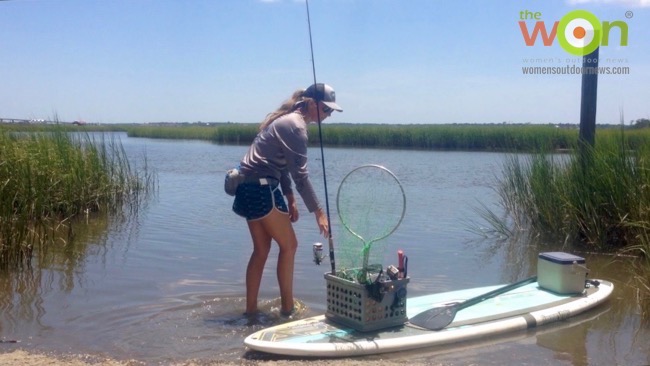 I keep a few items in a little waterproof waist pack for quick access—a whistle, my fishing license, and my phone. A small dry box ($9.99) would do just as well, though. Camelbak actually has a great one designed specifically for paddling. The Tahoe LR (MSRP: $70.00) just might have to make its debut on my tackle list before too long; hydration and gear in one is hard to beat. And yes, it is essentially a fanny pack. But it's an awesome piece of gear, and I highly recommend it. I also sometimes bring along a small cooler (or another milk crate, flipped upside down) to sit on if I know I'm going to be fishing for an extended period of time. It has saved my back on more than one occasion.
Well, I think that just about covers everything you'd need for a new angling adventure. I hope I have inspired you to get out on the water, paddle and fishing rod in hand, and give paddle board fishing a go. I promise, you'll be hooked. [Pun definitely intended.]
Are you ready to paddle board fish?
About Hollis Lumpkin

Hollis Lumpkin writes that she is a "simple girl living in the Lowcountry of South Carolina, but I happen to have a great love for the outdoors, particularly hunting and fishing." She is a duck-hunting freak. Hollis pens an exclusive version of "The Bright Side of the Road," for The WON. View all posts by Hollis Lumpkin →