Rhino-Rack's Nautic Kayak Stack Allows 4 Kayaks
One of the great joys of nature is gliding across the top of the water in a kayak, with the wind at your back and the sound of friends and family all around. Rhino-Rack's Nautic Kayak Stack makes that feeling a whole lot easier to achieve, offering the most convenient and practical kayak transportation system on the market. An easy way to get your kayaks on the water.
The Rhino-Rack Nautic Stack allows up to four kayaks to fit on a single vehicle's roof, thanks to its innovative vertical design. A highly efficient folding stack arm helps fasten the kayaks to the roof and to one another, ensuring that your load is safe and secure even when you're traveling off road or on other rough surfaces.
The Nautic Stack can be attached to the roof of your vehicle using a handy clamp system for rapid application and removal. Alternatively, the Nautic Stack can be fitted long term, using a C-channel nut and bolt system.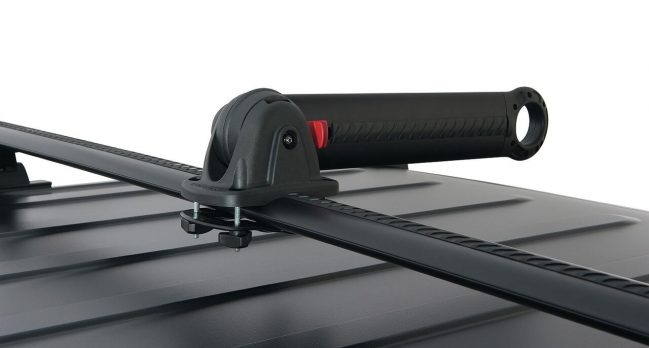 Rhino-Rack makes it easy for adventures to tap into their love of the outdoors. All products are tested in Australia and now in the USA; two of the world's most diverse and unforgiving environments.
Don't be limited by what you think you can fit on your roof. Rhino-Rack's Nautic Kayak Stack will inspire you to fill your car with friends and family and stack your roof with 'yaks, ready to glide!
Rhino-Rack Nautic Kayak Stack RRP: $155
Rhino-Rack has a comprehensive range of transportation and loading equipment for kayaks including options for stacking and lifting. For more information on Rhino-Rack's range of products visit
www.rhinorack.com
Rhino-Rack has been creating world-class roof racks since 1992. Now available in the USA, we're the proud owner of the most diverse and innovative range of roof rack products, supplying high-quality gear to all industry segments.
We're so excited to be bringing Rhino-Rack products to the USA. Americans love the great outdoors as much as we do in Australia, and the landscape here is as beautiful and wild as anywhere in the world. Our products are designed to facilitate a lifestyle that is based around adventure – from rockys to rapids; the US has it all, so it makes perfect sense that we shop our wares in this country!" –

Richard Cropley, Founder of Rhino-Rack.
Get your Kayaks on the water!
About The WON

The Women's Outdoor News, aka The WON, features news, reviews and stories about women who are shooting, hunting, fishing and actively engaging in outdoor adventure. This publication is for women, by women. View all posts by The WON →