Julie McQueen Partners with Girls with Guns® Clothing
Nashville, Tenn. (August 15, 2016) – Julie McQueen of "Till Death Do Us Part" – now available on CarbonTV – is proud to partner with Girls with Guns® Clothing and their newest clothing line featuring fitness and athletic wear, available in Mossy Oak™ patterns, debuting September 1. With McQueen on the road more than 200 days a year with her husband, Daniel Lee Martin, for their production company, Backstage & Backroads Productions, she requires clothing that fits her active lifestyle and demanding schedule.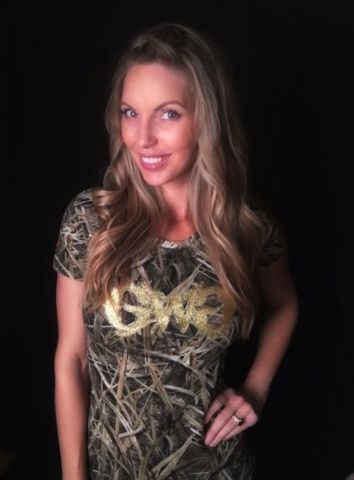 Girls with Guns® Clothing offers chic, affordable clothing for ladies to show their love for the outdoors," said Julie McQueen. "When they approached me to help introduce their new athletic line, I jumped at the chance – literally! I've been putting their leggings and tops through the test this summer biking, hiking and working out in the gym. I love the little touches like the hidden pockets in the running leggings or extra grip tape on the headbands – it all makes my workouts more enjoyable.
GWG clothing and accessories let women show their love for hunting and shooting in an edgy way. Designed by women for women, the workout and performance line is made with sweat-wicking material and blended with Spandex to give ultimate staying power with the perfect amount of stretch and a flattering silhouette. Additional features include reflective piping and screen prints to ensure safety in lower light and zippered, sleek pockets.

As a co-founder of Girls with Guns® Clothing and the co-hosts of 'Universal Huntress TV,' it is vital for us to be successful in the field, no matter what conditions we may face. For us, success ultimately comes down to having the best tools – quality hunting gear tailored to a woman's needs, accurate firearms, precision ammunition, crystal clear optics, and sharp knives, but the most important tool that determines the success of a hunter is physical fitness," said Norissa Harman, co-founder of Girls with Guns Clothing. "We are excited to have Julie represent us as her grace and lifestyle is exactly what our fans connect with, plus look for our Fall 2017 and Spring 2018 lines with Julie at SHOT Show in January, 2017.
Backstage & Backroads Productions was created by Daniel Lee Martin in 2010 and currently produces a number of outdoor TV webisodes, shows, commercials and more, including "Brotherhood Outdoors," currently airing on Sportsman Channel.
Learn more about Julie and Daniel Lee at http://backstageandbackroads.com and more on their newest project, Till Death Do Us Part, at http://tilldeathdouspart.tv
Julie and Daniel Lee are America's outdoor couple as they hit the road filming amazing adventures with their production studio, Backstage & Backroads Productions. Julie found her way into the hunting industry as a pro-staffer back before any other girl had even tried. She also made a name for herself in the fashion industry by working in Los Angeles, New York, and all over Europe. She just might be the only girl to fly from a photo shoot in France, land in the U.S., and climb directly into a tree stand. Daniel Lee was a professional golfer and advertising executive, but left it all behind in 1997 to pursue his dream of becoming a country recording artist. He's toured with Willie Nelson, Charlie Daniels, Clint Black and Vince Gill, to name a few, plus annual performances at Fan Fair in Nashville. In November of 2002, Martin became the first artist signed to ChinMusic Records. His two critically acclaimed albums led to him being one of the most widely recognized independent country music artists in Nashville.
About Girls with Guns Clothing: Founded by two best friends, Jen O'Hara and Norissa Harman, Girls with Guns® Clothing (GWG) was born out of a dream and fashioned through a partnership that's one part risk taker and one part conservative. A perfect combination of the girls' passion for the sport of shooting, hunting and fashion, GWG clothing and accessories let women show their love for hunting and shooting in an edgy way. GWG offers jewelry, tees, hoodies, swimwear, shoes, jackets and more in a variety of sizes, colors and camo patterns with our partner, Mossy Oak™. The line is found in larger retailers, such as Cabela's, Scheel's and Sportsman's Warehouse to smaller shops. GWG strongly supports the rights of gun owners and keeping the hunting heritage alive. Learn more at http://gwgclothing.com
About The WON

The Women's Outdoor News, aka The WON, features news, reviews and stories about women who are shooting, hunting, fishing and actively engaging in outdoor adventure. This publication is for women, by women. View all posts by The WON →