Kristy Titus to Host 2nd Annual Women's Shooting Clinic
Bend, Oregon (August 3, 2016) – Kristy Titus, Cabela's Ambassador, NRA Certified Instructor and Rocky Mountain Elk Foundation, Team Elk featured member is helping more women become involved in the shooting sports by hosting the 2nd Annual Women's Shooting Clinic at the Craig Family Camp in Indiana this weekend.
Jim, Leann and Jack Craig founded the Craig Family Camp to create a place for young kids and novice shooters to learn firearm safety, the hunters' role in conservation, shooting ethics and skills to shoot a variety of firearms. The camp is supported by community volunteers that work to ensure attendees have an excellent experience.

The Craig Family took home The Rocky Mountain Elk Foundation Conservationist of the Year Award in 2015 for their substantial contributions and impact in the areas of land protection and stewardship, hunting heritage and other RMEF mission priority areas. The foundation that the camp is building in Indiana is evident within the community of young sportsmen and women.
Last year at the camp, Titus helped 85 women shoot rifles, shotguns and pistols, all in a safe controlled environment with knowledgeable mentors and instructors. "Last year, some of the women had never shot a firearm, but all left the clinic with huge smiles on their faces, armed with new skills and confidence to become more active in shooting sports and a greater supporters of our second amendment. We have many great partners in the camp that support the event from Cabela's, Buck Knives, and Montana Silversmiths," said Titus. "This year we are expecting around 100 ladies that we look forward to helping learn some new firearms skills."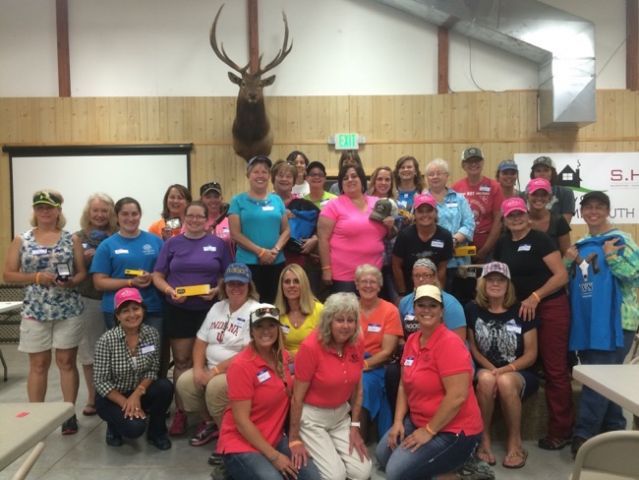 2015 Clinic Participants
At the clinic, women will rotate between five stations: .22 rimfire, shotgun, pistol, positional shooting scenarios and gun cleaning & safety where they will receive hands-on firearms instruction.
About Kristy Titus: With a shared passion and love of the outdoors, Titus is honored to serve as an ambassador for Cabela's, The Rocky Mountain Elk Foundation, RMEF's Team Elk television Show, Host of NRA I Am Forever, Swarovski Optik, Buck Knives, Montana Silversmiths, and Wilderness Athlete. Titus was raised leading a pack string of mules into the backcountry of Oregon, experiencing the thrill of public land, do-it-yourself hunting. Titus is an NRA Basic Pistol and Refuse To Be A Victim Certified Instructor. She shares her passion for fitness and nutrition as editor for Western Hunter and Elk Hunter magazines. Learn more at http://kristytitus.com, https://www.facebook.com/KristyTitus and https://instagram.com/kristytitus/
About The WON

The Women's Outdoor News, aka The WON, features news, reviews and stories about women who are shooting, hunting, fishing and actively engaging in outdoor adventure. This publication is for women, by women. View all posts by The WON →