RIO DE JANEIRO, Brazil – Hours before the opening ceremony for the 2016 Olympic Games, the U.S. Olympic Archery Team took the field for qualification. This 72-arrow ranking round determines the brackets for both team and individual eliminations throughout the next week. The Team USA men earned a second place team qualification, putting them in high contention for a repeat shot at the podium.
At the half for the men's morning session, Brady Ellison (Globe, Arizona) led the U.S. men, ranking 3rd with 342, just 6 points out of first. Zach Garrett (Wellington, Missouri) and Jake Kaminski (Gainesville, Florida) were hanging on to 19th and 24th respectively with 336 and 333.
Ellison moved into 2nd with a 690 while Garrett climbed into 18th in the seventh end, 17th after that, and then 15th with three ends to go to ultimately qualify 15th with 674. Kaminski finished 31st with 660 and aided in the team's solid ranking headed into the team competition tomorrow.
"I feel really good that our team qualified second, that was our main focus coming out here today and we achieved our goal," commented Garrett. On his individual performance he added: "I know I'm capable of higher scores and ranking, but it's my first Olympic Games, so at the same time, I'm happy."
Kaminski agreed: "I'm really happy we're second. It's better than we did in London and it means we would meet the Koreans in the finals instead of the semifinals, so that's good. The top two teams and strongest hitters in the field-that's what everybody wants to see for the gold match." Korea took the top team qualification spot, led by Kim Woojin who scored a world record breaking 700.
The qualifying positions created a potentially tough bracket for the individual eliminations: provided the three win their early matches, Ellison would face Kaminski in the 1/16th elimination and Garrett in the 1/8th round.
While his focus now is just on the team competition tomorrow, Ellison addressed the brackets: "It will be just like shooting back home, those will be the hardest matches of the whole thing, but I predict that wherever America ends up, we'll be in the medal matches."
Mackenzie Brown is the only woman competitor
Mackenzie Brown (Tyler, Texas) is the sole U.S. woman competing in Rio. Staying upbeat throughout the afternoon as the great Brazil sun blazed, Brown was all smiles in qualification. At the half, she was sitting in 22nd, but just 6 points out of the top 10 as incredibly close scores kept the rankings in flux.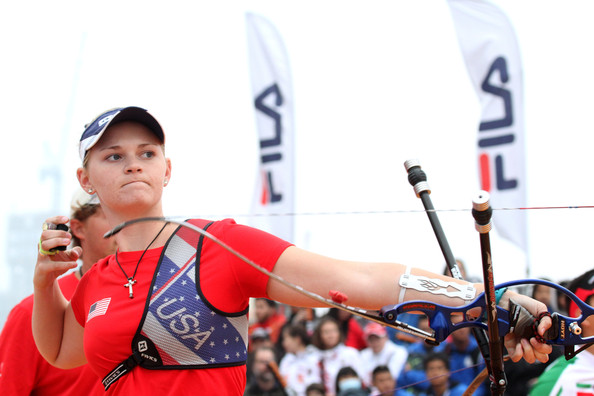 As the second half started, Brown stepped to the line, shot an arrow, and her finger sling snapped and her bow fell to the ground. She was quickly able to react, fix her equipment, and regain composure. "It was a 10, so I just adjusted and kept going," explained Brown. "What a time for that to happen! It had been used for quite a while. I felt good today, I would have like to have shot better, but feel like I did really well considering the nerves I was dealing with. I'm going to go out and do my best, just like I do every competition. Qualification is just how you put yourself in a bracket, how you react to that afterwards is up to you. So I'm going to keep a strong mental program and do my best."
Competition resumes tomorrow with the men's team matches. The U.S. archers have a bye into the quarterfinal. Competition picks back up for Brown on Monday with individual eliminations; as the sole woman representing the 2016 U.S. Olympic Archery Team, she will not participate in team competition, but commented: "It's pretty cool, but I have to put up with all the boy cooties!"
Follow worldarchery.org for scores.