Top Hunters Tell You How to Get In Shape for Fall Seasons
We welcome 2Girls Hunting to the ranks of TeamWON, as sponsored columnists by Girls with Guns Clothing. These teenage twins, Morgan and Mason Baseley, live active lifestyles outdoors (including hunting) and run cross-country. We thought it would be fun and interesting to kick off their new column with interviews of some of the top (women) hunters in America and how they get in shape for fall seasons. Welcome aboard! ~BB
People don't often understand just how challenging hunting can be when you are not prepared for the upcoming season. Being physically in shape is one of the biggest attributes often neglected.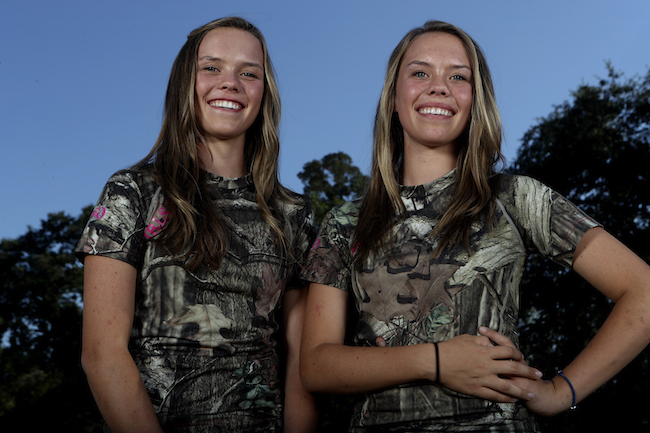 As distance runners for our high school, we have the ability to work out daily and keep up our endurance, but often, we overlook the particulars needed for strength training. This is why we have chosen to sit down and visit with 4 prominent women within the hunting community who always seem ready for the challenge.
Meet the Hunters
Melissa Bachman is an American hunter, producer, and host of hunting television programs, currently of the cable television program "Winchester Deadly Passion" on Sportsman Channel.
Melissa Facebook
Tiffany Lakosky, of "The Crush with Lee & Tiff," airing on Outdoor Channel, brings you inside her home, and also on travels – revealing what's often behind the guts and glory of the outdoor industry.
Tiffany Facebook.
Jen O'Hara and Norissa Harman, of Girls with Guns Clothing and "Universal Huntress TV" on the Pursuit Channel, share their love and passion for the outdoors through their worldwide adventures together.
Jen and Norissa Facebook
How to Get into Shape for Hunting
2Girls hunting: What do you do to keep in shape for hunting?
Melissa Bachman: "Since I was gifted a Boston terrier last Christmas from my family (Pork Chop), she's been very much a part of my life. So this summer, she and I have been going for a run every night and then after I run, I'll shoot my bow to get used to shooting it while being a little winded. I will also do some drills where I'll run with my bow and then stop to shoot to get familiar with calming my breathing/heart rate."
Tiffany Lakosky: "I am active all year round, I really watch my nutrition and I do a lot of running and hiking. The constant camera use and set up is a good secondary arm work-out."
Jen O'Hara: " We embrace the importance of fitness and nutrition when preparing for hunts. Whether it be hiking the local mountains, taking a weighted backpack to the gym, running in Tough Mudder events, or attending early morning CrossFit classes, it's all a key part of being prepared for the next hunt and managing a healthy, balanced lifestyle."
2Girls Hunting: "What body part do you feel gets neglected for the type of hunting that you do?"
Melissa Bachman: "There is really no way to get keep your feet in shape for a hunt – they just have to get calloused. I wear running shoes, but really, I should be wearing my hiking boots to get my feet used to the movement."
2Girls Hunting: "We see you have a young baby, Tiffany; are you able to find the time for a good workout? Can you incorporate little Cameron into your routine?"
Tiffany Lakosky: "It's definitely a challenge and nicer in the spring when it's not so hot to run. I have a backpack that he fits into and just take him around to check food plots and get in a good hike. You don't know this till you try it, but working out with a baby-on-board can offer quite a challenge."
2GirlsHunting: "How do you get yourself prepared for the elevation changes with hunting?"
Norissa Harman: "We've actually participated in 2 high elevation hunts and 1 high elevation obstacle run in the past year, so even though we live on the valley floor, we've had a lot of reasons to get in shape for higher elevations. Our favorite way to prepare is to hike our local Mt. Lassen Peak. We will usually start about 2 months before our high elevation activity, and we will hike the peak at least 4 times. We always train with multiple layers, our hunting boots and a weighted pack to simulate a true hunt."
2Girls Hunting: "We run cross-country for school and building endurance is a daily activity, what is your 'go-to' cardio exercise?"
Melissa Bachman: "When I run, I'll incorporate hill sprints to build up my leg strength. Working on those up and downs helps build your gluts, hamstrings and quads, which all come into play when hunting any sort of terrain."
Tiffany Lakosky: "Running … 100% running."
Jen O'Hara: "Our go-to cardio exercise is always weighted packs and hiking! Nothing gets the heart rate up and the blood pumping like real-world fitness. We know that when we are hunting, we are always going to be carrying a gun and a backpack, and let's face it, we're women and we are incapable of packing lightly!"
Norissa Harman: "If we are traveling or just can't find the time to get outside to run and hike, we take our weighted packs to the gym and wear them while we work out on the stair stepper, the treadmill, or the elliptical."
Whether you are in your duck waders, stalking that trophy elk or packing out your first deer, getting in shape for the big hunt requires dedication and hard work, but will pay off in the long run.
"The Crush" airs on Outdoor Channel: Sundays at 7:30 p.m., ET, and other times during the week.
"Winchester Deadly Passion" airs on Sportsman Channel: Sundays at 2 p.m. Find out more about Melissa Bachman.
Check out the latest with Girls With Guns Clothing and watch Universal Huntress, Saturday nights at 10:30 p.m. ET on the Pursuit Channel.
How do you get in shape for fall seasons?
About Morgan Mason Baseley

Morgan and Mason Baseley are just everyday girls who love the outdoors and who happen to be identical twins that also love hunting – from waterfowl to big game. "We are here to empower girls and shooting sports. At 17-years old, we are the next generation of female hunters and need to be able to speak up to protect our hunting rights and protect the Second Amendment." Sponsored by Girls with Guns Clothing, these young women are given the platform to make their voices heard in their column at The WON, "2Girls Hunting." They also speak at banquets about hunting and write a blog for the Sportsmen's Alliance. View all posts by Morgan Mason Baseley →