Yeti Tumblers Keep Your Drinks Cold!
I just took a sip of water from my Yeti 20 oz. Tumbler. Ice rattled as I lifted the cup to my lips. Cold water is what gets me through the day as I work and play. The Yeti Tumblers are what I use to keep my water ice cold all day long.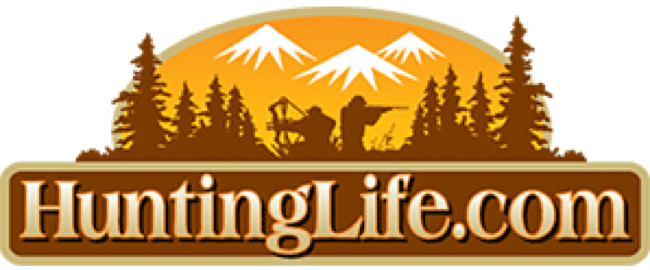 We recently took off for a three-week road trip. We brought three Yeti cups with us: a 20 oz. Tumbler, a 30 oz. Tumbler with the straw, and an 18 oz. Bottle. Our travels took us close to Death Valley and all the way up to the highest peaks of the Sierra Nevada mountains in California. Our Yeti cups resided in the sunbaked truck for hours on end in the July heat. On cool, foggy mornings by the sea they kept our coffee hot throughout the morning.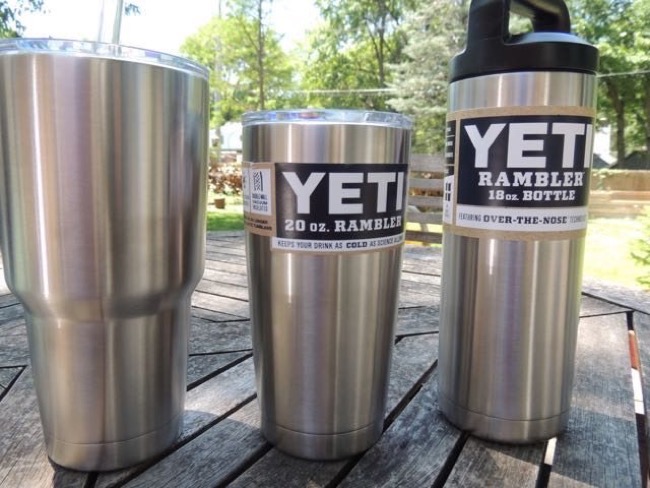 Here's what we found: the Yeti Tumblers are true to their word. "Your beverages will stay ice cold or piping hot longer." It's true. When we filled our tumblers with ice in the morning and poured our drinks in, they stayed cold as long as we needed them to. On long days, we continued refilling the liquid but never needed to refill the ice. For the much-appreciated coffee in the mornings, the Yeti kept my drink hot until the last drop. That's nice on a cool, breezy drive along the coast.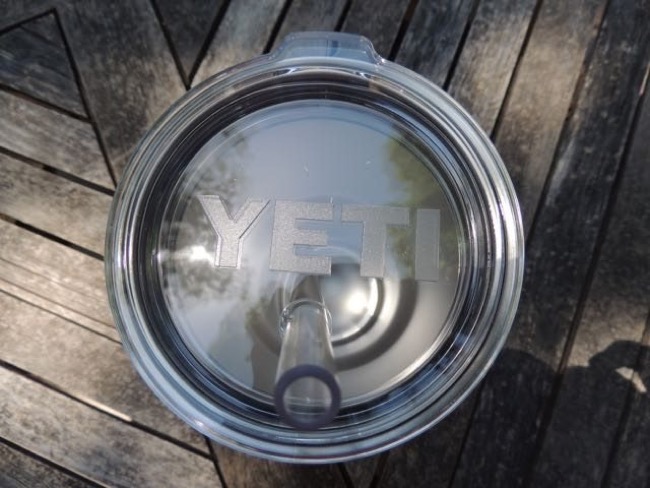 We like the clear lids on the Yeti Tumblers because they allow us to see inside the cup to determine how close we are to needing a refill. However, we did notice with dismay that the sun occasionally reflected off the shiny lid, an annoyance more than anything. We briefly mentioned how a matte cover would negate that issue, but then realized we would be unable to look into the cup. It's a trade-off.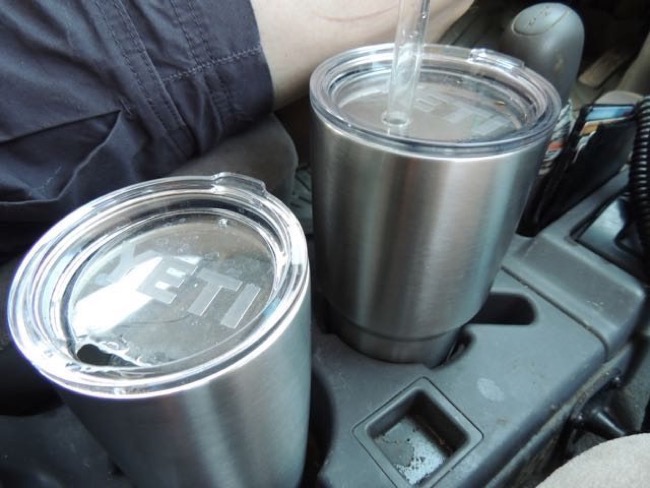 The straw we used on the 30 oz. Tumbler is a great accessory, though hard to keep clean when you are away from a dishwasher for three weeks. We did our best, but there were times when it looked a little sketchy.
The clear lids on the Yeti Tumblers are easy to drink from, but the open sip area took some getting used to. I generally use a spill-proof drinkware. I often carry my water bottle in my arms along with my bags, books, and any number of miscellaneous items. The first few times I carried the Yeti Tumbler, I spilled my drink (thankfully just water) all over me and the car. Once I got used to the open lid design, I became unconsciously aware of carrying it upright.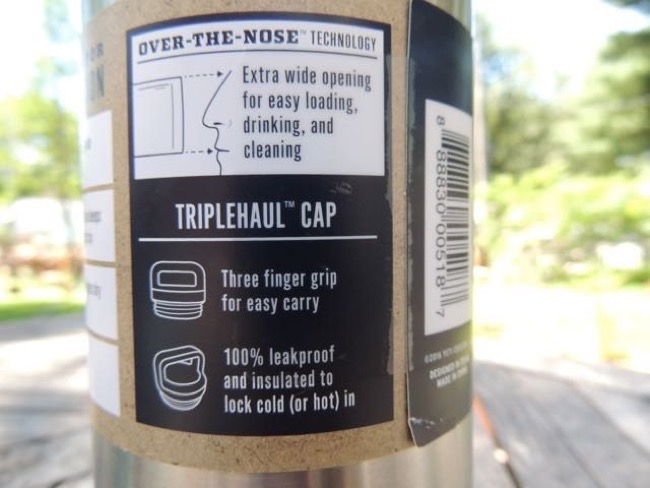 We used the Yeti Bottle, with its 3-finger grip, insulated Triple Haul Cap, for other beverages at the campsite. The leak-proof design allowed us to seal up leftover drinks for the next evening. We also noticed and liked the Over-The-Nose technology of the Yeti Bottle. I think we've all been there: you tip your cup back and your nose hits the bottle or the lid, leaving a dot of coffee on your nose that you then must wipe off with your sleeve. Yeti has done away with this little problem by designing a cup that does not hit your nose.
I will admit I was skeptical of Yeti's claim to keep drink colder than others. I wasn't enamored with the open sip area and it's non-leak-proof design. But after three weeks of constant use, I appreciate the Yeti Tumbler for what it is: a sturdy, no sweat, insulated cup that will without a doubt keep my water cold all day long in any condition.
Yeti is happy to introduce you to their Tumblers, Bottles, and their entire lineup of products at www.yeti.com.
About The WON

The Women's Outdoor News, aka The WON, features news, reviews and stories about women who are shooting, hunting, fishing and actively engaging in outdoor adventure. This publication is for women, by women. View all posts by The WON →