Hunting Story: Pam Park and Big Creek Waterfowl Club
Pam Park is a purchasing and supply chain management professional in Louisville, Ky. She first started hunting last January, when colleagues invited her to go with them to Big Creek Waterfowl Club, near Wheatley, Ark.
Big Creek is a female-friendly hunting lodge," said Pam. "It's equipped with everything needed to hunt and to have a wonderful time.
Pam recalled arriving at the outfitters and not really knowing what to expect. "As a first time hunter, I was pleasantly surprised by the attention to detail of gun safety and training. We learned to shoot a gun properly and practiced by shooting sporting clays."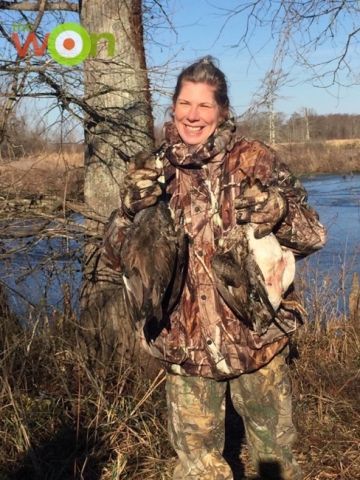 As a result of that training, Pam said she felt comfortable that she could safely handle a gun. "I was much more confident in my shooting abilities, and with the help of Barry Barnett, I actually shot a few ducks. Afterwards, we returned to the lodge and were treated to a fantastic breakfast. We relaxed the remainder of the day and were served an amazing dinner."
"It was an experience I'll never forget. We had so much fun, we went back again in the spring," added Pam.
She believes women will enjoy hunting here because along with a superb outdoor experience, the accommodations were "rustic and comfortable, yet, with all the modern conveniences of home."
I would highly recommend Big Creek. Whether you're interested in a serious hunting adventure or just a fun girls' trip, everyone will have a great time.
Learn more about Big Creek Waterfowl Club here.
About The WON

The Women's Outdoor News, aka The WON, features news, reviews and stories about women who are shooting, hunting, fishing and actively engaging in outdoor adventure. This publication is for women, by women. View all posts by The WON →