Retro WON: Victorian Taxidermy – Taxidermy Fit for a Queen
Taxidermy, as we know it today, owes a lot to Queen Victoria, and anthropomorphic taxidermists like Walter Potter, Roland Ward and Hermann Ploucquet. Before the Victorian and Edwardian eras (1837-1901) taxidermy was used by hunters, scientists, explorers and artists like (sigh) John J. Audubon, mainly to preserve specimens for study. These early examples of taxidermy were very crude, did not endure and lacked an artistic appeal.
The Golden Age and advancement of taxidermy started with those wonderful Victorians who embraced nature and brought the wild inside.
Read the article by Carey Dunne regarding taxidermy such as the kittens above.
There is a wonderful new book out by Blue Rider Press featuring Potter: Walter Potter's Curious World of Taxidermy, by Ebenstein and Morris. In a review of the book for Fastcodesign.com, Carey Dunne writes it all began in the Potter family pub: "At age 15, Walter Potter, began creating anthropomorphic tableaux of guinea pigs playing croquet, squirrels smoking cigars, and kittens having tea parties. " He later opened a small museum where, "he lovingly hand-made all the accessories for his little dead animals. His wife, daughter and a neighbor sewed the clothes."
In 1851, Queen Victoria's husband, Prince Albert, headed the first Great Exhibition touted as the "Works of Industry of all Nations" and it was held in an elaborate, but temporary, structure at Hyde Park, London. The Victorian elite were smitten by the taxidermy tableaux of exhibitors such as Hermann Plouquet and the beautiful birds of ornithologist John Hancock. Plouquet was the taxidermist for the Royal Museum in Stuttgart, Germany, and soon his dead rodents were the rage of Victorian society! Queen Victoria favored and amassed a huge collection of bird taxidermy.
During this era, the advancements in taxidermy coincided with the popularity of big game hunting. Wealthy hunters, such as Teddy Roosevelt, began to commission taxidermists to preserve their trophies for their fashionable libraries and sitting rooms.
Another nod of thanks to Victoria from the hunting genre goes to her discovery of ornate Brienzware carvings of Switzerland (aka Black Forest) to elegantly frame hunting trophies. Victoria adorned her royal hunting lodges with these handsome carvings and created a décor trend still sought after today. See our related post: http://www.womensoutdoornews.com/2014/09/bringing-wild-inside-black-forest-style-oak-leaves-acorns
Because of Queen Victoria, hunting and taxidermy techniques now using artificial eyes and soft tissue parts. Therefore, the pesky bugs of decay and ghoulish scientific mounts of the past gave way to new taxidermy as high society décor.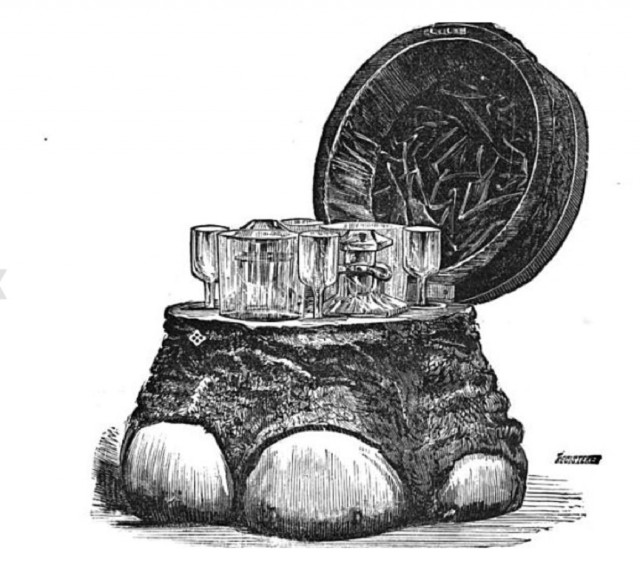 The illustration above is courtesy of Observations on the Preservation of Hoofs and the Designing of Hoof-Trophies, published by Roland Ward, Ltd, London and Nairobi, 1885, with special permission from Fran Jurga and his blog: http://hoofcare.blogspot.com/2012/04/trophy-hoof-rowland-ward-preserved-part.html
The photo above is an example of Roland Ward animal furniture, the Bear dumbwaiter serving drinks, published in The Strand Magazine, 1896.
Roland Ward – who came from a family of natural history buffs and taxidermists (his father worked with Audubon — established one of the first taxidermy firms in England. He took taxidermy to the next level — not by merely stuffing an animal skin, but by working more from the natural world of shape and movement and turning skins, horns and hoofs into practical and decorative items for the home.
Ward also introduced the Records of Big Game book series in 1892 that continues to this day and contains the measurements of big game around the world. The Rowland Ward Company made fashionable items from animal parts — such as zebra-hoof inkwells, letter openers with fox paw handles, antler furniture and elephant-feet umbrella stands, as well as the elephant foot mini-bar pictured above.
It was also during this time that hunting trophies, as well as preserved items, from deceased pets became fashionable in design and décor. The Victorians were fond of their animals, and honored them with commissioned portraits, and immortalized them in functional everyday tangible items of taxidermy to be placed among the sterling and cut glass. The trusty war horse that perhaps saw his master safely through or a beloved event horse that was all heart – it was a way for the animal to remain with them in the rooms the Victorians frequented the most.
And, Victorians loved their birds … beneath, behind and surrounded by glass and among realistic settings be it painted, framed or 3D. Rowland Ward was one of the largest suppliers of glass cases filled with birds – a fashion statement for 19th century homes.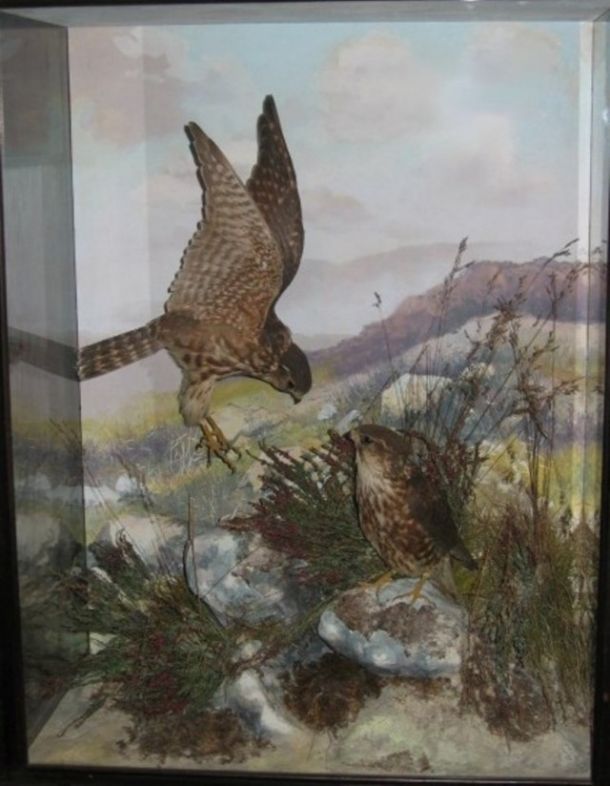 Photo courtesy of www.taxidermy4cash.com
Sometimes they combined it all, the painting, the leaves and even eggs and nests in their realistic avian cases, such as this beautiful diorama on the left of Merlins by famous Victorian taxidermist, Peter Spicer.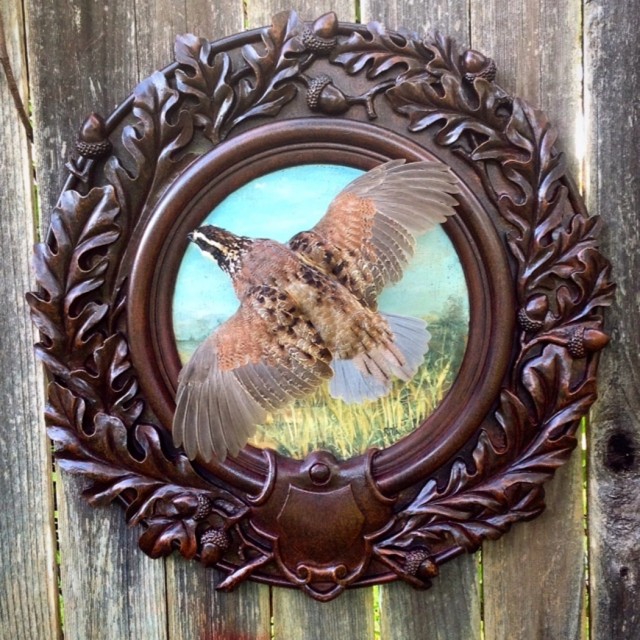 Heritage Game Mounts derives much of their inspiration from Victorian taxidermy, as shown this custom-mounted quail, placed on a hand-painted elegant black forest styled panel. $575
Most of us who hunt are proud of the animals we have taken, and long after the food is gone, we like to enjoy the memory of that adventure and the honor the animal as a part of our home décor.
This Retro WON about taxidermy first appeared September 3, 2015.
About Rita Schimpff

Rita Schimpff is an artist and designer who grew up hunting, fishing and enjoying outdoor life in Oklahoma and Texas, thus developing an early love and respect for wildlife and their habitat. She has carried this love to her art and her long involvement with many local and national conservation associations. As a member of the first Junior League San Antonio Mitchell Lake Wetlands Project, she created its logo and illustrated Mitchell Lake Wildlife Refuge: an Illustrated History. A graduate of Texas Christian University with a BFA in Commercial Art and Textile Design, Rita retired after more than 30 years in an interior design field. She launched her Texas based company, Heritage Game Mounts. She creates elegant, Old-World-inspired panels to display domestic and exotic game. She pens a blog called "Bring The Wild Inside" at the site, and at The WON, that offers ways to bring beauty and balance to the shared hunter/non-hunter home. Rita and her husband, Skip, have made hunting and fishing a large priority with their children. Along with two Boykin Spaniels and numerous adopted rescues, all aspects of hunting are very much a family affair. All of Heritage Game Mounts' products are American made. View all posts by Rita Schimpff →