Winchester Honors Kim Rhode
EAST ALTON, Ill. – Kim Rhode roared into history before the first competitive shot was ever fired in Rio, but now she has a bronze medal to solidify her legacy in the shooting sports arena. Rhode is the first American athlete in history to win six consecutive medals in an individual sport.
"We are proud of our long-standing partnership with USA Shooting, and particularly Kim Rhode," said Brett Flaugher, vice president of marketing, sales and strategy at Winchester Ammunition. "We offer a heartfelt congratulations to all the athletes who participated in this year's games. Kim and her fellow teammates are a reflection of all that is great about sporting competition, what is best about America and what is best about the benefits of competitive target shooting."
To celebrate Rhode's history-making achievements, Winchester is once again featuring Kim Rhode on boxes of AA target loads. The standard AA loads, AA128, will be in the commemorative boxes and available at Winchester retailers.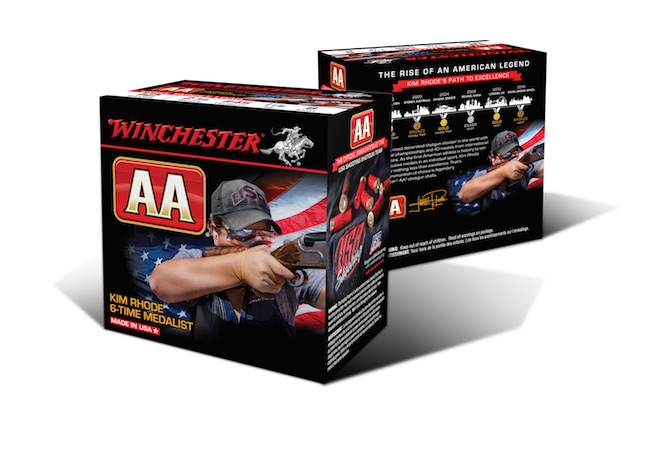 Winchester Ammunition has enjoyed a long-time connection with Rhode and the USA Shooting team as the exclusive shotshell sponsor and supplier since 1999.
"We all owe a great deal of our success to Winchester and their AAs. They've helped us practice, train and compete with the confidence we need just knowing we're shooting the best product out there," said Kim Rhode. "We're very proud to have the Winchester name behind our team and are very thankful to have those legendary AA shotshells in our shooting vests."
About Winchester Ammunition
The iconic Winchester brand celebrates 150 years of legendary excellence in 2016—a historic milestone representing a steadfast commitment to the hunting and shooting sports traditions and future generations of sportsmen. A world leader in delivering innovative products, Winchester is The American Legend, a brand built on integrity, hard work and a deep focus on its loyal customers. Learn more about the history of Winchester by visiting Winchester.com or connect with us on Facebook at Facebook.com/WinchesterOfficial.
About The WON

The Women's Outdoor News, aka The WON, features news, reviews and stories about women who are shooting, hunting, fishing and actively engaging in outdoor adventure. This publication is for women, by women. View all posts by The WON →