Four Ways to Wear Face Paint When Hunting
Nature's Paint co-founder Sereena Thompson lists 4 ways to wear face paint for hunting in this guest post.
Hunting season is here which means it's time to ditch the heels and make-up a couple days of the week and break out the boots and camo.
It's no secret you must be on your "A" game, free of distraction when on the pursuit — which is why we choose Nature's Paint face paint over a mask for face coverage. We have found that masks tend to impair 2 of our most important senses when hunting –sight and hearing – while face paint allows you to be one with your surroundings.
Whether you are hunting big game, waterfowl or predators, there is a perfect pattern for you. When it comes to applying face paint, though, it's important to know how to effectively apply it to hide your face.
Let's be real, as women we like to look good no matter what we are doing, which means we want and need the "perfect" paint pattern. Yes, we are hunting, but who knows when we are going to take an elk selfie? Let's have a look at some of our favorite patterns at Nature's Paint.
4 Ways to Do Face Paint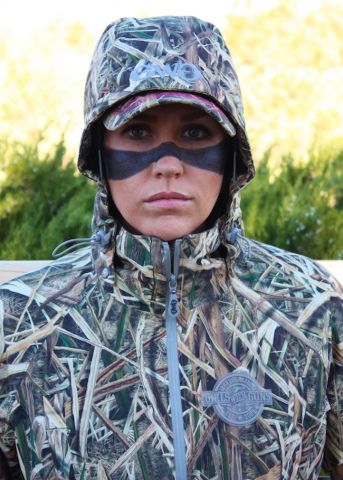 Waterfowl Blackout
The key to the waterfowl blackout camo pattern is covering your most highlighted features (nose and cheekbones) that may be exposed. Nature's Paint ash black works great to conceal those features with a dark matte finish. Start by making a straight horizontal line across the tops of your cheekbones and nose. At either end of the line draw a vertical line about ⅔ down the length of your cheeks. Next, connect the 2 vertical lines with a horizontal line and continue to fill in until the area is completely black. This is the perfect minimalistic waterfowl pattern, it takes very little paint and provides all of the coverage you will need.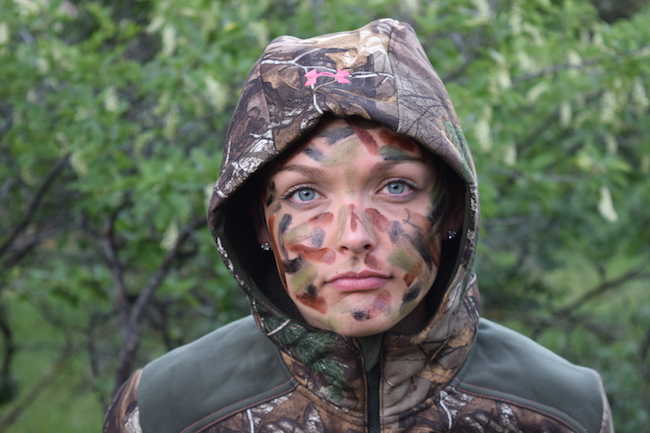 The Breakup
The Breakup is perfect for full concealment when big game hunting. When applying this pattern of asymmetrical lines start with dark brown, move to green and finish with a bold black to tie everything together. Keep in mind this might need to be altered depending on the terrain you are hunting as you will want to closely match your surroundings. Colors should be lightest in our most recessed features and darkest in our most highlighted areas (chin, nose, cheekbones). Make sure the paint on one side of your face doesn't exactly match your other side; this allows for a better breakup pattern.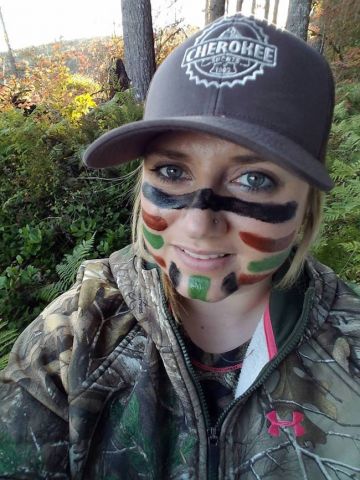 Behind the Lines
Behind the Lines is a simple camo pattern, perfect for those who wish to keep their paint to a minimum. A combo of black, brown and green camo face paint is applied in even horizontal lines making sure your highlighted areas (nose, chin and cheeks) are covered. If you are not wearing a hat, we highly recommend putting 3 horizontal lines, one of each color across your forehead. This pattern is great for big game hunting — whether in timber or in a tree stand.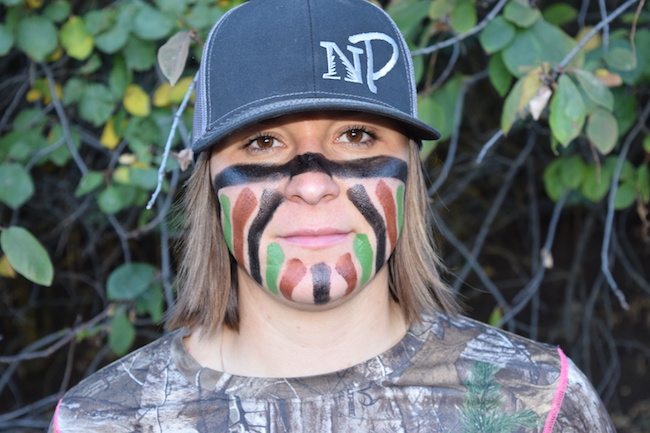 The Warrior
The Warrior is very similar to Behind the Lines. A combo of black, brown and green camo face paint is applied in even straight lines in a diagonal direction on the cheeks. You should also apply a straight line from the base of your forehead to the tip of your nose making sure your highlighted areas (nose, chin and cheeks) are covered. This is another great camo pattern for big game hunting.
Ultimately it's about the hunt, bringing you closer to nature, closer to your harvest and in tune with your natural instincts. When selecting your face paint we recommend using a brand like Nature's Paint that is free of parabens and harmful chemicals. You are beautiful inside and out and deserve quality, safe products.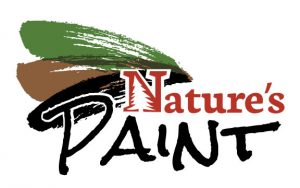 Get your Nature's Paint today.
In fact, win a set of Nature's Paint by entering our giveaway.
a Rafflecopter giveaway

About The WON

The Women's Outdoor News, aka The WON, features news, reviews and stories about women who are shooting, hunting, fishing and actively engaging in outdoor adventure. This publication is for women, by women. View all posts by The WON →