Outdoor Channel's "Raised Hunting" Shines a Spotlight on Breast Cancer
WHO: Outdoor Channel stars David Holder, his wife Karin, and teenage sons Warren and Easton of Raised Hunting, along with special guest stars David Mitchell ("Mitch") and his wife Tammy – a stage III breast cancer patient and survivor.
WHAT: A core tenant of the Raised Hunting TV series is family. For the Holders, family isn't simply defined by the narrow scope of blood; it's the people who have stood by their side through thick and thin.
On the October 15 episode of
Raised Hunting
, titled "Hope," see how friendship and hunting intertwine in an emotional half-hour that embodies the spirit of October's "Breast Cancer Awareness" month. Friends for the better part of two decades, a breast cancer diagnosis for Mitch's wife Tammy brings David and Mitch closer than ever before, and enables both families to reflect on the precise nature of life.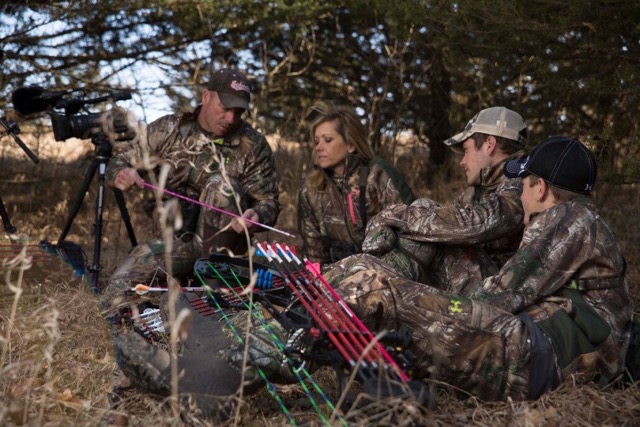 While Tammy was not a fan of her husband's hunting pursuits, battling and beating cancer reminded her about the importance of pursing a passion. After a change of heart, David took his best friend Mitch outdoors to stalk and, eventually, harvest the largest whitetail of his life.
WHY: Every two minutes a woman in the United States is diagnosed with breast cancer. Coinciding with Breast Cancer Awareness Month, the episode aims to raise awareness of the disease, which is one of the most common cancers among women in the U.S. To shine a spotlight on breast cancer, and the importance of early detection and testing, Raised Hunting has released a special pink version of its arrow wraps. The Holders ask their fellow hunters to carry one in their quivers to honor all women that are fighting the battle of their lives. All proceeds from these sales will be donated to the Breast Cancer Research Foundation to aid in research and finding a cure.
WHEN: Tune in to the very special "Hope" episode from the third season of Raised Hunting on Saturday, October 15 at 11:30 a.m. ET.
WHERE: Watch Raised Hunting on Outdoor Channel. To locate the network in your area, please visit www.OutdoorChannel.com/channelfinder.
Viewers can join the conversation by using: #RaisedHunting. Follow the series on Twitter, Instagram, Facebook and YouTube.
October is Breast Cancer Awareness Month.
About The WON

The Women's Outdoor News, aka The WON, features news, reviews and stories about women who are shooting, hunting, fishing and actively engaging in outdoor adventure. This publication is for women, by women. View all posts by The WON →