Making the Transition from Dove Season to Duck Season
At long last, it's that time of year when the air cools down and the leaves begin to change. That means we get to transition from hot, sunny days in the dove field to chilly, windy duck-hunting weather. So, let's trade in our snake boots for waders, and get prepped for duck season. You'll have a limit of ducks in no time.
Since I'm partial to essential gear checklists, let's begin with the basics. Duck-hunting weather is slightly different from your typical dove shoot, and layers tend to be key. Here in South Carolina, we have a wide range of hunting temperatures—some duck hunts require Hot Hands (and even then, we're cold), while others require a ThermaCell, or else you might be carried off by mosquitos. Whatever cold-weather camo clothing you've got, go ahead and layer it up. I've worn everything from pajama bottoms to pants actually designed to go underneath my waders, so the choice is yours. A few layers of thermals, or even just long-sleeved camouflage can top of your base attire. If the morning warms up or you break a sweat putting out decoys, being able to shed a layer is great.
No matter what the temperature, snag a hat, facemask and camouflage or dark-colored gloves (you'll be surprised just how much bare hands stand out when you're tucked up in the marsh grass), and then you'll be all set to don those waders.
A blind bag of some sort is always helpful when you're in the duck blind. It doesn't have to be a big floating one with a whole medley of pockets and pouches, just something big enough for whatever items you want to take into the blind with you. I'll bring my shell belt, a box of shells, a duck string, my ear plugs, a few calls, and a bottle of water, typically. Why do I pack the shell belt and shells in the bag first? Regrettably, there have been more than a few occasions when I took some sort of tumble either walking to the blind or putting out decoys that resulted in flailing arms and sideways falling, inevitably knocking some shells loose from my belt, never to be seen again. If I wait until I get to the blind to finish gearing up, I'm less likely to lose things. But that might just be me.
When it comes to shooting ducks, I definitely recommend shooting a 12-gauge. You can certainly kill a duck with a 20-gauge, but a big fat mallard swinging by at 50 yards might take a little more power to bring down. More pellets and that extra "oomph" can mean the difference between a miss (or worse, a crippled duck) and a knock-down, dead-in-the-water shot.
Once you're layered up and geared up, you'll certainly look the part for duck hunting, but there's one thing you might not have thought about: just how all those layers might affect your gun mount. Looking back to how we prepped for dove season, we can follow the same principles. Shooting a round or two of sporting clays before your first duck hunt can do wonders. For starters, it will get your body used to the feel of the 12-gauge again. It's heavier and longer than the over-under I use for dove hunting, so my swing changes between the two guns. I like to mimic the shots I might encounter while duck hunting. From low passing shots at a teal whizzing by a foot off the water to head-on decoying ducks right in your face, you'll certainly have to employ different shooting tactics than you would on a dove shoot.
Additionally, you're likely wearing a fair amount more clothing than you would in the dove field, which will have an effect on your length of pull. It might seem trivial, but an extra half inch or inch of clothing between your layers and facemask means your gun will sit differently against your shoulder and face. Even a slightly altered gun mount can translate to a foot or two off at 40 yards, which can make or break your shot. When you shoot skeet to practice, try doing so wearing similar layers that you'll be wearing on a duck hunt. I'm not saying you've got to wader up to shoot a round of clays, but at least mimicking your layers for a few practice rounds can help.
Personally, it takes me a few shots to get used to the gun mount alone. I tend to catch the rubber butt plate of my gun on my outer jacket shell at first, but a slight adjustment to how I raise the gun fixes that problem in no time. Once I get a few practice shots in, it's much easier to get back into the rhythm and set the foundation for a successful duck season.
As the season approaches, it wouldn't hurt to do a once-over on your decoys. Are there a few from last year that have lost their weights? Did one get shot up and is no longer as buoyant as it should be? A quick check helps to avoid lost or sunken decoys, or the frustration of watching one float away while you're stuck in the blind.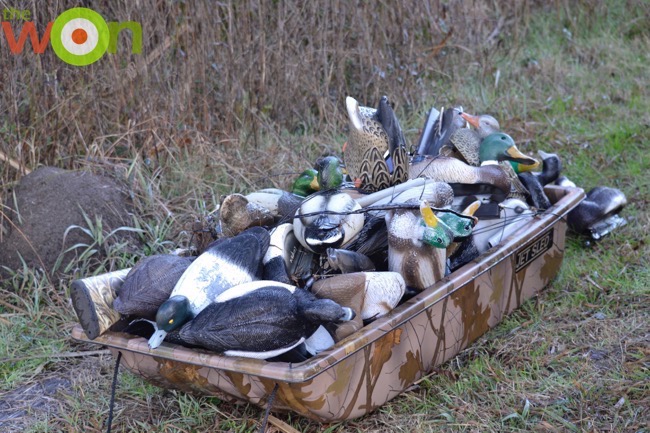 Last, but certainly not least, make sure you're legal before you head to the duck blind—hunting license and duck stamps included. It's a good idea to double-check the limits before the season starts, just in case DNR has made any adjustments (for example, this year South Carolina's dove limit dropped from 15 birds to 12). As soon as it hits legal hour, blast away and enjoy your duck hunt.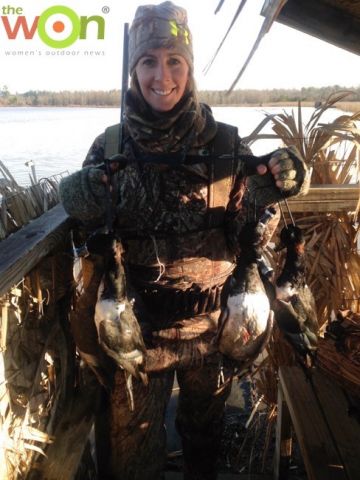 Are you ready for duck season? Bundle up!
About Hollis Lumpkin

Hollis Lumpkin writes that she is a "simple girl living in the Lowcountry of South Carolina, but I happen to have a great love for the outdoors, particularly hunting and fishing." She is a duck-hunting freak. Hollis pens an exclusive version of "The Bright Side of the Road," for The WON. View all posts by Hollis Lumpkin →