Corey Cogdell-Unrein provided a perfect Olympic answer at the International Shooting Sport Federation (ISSF) World Cup Final Friday in Rome, Italy by matching the Olympic bronze medal she earned in Rio, as she battled to a World Cup Final bronze to cap off a stellar season.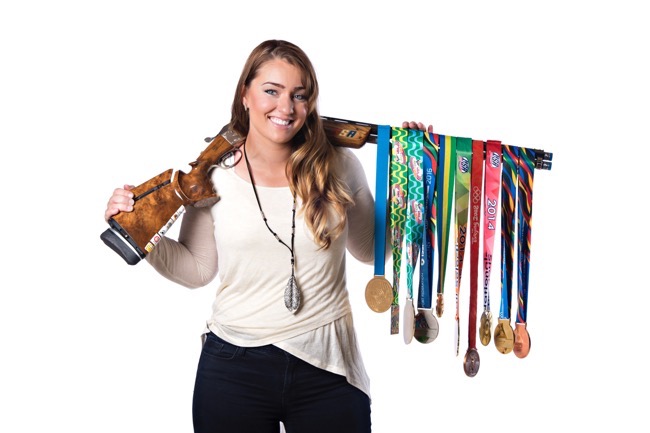 Like the quest to her second Olympic medal, today's medal run was anything but easy. She would qualify for the semifinal in a four-way tie for first with a score of 69/75 after rounds of 25, 22 and 22. In the semis, she was perfect through her first five targets and looked like she had it going, but could only manage to connect on five of her 10 next targets. The 30-year-old Alaska native would be forced into a shoot-off with the Olympic gold medalist Catherine Skinner of Australia to try and earn a spot into the bronze-medal match. Again, it looked like she might advance easily after Skinner missed her first target, but Cogdell-Unrein couldn't connect either. Skinner again missed on her second shot, but Cogdell-Unrein held strong and made the shot count to advance.
Facing Lebanon's Ray Bassil in the bronze-medal match, a three-time medal winner during the ISSF World Cup season, Cogdell-Unrein (Eagle River, Alaska) would again struggle early missing on three of first seven targets. Despite the inconsistency, Bassil couldn't take advantage and would be just one ahead with eight targets remaining. Cogdell-Unrein would shake off that frustration in time to crush her final eight targets to secure a two-point win and earn her first globe trophy as a World Cup Finals bronze medalist. Bassil missed three of her final six targets.
Cogdell-Unrein is the only U.S. woman to earn an Olympic medal and becomes just the second to ever earn a World Cup Finals medal. Janessa Beaman was a silver medalist in 2014.
The only way I could describe today would be a battle," Cogdell-Unrein admitted afterward. "Conditions were tough and I struggled all day seeing the targets, especially in the Finals. Today, I certainly can't say it was one of those feel-good type of days. Shooting today was the kind of day I can look back on and know that I fought to win this medal instead of giving up when things got tough and uncomfortable. I'm so excited to be headed home with a globe trophy and knowing that I have had a successful season. It's a great way to cap off a year.
New Zealand's Natalie Rooney, the Olympic silver medalist, was today's winner after an intense shoot-off with San Marino's Alessandra Perilli. The two each shot 9/15 in the gold-medal match and would need to see an extra 10 targets before settling on a winner.
WOMEN'S TRAP QUALIFICATION SCORES | FINAL SCORES | FINALS VIDEO
The World Cup Finals were particularly successful for the USA Shooting Team after earning seven medals overall including four in Rifle/Pistol and three in shotgun. That's second behind China, who earned eight total at the Rifle/Pistol World Cup Final last week.
Member of the USA Shooting Shotgun Team now get some much needed time off. The International Shooting Sport Federation (ISSF) World Cup schedule for 2017 features three shotgun events including the season opener in New Delhi, India, February 22-March 4, Acapulco, Mexico, March 17-27 and Larnaca, Cyprus, April 28 – May 8. The 2017 season will also feature the Shotgun World Championship in Moscow, Russia, August 30-September 9.
Congratulations Corey Cogdell-Unrein!