Sharing a First Chukar Hunt Experience in Beautiful Idaho
My first day of hunting was with a friend, whom many in the outdoors industry would call a mentor. However, I didn't think of our relationship that way. It wasn't until years later when we were asked to mentor young hunters that I questioned the word "mentor" for the first time. When a friend joins me for any activity, or I try something new—whether it's hunting or learning to rock climb—the concept of mentorship is furthest from my mind. It's a word that belongs in the business world or the classroom, and it makes me feel 100 years old and bookish. Nonetheless, it was thanks to Idaho's Hunting Passport mentorship program that a girlfriend was able to join us for a hunt at the last minute without first having to complete a hunter education course. And thanks to that program, a group of us—all beginners in one way or another—experienced the exhilaration that is chukar hunting.
One of my favorite parts of this particular co-mentorship was that Stacie lived in Boise and had never hunted. Her husband had hunted in the area, but had never hunted chukar. My partner and I had never hunted chukar, either, but we went on upland hunts with bird dogs as often as possible. The dogs were in similar states of experience and unfamiliarity: Our English setter, Hugo, had only hunted ptarmigan and spruce grouse, and their springer spaniel, Jack, was a rescue who had found plenty of birds but was new to the gun. We set out to have fun and learn collaboratively.
One of the common questions when planning to go out with a girlfriend is the discussion on what to wear. When it's an upland hunting trip, hunters must consider how much hunter orange is required (find out your state's hunter orange requirements here). I packed an extra vest and brush pants for Stacie to borrow, and she gave me details about the weather so I could determine which boots and layers to pack. As we donned our vests, she noted that she shouldn't put her Chapstick in the same pocket as her shells. The mentorship program was already at work!
Stacie had planned to use an auto-loader because it was available. My preference for wingshooting is an over/under, so I talked her into borrowing my Elos Venti, one of a growing number of Syren shotgun models. Stacie's husband had provided her with firearms safety instruction, and she was impeccable with her mastery of the 4 basic firearms safety rules. I'd hunted with many practiced hunters who failed to maintain muzzle control in different types of terrain, but whether we were bouldering, boarding a boat, or climbing canyons, she was always aware of where she pointed her shotgun.
We watched our dogs work like proud parents. Stacie was grateful to be able to take Jack hunting because it fulfilled a condition of his adoption. Several homes had wanted him, but Stacie won out when she expressed a desire to take him hunting. Jack's black ears bounced above the grass ahead of us, while all we could see of Hugo was his white tail. When Hugo pointed chukar 200 yards ahead of us, my only expectation was that they would hold the way ptarmigan held. By the time we closed to 100 yards, it was clear they were running. For the rest of the day, the dogs were wild with the smell of chukar in the air and we could hear the bird's calls echo off the canyon walls around us.
Many folks call chuckar "devil birds," and they're sometimes sought after by elitist hunters who cannot help but return for more pleasant misery. We climbed for days, and it was fun to share the torturous work. At the end of each day, Stacie confirmed her desire to kill a bird. On our fourth day, we hunted California quail, also known as valley quail. We both shared a first in taking these sharply-dressed birds. Watching Stacie took me back to my first hunt, when all I wanted was to connect with game. And, holding the male of the species in my hand brought home everything I had read about the little bird, who was as colorful as the country.
As often as I hunt birds, it's hunting with new partners that gives me the most perspective. I can see similarities and differences between us, with a greater appreciation for my journey. I find myself connected to people whom I may not otherwise have befriended, and I find myself admiring them for our shared values, even if we have nothing else in common. This is especially true when encountering gunners who put their dogs or conservation first. Most of all, we share a story of venturing to a place that exists outside of time—the hunt, an old and true human endeavor, is a cure for modern ailments.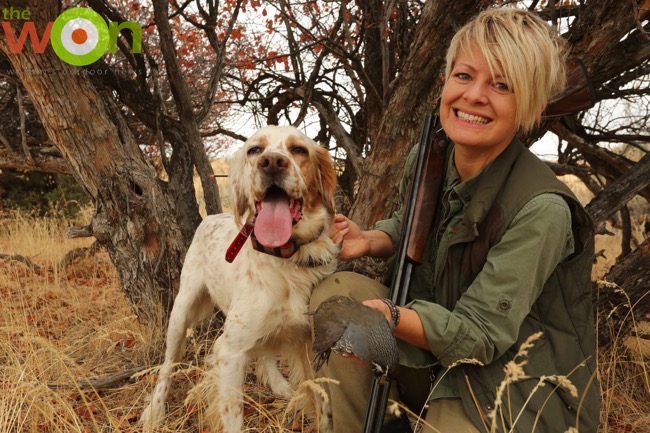 As I reflect back on the week we hunted together, it's impossible to say who in our group was mentoring and who was mentored. We all guided and uplifted each other, just as we all enjoyed our efforts and will always have something to teach and learn. As early as the 1580s, the word share meant "to divide one's own and give part to others." I prefer "share" to "mentor" in describing what it is to go afield with a new hunter. But, I'm also grateful to Idaho's mentoring program because, as its website says, "There is no better way to introduce a new hunter to the safe, ethical and responsible aspects of hunting" than to take them hunting.
Let's go on a chukar hunt!
About Christine Cunningham

Christine Cunningham is a lifelong Alaskan, author and outdoor columnist known for her contributions to outdoor magazines and her commitment to creating opportunities for women to connect and share their stories. Her first book, "Women Hunting Alaska," profiles some of Alaska's most outstanding female hunters. View all posts by Christine Cunningham →