5 Gift Ideas from CrossBreed for the Woman Who Carries Concealed
Whether you're buying a holster as a gift, or requesting one on your Christmas list, consider the options CrossBreed has to offer. If you ask a group of women how they prefer to carry concealed you will get a multitude of answers. So, make sure you know how the person you're shopping for carries, and if it's your list for Santa, be very specific.
The following list from CrossBreed Holsters contains some great products that anyone will be excited to find under her tree.
1. Women's Appendix Carry Holster
With softer leather and smoother corners, the Women's Appendix Holster was designed specifically with the female body in mind. This holster is intended for popular small firearms and has no cant, so it can be worn on the front side of the body. Featuring a CrossBreed® hand-molded pocket for a perfect fit, the Women's Appendix is your answer for any woman who wants to carry a small firearm in a front position. This versatile holster can be worn in the standard appendix or in cross-draw fashion.
MSRP: $59.50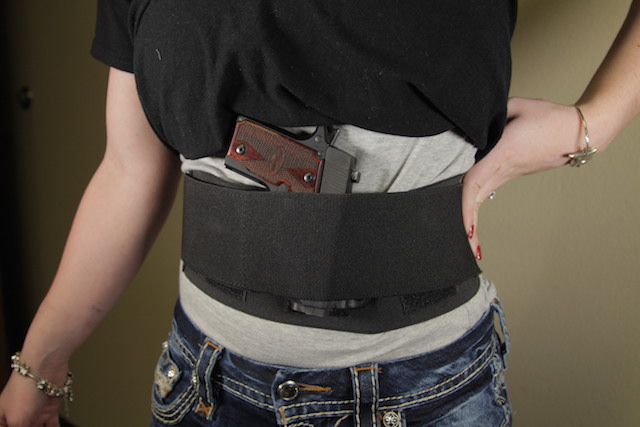 2. Modular Belly Band
The Modular Belly Band utilizes an elastic band with a CrossBreed® Modular Holster so the user can place the holster in the most comfortable position on her body. It also incorporates a sewn magazine or flashlight pouch and a horizontal Velcro-enclosed accessory pouch for carrying a cell phone, wallet, or similar items. An optional Modular Magazine Carrier is available to add to the band. Read a previous review at The WON of the CrossBreed Belly Band here.
MSRP: $69.95
3. ANKLE HOLSTER
CrossBreed's ankle holsters are available for many pistols, including the most popular revolvers. With a padded ankle section for comfort, they also have an adjustable velcro thumb break to ensure firearm security. The system also features a calf support strap to keep the holster from riding down. For more information on carrying with an ankle holster, read my previous article here.
MSRP: $34.95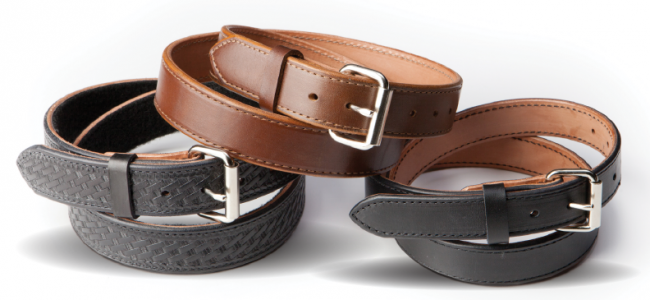 4. LADIES REVERSIBLE CARRY BELT
The Ladies Reversible Carry Belt was designed by the ladies of CrossBreed® to specifically meet the needs of female carry. This belt is both high-fashion and high-function, showcasing a combination of features you will not find anywhere else. The top-grade finished leather is black/brown reversible with a black finished edge. It measures 1-¼ inches wide, 1/8-inch thick and is fully lined to prevent stretching. The secure locking buckle is available in 3 finishes to complement any wardrobe. Specialized women's sizing puts 5 holes at ¾-inch apart for a fully personalized fit. The slimmer leather and sleek design makes this reversible belt a must-have for women in a male-focused market.
MSRP: $54.95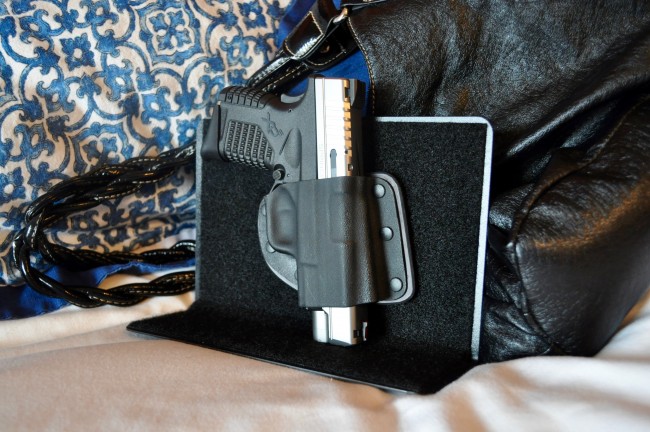 5. PURSE DEFENDER
Carrying concealed while grocery shopping is no problem when you have the Purse Defender. Just insert one of the 2 sizes of Velcro-lined Kydex panels into your favorite purse. Before you exit the car, attach the Modular Holster to the Velcro. Your firearm will stay in one place in your purse and you can set it up at the angle you prefer. Wear your purse in a cross-body style if possible and never leave it in the kiddie seat in the cart.
MSRP: $52.95
So, whether you are creating your own Christmas list, or buying a gift for someone else, make sure to look at all the concealed carry choices CrossBreed has to offer.
About Michelle Cerino

Michelle Cerino, aka Princess Gunslinger, entered the firearms industry in 2011 when Cerino Training Group was established. She immediately began competing in both 3-Gun and NRA Action Pistol, becoming a sponsored shooter. Michelle is currently a columnist and Managing Editor of Women's Outdoor News, as well as Event-Staff for CZ-USA Field Sports. She also manages social media for Vera Koo and GTM Original. Michelle encourages others to step out of the comforts of home and explore. View all posts by Michelle Cerino →