#HuntingwithJR: The Thing About Geese
I love to hunt for geese. Every year, on average, I apply for 8 states' permits so I can share the steel shot around, and so far, this year, I've hunted in Texas, Oklahoma, Kansas and California. It's such a challenge to do it well, and to spend time afield with friends and firearms.
This year, I've been shooting the new V3 from Remington, on loan. My friends are noticing this gun and purchasing their own – especially seeing how it works in the field.

We call it a workhorse of a gun here at TeamWON, and rightfully so.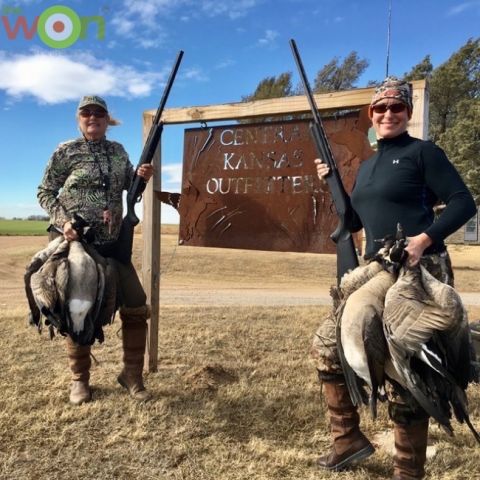 The Thing About Geese
Geese are unique among bird species. All birds replace their feathers, in many species, on a much-needed basis. Geese replace their flight feathers all at once in summer, at which time they are flightless. Molting is a risky maneuver; after all, the ability to fly is one of a bird's best defenses to avoid predators. Geese have ways of dealing with this problem, they flock together and seek open areas where they can see predators coming.
If you are planning on taking your prize goose to the taxidermist this year, it's best to harvest it when the feathers are in full plumage.
Did you know?
Canada geese don't typically nest until they are 2- to 3-years old.
Tip: Juveniles (young geese) begin their migration earlier because they do not have nesting privileges. They are easier to call during hunting season.
Did you know?
Geese are attracted to movement on the ground and they will come closer for a look. Too much movement in the blind can deter geese from taking a second look!
Tip: Never wear black on your head while hunting because geese can see you from miles away. Black will keep geese from coming to your calls. It is called flaring in the blind.
I'll be heading to Arkansas shortly to goose hunt with our publisher, Barbara Baird, and Jessica Kallam, of Remington Outdoor Company. Be sure to watch for our social media posts, and hey, send us a good goose recipe or two!
If you missed Judy's previous pointers you can read them here.
So, who's heading out to hunt geese?
About Judy Rhodes

Judy Rhodes, the Voice of Women in the Outdoors is an outdoor visionary and mentor to women and youth in the outdoors. Judy, Founder of DIVA ... Women Outdoors Worldwide is the largest women's ONLY outdoor organization. DIVA WOW is a non-profit 501(c)3 unique all volunteer sisterhood dedicated to encouraging women to discover their outdoor passion. View all posts by Judy Rhodes →