Remington V3 Autoloading Shotgun is Now Available with Walnut Stock
Huntsville, AL – Remington Arms Company, LLC, ("Remington") is pleased to announce that the V3 Field Sport Walnut is now shipping and available at retailers, dealers and distributors across the country.
The V3 shotgun blends Remington's legendary pointability with the reliability of the revolutionary VersaPort gas system in a compact and lightweight platform. A match only made in America. The Remington V3 flawlessly cycles all 2 ¾ to 3-inch 12 gauge loads while reducing recoil to a level previously unheard of in autoloaders. For traditional good looks, the V3 is now available with American walnut woodwork and rich satin finish.
The V3 Field Sport –the new 3-inch chambered, American designed and built shotgun that represents the return of America's greatness in autoloading shotguns.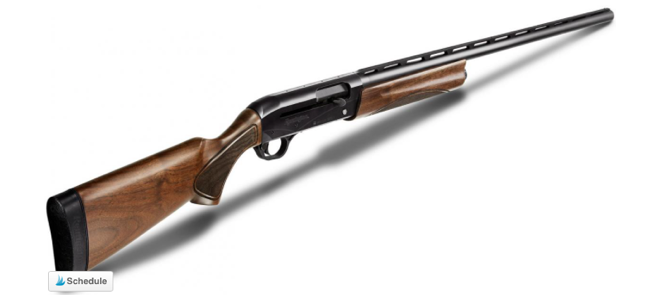 The Remington V3 Field Sport is also available in black synthetic and camo versions. All V3 shotguns ship with three screw-in Remchokes (Improved, Modified, and Full chokes). The V3 shotgun is the new American autoloader, from Remington.
The Remington V3 Field Sport Walnut is available in both 28 and 26-inch barrels with a MSRP of $995.
About Remington Arms Company, LLC
Remington Arms Company, LLC, ("Remington") headquartered in Madison, N.C., designs, produces and sells sporting goods products for the hunting and shooting sports markets, as well as solutions to the military, government and law enforcement markets. Founded in 1816 in upstate New York, the Company is the nation's oldest continuously operating manufacturer with its original Ilion, New York plant still in operation today. Remington is a privately-held manufacturer of firearms and ammunition products and one of the largest domestic producers of shotguns and rifles. The Remington Family of Companies has 12 locations across 9 states employing over 3,500 people and distributes its products throughout the U.S. and in over 55 foreign countries.
More information about the Company can be found at www.remington.com.
Follow Remington! Facebook • Twitter • Google+
So, what do you think of the Remington V3 Field Sport walnut stock?
About The WON

The Women's Outdoor News, aka The WON, features news, reviews and stories about women who are shooting, hunting, fishing and actively engaging in outdoor adventure. This publication is for women, by women. View all posts by The WON →