Retro WON: Add Training to Your New Year's Resolutions for Shooting Success
If you're ever in a situation where there's a need for immediate action against an active shooter or assailant, how will you respond? When seconds count, you'll be forced to make quick decisions, and that's where training will come into play. As average citizens, we don't have access to training such as military or law enforcement officers do. However, there are a few options that can help us train for the unexpected.
With the new year quickly approaching and many people choose to make resolutions, perhaps you might add one that better prepares you to protect yourself and your loved ones? Consider participating in an IDPA or IPSC match, and work toward a goal of better safety and security.
IDPA
The International Defensive Pistol Association (IDPA) is the governing body of a shooting sport that simulates self-defense scenarios and real life encounters. According to its website, one of the unique facets of this sport is that it is geared toward the new or average shooter, yet is fun, challenging and rewarding for an experienced shooter too. I found this to be true the first time I participated in an IDPA event. I had no idea what to expect.
The range officer running the event walked me through each stage and made sure that I understood what to do before starting. He set me up for success before I even fired a shot.
These courses that contain simulated "real world" self-defense scenarios, allow participants to test their skills and abilities under stress. One of the most memorable stages for me occurred with me starting with my back to the targets. When the shot timer went off, I had to turn and face the target, draw my firearm from the holster, advance to a barrel that simulated "cover," and drop to my knees. From that position I had to engage one target on the right side with 2 shots, and then switch the gun to my off-hand and engage one target on the left side with 2 shots.
My friend, Marti Davis, wrote a great column about how to really get into match mindset for IDPA.
The fun part of this kind of training is that I was competing against myself. Sure, there were other people also participating in the match, but ultimately my focus always is to do better the next time and work on the aspects that are more challenging for me.
IPSC
The International Practical Shooting Confederation recognizes all the shooting disciplines: handgun, rifle, shotgun and action air. With multiple targets in play, and some that move or react when hit, it's necessary for a participant to show speed, accuracy, strategy and other techniques to win. The ISC classification system ensures that shooters will be facing an equal skill level, and beginners are encouraged to get started. Competition in IPSC will challenge any shooting enthusiast and help equip them for real-life encounters.
Because I always carry, I must practice the skills necessary to defend my life. The most important aspect is safe gun handling and adherence to the rules, which are top priorities for both IDPA and IPSC clubs. At the end of the day, we all want to go home in the same condition we started in. Whether it's going to work, or grocery shopping, carrying a gun safely is key. Throwing rounds downrange for practice is fun, but won't hone the skills you need in a defensive situation. Developing skills under stress in a controlled environment allow me to have a better chance against assaults or an active shooter when things are happening quickly and without warning.
Moving Forward
As Christmas is almost upon us, why not choose to give yourself the gift of personal protection and training? Additionally, here's a few items that you might want to add to your "wish list."
A New Gun
Are you carrying the gun you want to carry? The firearm has been called the "ultimate equalizer," but only if you have one. Select a gun that you'll carry AND practice with routinely. Down the road you can always choose to purchase another gun that's been modified for accuracy, speed and reliability, referred to as a "race gun" by those in the sport, if you choose to get more involved in competition shooting.
A Good Holster
A holster has several functions: Security, accessibility and concealment (if you're a concealed carry permit holder). Any holster should retain the firearm while you sit, bend over, etc.. It should also be easy to reach so that you can draw your gun quickly, because seconds count in a gunfight. Finally, it should conceal your firearm when it's not in use. We recommend our pal's, Tom McHale's book – The Insanely Practical Guide to Gun Holsters.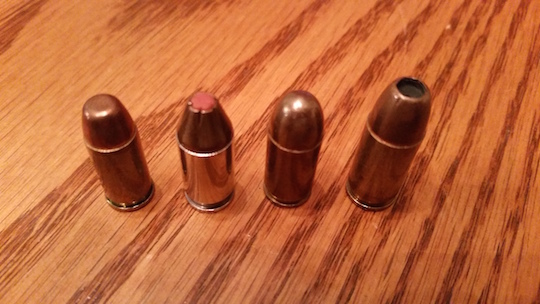 Ammunition
As long as it's the correct caliber for your gun, any kind of ammunition would be a great gift. Target loads are great to practice with at the range, and personal defense rounds are perfect for carrying in your personal defense firearm. If you want to dream big, ask for a reloading kit and learn to make your own ammo.
This Retro WON, "Add Training to Your New Year's Resolutions for Shooting Success" first appeared December 7, 2015.
About Stacy Bright

Freelance writer Stacy Bright holds instructor certifications from the NRA in Pistol & Rifle, as well as being an Range Safety Officer and Refuse to be a Victim instructor. In addition to her NRA credentials, she also is a Missouri CCW instructor and teaches various other home and personal defense courses. "In a field dominated by men, I feel I bring a unique perspective to firearms and training, especially to women. I'm passionate about educating, empowering and developing confidence in those I train. In November of 2014, I started the Southwest Missouri chapter of The Well Armed Woman," said Stacy. Stacy lives in southwest Missouri, and has been married for 20 years. Visit TWAW Facebook page: The Well Armed Woman-Springfield, MO Chapter. View all posts by Stacy Bright →