Gabby Franco Reviews the Remington RP9
The firearms industry is little-by-little catching up with our demands and our needs as serious and responsible gun owners, something that I have seen firsthand as a member of the Remington Shooting Team – first with the release of the compact Remington RM380, then the R51 and now with the new, full-size pistol, the RP9.
Women are the fastest-growing demographic of new gun owners, and that has been the focus of many gun manufacturers. Unfortunately, some have failed to satisfy such important and demanding customers by not making real changes that could effectively benefit female shooters. This practice has made many people skeptical of new products that are advertised with the promise of being ideal for women.

A few months ago, during a meeting with Remington officials, I had the chance to see and feel the frame of the RP9 pistol. The first thing I thought before I held it was "Oh no! Another large frame handgun, I bet I won't be able to reach the trigger!" That thought, unfortunately, is something I often have when I see a full-size pistol. That is the story of my life, as I am a petite woman with small hands. But to my surprise, I was not only able to reach the trigger, but also, I could have a good grip on the gun.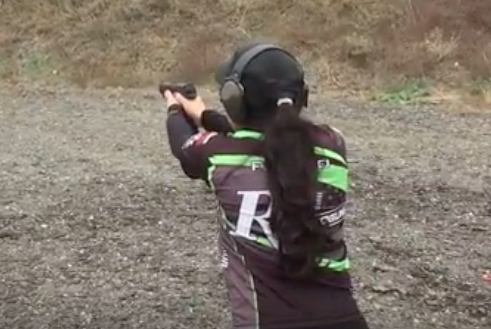 The wait to see the final product was long, but I finally have added it to my gun collection.
I think that women will like the new Remington pistol RP9 mainly because its design helps recoil management. The grip is great! The ergonomic lets someone with small hands have a solid grip, giving the feel of more firearm control while speed shooting. The trigger guard undercut allows the shooter to have a higher grip; in fact, that is something many competitive shooters (including myself) have done to the firearms we use for competition, so having this feature from the factory is a real plus. But the best feature of the grip, or should I say the icing on the cake, is the grip angle of the RP9, which helps tremendously with recoil management.
Considering the grip ergonomic and how it feels in your hands, someone could easily wonder how such pistol accommodates a double-stack magazine that holds 18 rounds. Magazine capacity has always been a common talking point among firearms owners and we all agree on one thing: More is better! Having a large capacity magazine is beneficial for target shooting, competitive shooting and most importantly, for self-defense.
As you can imagine, my first day at the range (after spending more than 8 months away from shooting due to pregnancy) was fun. I shot on the move and did some target transitions. While shooting the RP9, the sight acquisition appeared quickly again and again, allowing me to make my follow up shots comfortably, quickly and accurately. Consequently, I got more comfortable with the new gun, so I increased the speed of my shots at a 20-yard target. For a stock pistol, the trigger is good; it is crisp and the reset is short enough for speed shooting.
Now, the big question is: "Is this a concealed carry gun?" And my answer is: "It all depends on each one of us." I believe there are different reasons why people chose certain types of firearms. Perhaps you and I have different needs, limitations and/or motivation to purchase the same gun and for that reason we need to think thoroughly before choosing a firearm. In my case, the RP9 will serve as a home defense pistol. It has the ideal magazine capacity of 18 rounds, it is well balanced and accurate.
Between my new mommy duties, my baby boy, diapers and lack of sleep, I have only been able to shoot a few hundred rounds with the RP9, but I look forward to going to the range and practicing with it. Hopefully, I will have more comments about the Remington RP9 soon! But, I would encourage you to go to your local gun store and check it out and if you have a chance shoot it, I am pretty sure you will like it.
Let us know what you think of the RP9.
About The WON

The Women's Outdoor News, aka The WON, features news, reviews and stories about women who are shooting, hunting, fishing and actively engaging in outdoor adventure. This publication is for women, by women. View all posts by The WON →