Girls with Guns Clothing Waterfowl Jacket Review
Hollis Lumpkin is on the pro-staff for Girls with Guns Clothing. She also writes for Women's Outdoor News. What you may not know about her is that she is a duck hunting freak. So, if Hollis likes this Girls with Guns waterfowl jacket, you can take that endorsement to the duck blind with you and knock down your limit. In fact, you can win the jacket — if you're reading this between the dates of Fri., Jan. 27, and Mon., Jan. 30, you can also enter our #duckyWON giveaway of this WONderful warm jacket — sponsored by Girls with Guns Clothing.
Review of the Girls with Guns Waterfowl Jacket
I was lucky enough to be put in contact with the ladies at Girls With Guns through Women's Outdoor News to review some of their gear, the Waterfowl Jacket in particular. I am an avid duck hunter and typically hunt several times a week during the season, so having the right gear (and good gear) is important to me. At 5'10, I am definitely on the tall side, so many women's hunting clothing does not fit me very well. I often find myself in men's hunting clothes so the torso & arm lengths are adequate.
I put the Waterfowl Jacket on as soon as the box arrived and immediately fell in love with it. It fit overall in length and size – plenty of room to layer underneath it, but not so bulky that I feel like the Michelin man. During our first split of duck season, I wore the jacket on three separate hunts. One was fairly warm for duck season, the other two were on the chilly side. I was pleased to find out that I can wear the jacket on all occasions – whether I had just a long sleeve T-shirt underneath it, or was layered up for colder weather. With the PrimaLoft Silver Insulation, the jacket never felt bulky, and never got in the way of shooting or picking up decoys.
One of my favorite things about the waterfowl jacket is the cuff feature on the sleeves. While I was out picking up decoys, wading through the water and trying to stay upright despite the thick pluff mud, I managed to take one wrong step and fell into the water. I instinctively stuck out both my hands to catch myself (even though there was nothing to stop my fall). Within seconds I had partially filled my waders with saltwater, and had submerged my arms up to my chest. Of course, my socks and pants were wet but, to my surprise (and delight), my shirt sleeves were bone dry. The sleeve cuffs had blocked the water from seeping into my shirt beneath. I know I will appreciate this again during an inevitably rainy hunt in the near future, when rain typically finds its way down the arms of my jacket every time I raise my gun to shoot. It's never fun to have wet sleeves under a jacket, but it looks like that problem is solved!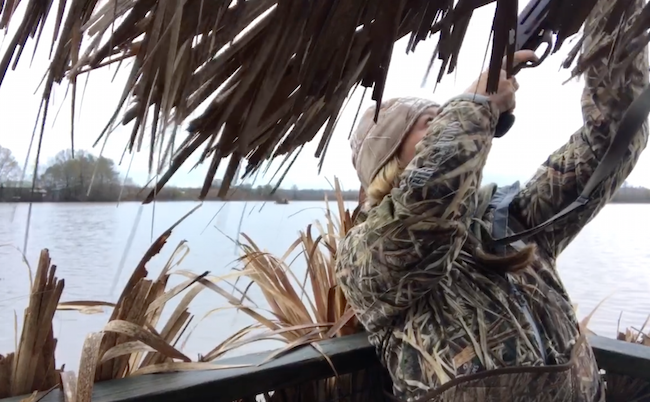 In terms of camouflage, the Mossy Oak Shadow Grass Blades pattern is absolutely perfect for where I hunt. I can seamlessly blend in with the terrain around me, and never felt like I stood out among the marsh grass.
Bottom line, I have officially found my new favorite duck hunting jacket. All thumbs up!
DWG also sent me their Mossy Oak Blades Head Cover for duck season, and I am really excited to try it out. Living and hunting in South Carolina means we don't typically see the super cold weather until late December or January, so I haven't had a chance to put it to use yet, but I know that wind resistant fleece will feel amazing when its 20* in the duck blind!
Read Hollis's column, "The Bright Side of the Road."
About Hollis Lumpkin

Hollis Lumpkin writes that she is a "simple girl living in the Lowcountry of South Carolina, but I happen to have a great love for the outdoors, particularly hunting and fishing." She is a duck-hunting freak. Hollis pens an exclusive version of "The Bright Side of the Road," for The WON. View all posts by Hollis Lumpkin →