Triggering Positive Memories in Universal Hunter's Last Issue
(December 2016) – "Triggering Positive Memories" is not only the title of the cover story by author, Julie McQueen, in the winter issue of Universal Hunter, but it is also the theme as this is the last issue of the glossy-paged hunting magazine. Go out and grab this collector's item of Universal Hunter, which is now available on newsstands and online at http://UniversalHunter.Com.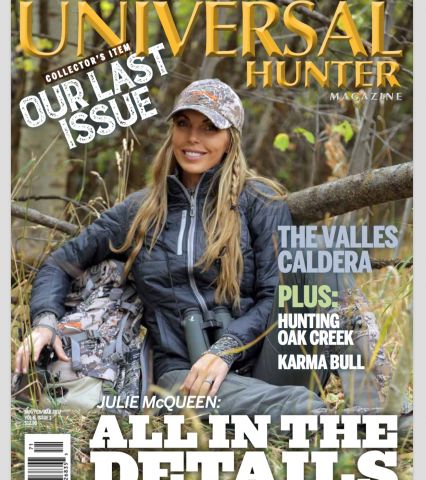 I will miss the magazine tremendously, but I will always hold the memories of each issue near and dear to my heart. I learned quite a bit about the printing and hunting industries and I know there will always be an audience for well-written stories. So please be sure to follow us online at UniversalHunter.Com," said Chantelle Kapp, editor. "A very special 'thank you' to our writers: Jim and Mary Clary, Tony Martins, Tim Herald, Larry Weishuhn, Jen O'Hara, Julie McQueen, Matt Guedes and dozens of others that have crossed our pages since our first issue in 2012."
Featured in the winter issue is "The South African Bug," by Jen O'Hara who is now on her 10th journey to South Africa, and one she shared with Girls with Guns employee and close friend, Callie Wolverton. Don't miss Tim Herald's article, "My Two Favorite Hunts," where he answers the question he's asked the most often – 'What is your favorite hunt?' His response lands him on two continents.
Regular columnists Dr. Jim and Mary Clary continue to provide product reviews on items from Ruger Powder-Keg Knife by CRKT, Bog-Pod Hiking and Shooting Q-Stik, G.P.S. Large Rolling Range Bag and BIGshot Targets Iron Man Pro, to name a few. Of the Range Bag, the Clary's wrote, "The patent pending 'Visual ID Storage System' has found a home on this bag. The photo realistic icons are places on specific pockets to maximize protection and storage of each item. Not only do these icons take the work out of organizing your stuff, it makes it easy to quickly check your bag before heading home to insure everything is present."
And finally, don't miss a special Q&A with Dean Capuano, Director of Communications for SWAROVSKI OPTIK and host of SWAROVSKI OPTIK Quests on Outdoor Channel. Capuano shares how to buy optics for any hunting situation and whether or not brightness in optics is an overrated question.
Universal Hunter is now on newsstands and available for download via iTunes, Google Play, Nook and Magzter. Learn more at http://UniversalHunter.Com and at https://www.facebook.com/UniversalHunterMagazine
About Universal Hunter:
Led by Editor, Chantelle Kapp, and Publisher, Emaneul Kapp, the respected wildlife and hunting videographer and photographer with more than 20 years worldwide video and photography experience, and producer for "Universal Huntress," put Universal Hunter magazine together. Universal Hunter's team of professional writers include: Tim Herald, Julie McQueen, Tony Martins, Magnus Pelz, James Clary, Larry Weishuhn, and many more. Each issue offers new and exciting hunting and informational articles along with member contribution articles, giving Universal Hunter readers the best of both worlds.
Winter Issue is Universal Hunter is the Last Newsstand Issue – More Online at UniversalHunter.Com
About The WON

The Women's Outdoor News, aka The WON, features news, reviews and stories about women who are shooting, hunting, fishing and actively engaging in outdoor adventure. This publication is for women, by women. View all posts by The WON →