BOW Director Peggy Farrell Shares Tips for Introducing Women to the Shooting Sports
This week, Dan Small Outdoors Radio features Becoming an Outdoors-Woman international director Peggy Farrell, Musky Hunting with a Fly author Rick Kustich, and Jiffy pros Jim O'Brien and Duffy Kopf. Dan remembers the late Roger LaPenter. Jeff reviews Treadwright tires. Listen 24/7 online at www.lake-link.com/dsoradio.
Peggy Farrell, director of the International Becoming an Outdoors-Woman Program, previews her seminar, "Introducing Women to the Shooting Sports," scheduled for 10:00 a.m. Saturday, Feb. 11, at the Central Wisconsin Deer & Hunting Expo in Wausau. (www.fishingboatingoutdoor.com, http://www.uwsp.edu/cnr-ap/bow)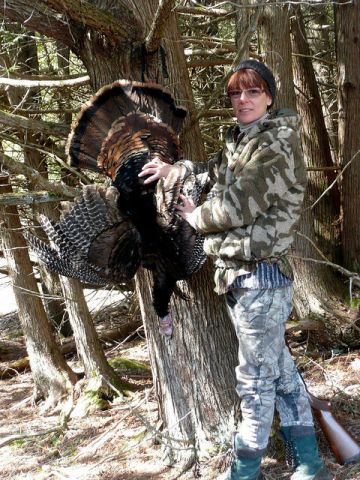 In the Hupy and Abraham outdoor report, fishing author Rick Kustich talks about his new book, Hunting Musky with a Fly. (www.rickkustich.com, www.hupy.com)
In the Jiffy Ice Fishing Report, Jiffy pro staffer Jim O'Brien reports good panfish action on Waukesha County lakes and good walleye action on Grindstone Lake in Sawyer County. (www.jiffyonice.com, www.dancingwithwalleyes.com)
Pure Fishing pro staffer Duffy Kopf previews his seminar, "Muskie Fishing Basics," scheduled for 9:30 a.m. Saturday, Feb. 11, at the Milwaukee Muskie Expo at Washington County Fair Park in West Bend. (www.muskieexpo.com)
In the Madison Outdoors Report, exclusive to podcasts and FM 100.5 ESPN broadcast, presented by Hupy & Abraham, Wisconsin's largest personal injury law firm, Jiffy pro-staffer Duffy Kopf reports good ice action on most Madison lakes. (www.hupy.com)
This week's Jiffy giveaway: A Jiffy full auger case that will fit most ice augers. To enter the drawing, call 414-297-7554 and leave your name, number and mention the Jiffy giveaway. Or email: dsoradio@gmail.com. Include the same info in your email.
Contact: Dan Small at 414-588-4082 or dan@dansmalloutdoors.com
Be sure to listen to Dan's interview with Peggy Farrell.
About The WON

The Women's Outdoor News, aka The WON, features news, reviews and stories about women who are shooting, hunting, fishing and actively engaging in outdoor adventure. This publication is for women, by women. View all posts by The WON →