She Guides: Meet Michele Eichler, an Experienced Hunting Guide from Colorado
Michele Eichler is an experienced hunting guide and co-owner of Full Draw Outfitters in Colorado, an outfitter that offers both rifle and archery hunts. Michele made a name for herself in the archery industry and retired from that side of the business after 28 years. She served for many years as CEO of Muzzy Products, a company founded by her father. As told to Courtney Nicolson.
One thing I learned from hunting with my Dad is how to become part of the woods.
When I would sit in my tree stand, I could always distinguish a person walking through the woods from a deer. That is, except for my dad. That's when I realized what a great hunter he was, and that just comes from logging hours in the woods. Think about what you sound like to different animal's ears. A deer might recognize you as a human, but a bull elk might think you sound like a cow elk crashing through the woods towards him. When I was younger I used to go out into the woods and follow deer tracks. It wasn't even hunting season. I just wanted to see their behaviors, and also to see if I could catch up to them. Any time you spend in the woods, you're learning and that's how I grew up.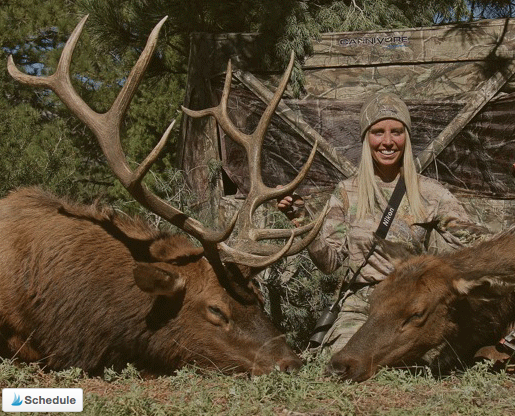 You know, being an outfitter we've heard tons of horror stories.
When selecting an outfitter, don't just look for a gallery of client photos with their harvests. Ask if they have any testimonials from clients who did not connect with an animal. If a previous client tells you that they either didn't have a shot opportunity or it just wasn't the right shot for them and they still had a great time, that's saying something. Selecting an outfitter that has great properties, proper equipment and patient and friendly guides is going to be more important than if you harvest or not. We have 80% repeat clients; if the outfitter has those statistics available, that can be another indicator of a well-run and respectable outfitter.
Going on a hunt in a new state for a new species can be so exciting.
Whether you're going with an outfitter or DIY make sure you know what kind of shooting skill and physical capabilities are needed for your specific hunt. If you're only comfortable with a rifle shot under 50 yards, then you might not be ready for hunting out west in the open mountains. Likewise, if you are mostly a tree stand hunter and have not been training for a Western hunt, then a "run and gun" elk hunt in steep terrain might not be for you yet. Be honest about your shooting and physical condition – both to yourself or to an outfitter. It will make the hunt much more enjoyable and there's a lot that a good outfitter can do to accommodate different needs. There's nothing wrong with taking an extra year to train hard and prepare for your once in a lifetime hunt!
One thing we warn our hunters about here in Colorado is the altitude.
You know as well as I do that just the altitude alone can be a challenge. We have had clients who have been training by running 10 miles a day. They're in great shape and they come out here and the first day they're sucking wind and they say, "I don't get it!" I have to tell them: "You know it's OK, it has nothing to do with your physical fitness, it's just the thin air! You need a few days to get your lungs used to it." Whether you're doing a DIY hunt or coming to our camp, I recommend to come in a few days early and explore or fish around Colorado just to get your bodies adjusted before you start your hunt.
Whether you're out with an outfitter or a maybe you're on a good friend's property, don't let that be an excuse to turn off your common sense.
Run through the same checklists that you would if you were hunting alone. One time I was hunting with an outfitter, my camerawoman was sitting in one tree and I was sitting in a tree right next to her. It wasn't until a few minutes later that I noticed her ladder stand was not even attached to her tree! I had to come down and hold her ladder as she climbed down. If you're planning a hunt at a friend's property, ask if you'll be in a tree stand. If you don't have a safety harness, make sure that they have one to provide for you. When you get to where you're hunting give it a once-over and make sure it is safe.
The off-season can be a great time to learn new skills.
If you've never hunted in a tree stand, put one in the yard and practice. If you've never hunted seated in a blind, grab a chair and try shooting from a seated position. Then you'll be ready for any hunting opportunities down the road!
On Firearm Selection for Hunting
When you're new to hunting, the list of gear to purchase can be overwhelming and intimidating. If you're looking to buy a rifle, think about where you'll primarily be hunting and the animals that live there. It is possible to purchase one caliber that can be a "do it all" gun to get you started. Here in Colorado, something like a .257 or .270 will take down anything you're liable to encounter: mule deer, bear, mountain lion, elk and antelope. All of my sons shot their first elk with a .257.
One thing I've noticed from years welcoming clients in to camp is that some folks have the tendency to be "over-gunned." What I mean by that is they're shooting a caliber that is just too large for them to handle. Shooting your gun should be enjoyable, so if the recoil is unpleasant, switch to a smaller caliber. We have had many clients get to camp and ask us to check the zero on their rifles! They don't even want to shoot it once or twice to do so. That's a bad sign. Practice is the key to becoming a better hunter, so pick a gun you feel confident shooting. You're less likely then to develop bad habits like flinching.
Michele Eichler
Full Draw Outfitters, Colorado
About Courtney Nicolson

Courtney Nicolson is an outdoor writer, hunter, and angler based in Denver, Colo. She is an active member of numerous conservation groups and is passionate about empowering women in the outdoors. Courtney is the senior producer/editor for Outdoor Sportsman Group Networks. View all posts by Courtney Nicolson →